Friends of LR
---
Lenoir-Rhyne University campuses in Hickory, Asheville and Columbia participate in the University City Commission's Friends of LR Discount Program.
The University City Commission is a board aimed at broadening the relationship between LR and its home city. The program allows businesses to express support for LR by offering a discount to their local LR campus community.
Currently, more than 50 businesses provide LR discounts. Any business is invited to participate in the program by offering a discount to LR students, faculty and staff. Businesses are also welcome to extend their discount to LR alumni.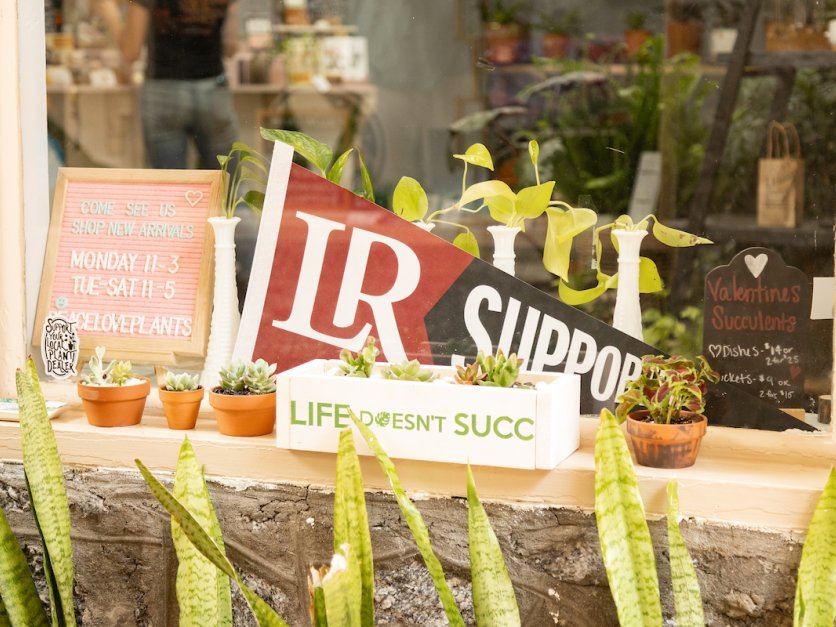 Be Recognized for Your Participation
---
All Friends of LR receive a flag, pennant and "We Support LR" sticker to display in your business. LR and University City Commission thank you for your local support and the many ways you add value to the community.
Register a Business
---
If you would like to offer a discount to LR students, faculty and staff, you can simply place the "We Support LR" sticker in your business window. We also request you complete a registration form so we can maintain a current list of discount offerings.
By uploading a digital version of your business logo, we will advertise your business on a rotating basis on on-campus televisions and in university publications.
Register Your Business
Participating Businesses & Discounts
Hickory Campus

Dining and Grocery

Arby's
10% off for students, faculty and staff
Discount only applies on regular price items, not happy hour or with another coupon or discount

Blowing Rock Draft House and Brewery
15% discount for all students, faculty and staff (excludes alcohol and tip)

Bootleggers Whiskey Bar & Grill
10% discount for food and non-alcoholic beverages for students, faculty and staff

Café Gouda
10% off all the time
20% Monday - Friday 3-5pm

Charlie Graingers
Free drink and chips with purchase for students, faculty and staff.

Cornerstone Bakery
15% off total

Dickey's Barbeque Pit
Monday Special – Big BBQ sandwich, any side and a 32oz drink for $4.92

East Coast Wings & Grill
10% off food and non-alcoholic drinks
10% off catering orders

Fourk
$5 Mondays (starters, wines, cocktails)

Hatch
10% discount for students, faculty, and staff

Hickory Healthy Hub
Free tea with purchase of a smoothie

Liazzo's Catering
15% off every Friday for students, faculty and staff

Let Them Eat Cake by Flavia
15% off every Friday for students, faculty and staff

Lowes Foods
10% discount Sundays on all grocery purchases at the Lowes Foods in Viewmont

PDQ
20% off your order all day every day for students, faculty and staff

Plant Based Boss
Discount for students, faculty, staff and alumni

Salsarita's Fresh Mexican Grill
$1 off nachos on Saturday and Sunday

Taste Full Beans Coffeehouse
10% discount for students, faculty and staff (excludes merchandise and art)

Tutti Frutti
10% discount for all students, faculty and staff

Twin Brothers Pizza of Hickory
10% off on Tuesdays with LR ID

Zaxby's (Springs Road & LR Blvd. locations)
10% off all in store purchases at the Springs Road & LR Blvd. locations for students, faculty and staff

Health, Wellness and Beauty

Attitudes Hair Salon
For Stylist Dawn Rettew only. $5 off of haircuts and $10 off of color for students, faculty and staff and alumni.

Art + Science A Salon
20% off for faculty, staff and students, or a free deep conditioning treatment for first time clients.
Free consultations.

C7 Fitness Studio
School professional special rate of $55/month and student special rate of $45 (unlimited/no contracts). An additional 10% off for LR students, faculty and alumni with code LR23

Custom Therapy Massage
30% off for all students, faculty, and staff

Everyone Yoga
Students pay $5 per class Power yoga is offered for $40 for 10 classes

Harmony Health & Wellness
10% off regular-priced services for students, faculty and staff. Not applicable with any other discounts.

Hello Sugar Hickory
Free bikini wax for students, faculty, staff and alumni

Hickory Family Pharmacy
Free delivery to customers who live within 15 miles of the pharmacy for OTC and prescription medications
10% discount on all OTCs including vitamins
10% discount on all generic prescriptions
15% discount on all compounded medications
50% off discount on the initial fee of weight loss and lifestyle management program

Natis Nail Spa
$5 off total price on Thursdays

New Directions Chiropractic
50% off for students and 25% off for faculty and staff.

OsteoStrong
Special monthly membership rate of $79/month with free enrollment for students, faculty and staff

Pampered Nails Hair Skin
20% off student hair services and hair products

Phoenix Physical Training
$5 discount per session on personal fitness training services.

Solutions of Hickory, PA
Solutions offers psychological counseling and psychological evaluations to identify attention disorders and learning differences. Please call for complimentary 10 min consultation and a $50.00 credit to your account for LR students, alumni, faculty and families.

Studio Sublime
20% off any salon service

WAXmd
Ongoing 10% discount for students Faculty and staff receive a free eyebrow or lip wax when booking a service during the month of September

Vitality Anti-Aging Center
10% discount on regularly priced services or products for all students, faculty and staff

1-800-Pet Meds
15% discount for students. faculty, and staff when using the Pet Meds discount page

Retail

Adrienne's
10% off for students, faculty, and staff

Ashley HomeStore
20% discount for students, faculty, and staff with an additional 5% off for opening up an Ashley account

Carolina Crafted
10% off your entire purchase for students, faculty and staff

Carolina Pedal Works
10% discounts to all students, faculty, and staff every day

Carolina West Wireless
15% discount for students, faculty, and staff *Discount applies to monthly service charge (certain restrictions apply)

CleanWave Laundry Hickory
Students and faculty who download and load money to the Speed Queen app earn reward dollars for future use.
Receive a 10% discount with a minimum of 10 lbs. of wash, dry, fold service.

Guitar Center
One free lesson and 10% off checklist for students, faculty, staff

Habitat for Humanity ReStore Catawba Valley
20% off for all students, faculty, and staff

Hickory Foot Solutions
10% off discount for LR students, faculty, and staff

Hospice Resale Shop
20% discount to students and staff with LR ID

Journeys
Students receive $10 off orders over $75 at Journeys in-store and online

Outdoor Supply Company
10% discount for all students, faculty and staff (excludes Yeti and other select products)

OZ's Jewelers
10% off any new purchase for faculty, staff and students

Redfox Gaming
5% off for all students

Sam's Xpress Car Wash
$5 off the unlimited club plan for staff and faculty

Take 5 Oil Change
25% off for all students, faculty and staff

The Natural Dog
10% discount with ID

Thistle Dew Nicely
15% discount for all students, faculty and staff

U-Haul
First month of storage free with truck/trailer rental and 10% off one way rentals for students, faculty and staff

Unique World Gifts
10% off purchases for all students, faculty, and staff (excludes food and beverage items and clearance merchandise)

The Untamed Daisy Soap Co.
10% of all purchases

Services

Campbell and Associates
Free professional consultation for students, faculty, and staff and a reduced rate on expert legal services

Master Financial Coach - Trey Bridgeman
75% off financial services for students; contact Trey to set up a meeting at 828.244.1354 or tbridgemancoaching@gmail.com

T-Mobile
15% off phone plans (up to 5 lines) for faculty and staff

Education

Children's Academy #1
5% off tuition

Hickory Day School
Waived application fee for all students, faculty, and staff – typically a $75 charge

Saint Stephens Lutheran School
25% off tuition for K-8th grade

University Christian High School
50% off tuition for LR faculty and staff

Entertainment and Recreation

CrossFit Hickory
25% off monthly membership rate for students, faculty, and staff and complementary beginners "on-ramp" course 50% off for students in a health sciences related program

Defy Hickory
$4 off ticket price for students on College Night (Thursdays from 6-9 pm)
Defy Hickory allows fundraisers and will donate 20% of revenues from flight tickets sold back to the hosting student organization.

Foot Candle Film Society
$3 admission on Thursday nights

Hickory Community Theatre
$10 tickets for LR students

Hickory Crawdads
Two free tickets every Thursday with school ID. (Additional tickets are $5)
Every other day, student, faculty, and staff can purchase up to four tickets at a discounted rate of $5.

Hickory Foundation YMCA
$25 per month membership fee for students

Hickory Museum of Art
$10 membership discount. Membership includes offers for free admission at nearly 200 museums throughout the Southeast.

Nailed IT DIY Studio
10% off any project or retail purchase for all students, faculty and staff

Patriot Brew Thru and Axe Throwing
Wednesday College Special: $10 an hour per person axe throwing
Weekly drink specials ($5 off axe throwing)
Also offer discounted group rates for team building events, tailored to group needs

Planet Fitness
$22.99/month black card membership: no annual fee, no enrollment fee and no commitment fee with code: CORPFMBC

$10 /month classic card membership: $39 annual fee, no enrollment fee and no commitment fee with code: PFCORPFM10

Southside Power & Fitness
$19.99/month membership for students, faculty, and staff or $149 flat price for entire year

Treetop Adventures Lake Hickory
10% off for students, faculty and staff

Warehouse18
15% discount on event fees for all students, faculty and staff (one discount per event)

Western Piedmont Symphony
Free concerts for students, faculty and staff

Wine and Design
$10 off regular classes for students, faculty, and staff Online booking codes | staff/faculty: 10LRUEMP22; student: 10LRUSTUDENT22

Housing and Hotel

Argyle Place Apartments
$200 off first month's rent for faculty, staff, and graduate students

Hawks Landing Luxury Apartments
Half-off security deposits for all LR faculty and staff upon move-in.

Hickory Trace Village Apartments
5% off for LR employees

Holiday Inn Express
Discounted room rates offered for any LR student, faculty, or staff member. This discount is also available for anyone visiting the university. Mention LR at check-in to receive the discount.

Asheville Campus

Beverages & Dining

Arby's
10% off for students, faculty, staff and alumni. Discount only applies on regular price items, not happy hour or with another coupon or discount.

Baba Nahm
10% off meals for students, faculty and staff

Ben & Jerry's
10% off all purchases for students, faculty, staff and alumni

The Hop Ice Cream Cafe
10% off all ice cream and coffee orders for students, faculty and staff

Kathmandu Kitchen
Free hot/cold chai with lunch buffet for students, faculty and staff. 20% off dinner for students, faculty, and staff.

Local 604
10% off all beer and wine for students, faculty, and staff. *Above 21 only

West End Bakery
10% off all purchases for students, faculty, and staff

Retail

Affordable Bedding, Inc.
10% off entire purchase. See store for details.

Frugal Backpacker
Extra 10% off entire purchase (including sales items) for students, faculty, and staff

Instant Karma
10% off all purchases for students, faculty, and staff

Reciprocity Resale Boutique
10% off total purchase for students, faculty, and staff

The Regeneration Station
10% discount to students, faculty, staff and alumni at Asheville's best place to shop for secondhand furniture, unique antiques and everything in between.

Spiritex
10% off for students, faculty, and staff

Services

Asheville Shutters and Blinds
10% off all window treatments for students, faculty, staff, and alumni

Go Store It LLC
20% off all storage units at any Go Store It location for staff, faculty, and students

Junk Recyclers
10% off purchases for students, faculty, staff and alumni at Asheville's oldest professional, environmentally friendly junk removal service

Nesting Dolls Realty-Coldwell Banker King
$500 rebate to Real Estate buyers and sellers for LR students, faculty, and staff. Lender approval is required. Rebate is made from commissions actually received.

Online Training Concepts
15% discount to all faculty, staff, students and alumni. Contact us today for a free consultation.

Health

Acupuncture Integrative Medicine
20% discount for all services for full year from start date of acupuncture/acu-massage appointments.

Carolina Holistic Health
10% off initial appointment for new clients for students, faculty, and staff

Positive Transformations
10% off a therapy session for Lenoir-Rhyne students, faculty, and staff

Still Point Wellness
10% off first visit for Lenoir-Rhyne students, faculty, and staff

Weaverville Chiropractic
$99 initial visit and consultation (25% off regular price) and $50 for subsequent visits (17% discount) for students, faculty, staff, and alumni

Entertainment and Recreation

Lakeview Putt and Play, LLC
One adult round of mini golf for $7. Buy one session, get one free virtual reality game.

Nantahala Outdoor Center
Code EDU10 for 10% off guided rafting in Bryson City, NC

Shaolin Kung Fu
25% off tuition for students, faculty, and staff

Columbia Campus

Empire Barbell
20% off for faculty, staff and students

Gamble Chiropractic Clinic
10% off for faculty, staff and students

Papa John's
10% discount for students on personal orders.
30-50% off for faculty and staff on orders over 5.
*Students, faculty and staff must show valid LR ID*