Residence Life Services
---
We want your experience living on campus to be a positive one, so we provide various services to help you feel comfortable and at home.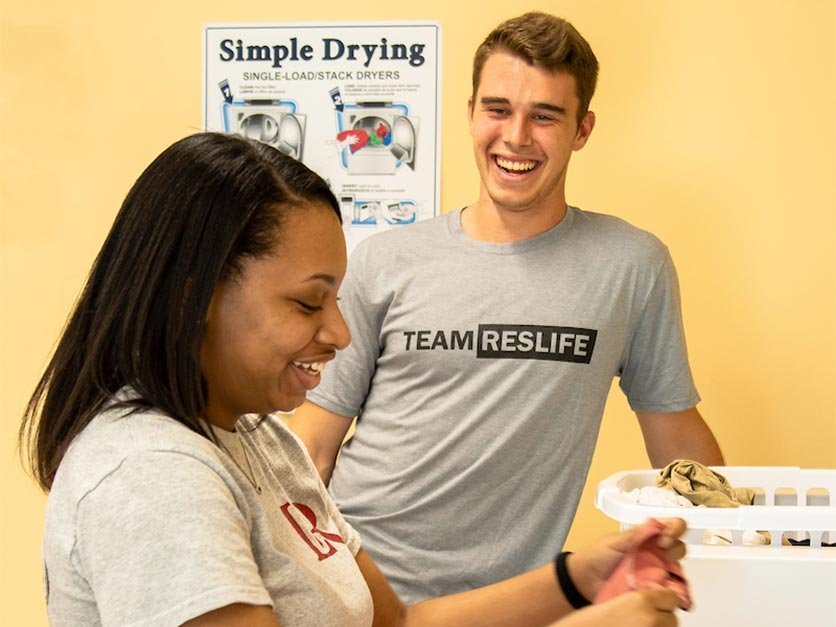 Leave the Quarters at Home
---
All residential students receive free laundry services (washer and dryer usage).
Student Housing Safety
---
Our campus is monitored 24-7 by well-trained public safety officers who do regular patrols to ensure the safety of all LR students.
Keys & Passcodes
---
All residence halls on campus are equipped with a card swipe or passcode. You are only given access to your residence hall. That way, only those residents who live in a particular building are able to enter.
Residence Hall Staff
---
In each hall there is a resident assistant (RA) on every floor that serves as a student resource. Additionally, there is a residence director who is a graduate student and oversees the RAs in the building. Directors, along with the RAs, help ensure the safety of the building and are trained to handle a multitude of situations.
Satellite Television
---
Cable outlets are provided in each room and basic satellite TV is included in the residence hall fee. You must provide your own television and cable to attach to the outlet.
Information Technology Support
---
If you have questions or need assistance with any technology-related issue (cable, internet or phone), please contact the Help Desk at oit.helpdesk@lr.edu or 828.328.7350. The Help Desk is available 24 hours a day, seven days a week.
Computer Ports
---
Internet data jacks for each resident are provided in residence hall rooms. Questions or concerns about e-mail or other issues should be directed to the IT Help Desk at oit.helpdesk@lr.edu or 828.328.7350.
Vending & Laundry Machines
---
Coin-operated vending machines are located in the residence halls.
Washer and dryer usage is free for all residence hall students.
Housekeeping
---
As a resident, you are responsible for keeping common areas and your own room clean. Housekeeping is responsible for the upkeep of the common areas of the residence halls such as lounges, hallways, community bathrooms and laundry rooms.
Renter's Insurance
---
Renter's insurance is something you should consider when attending college. Having this security and protection, often at a minimal cost per year, can save you thousands in emergency situations.
We partner with National Student Services to provide affordable insurance to our students.