Sales to sips: Longtime Bear grows his vineyard
---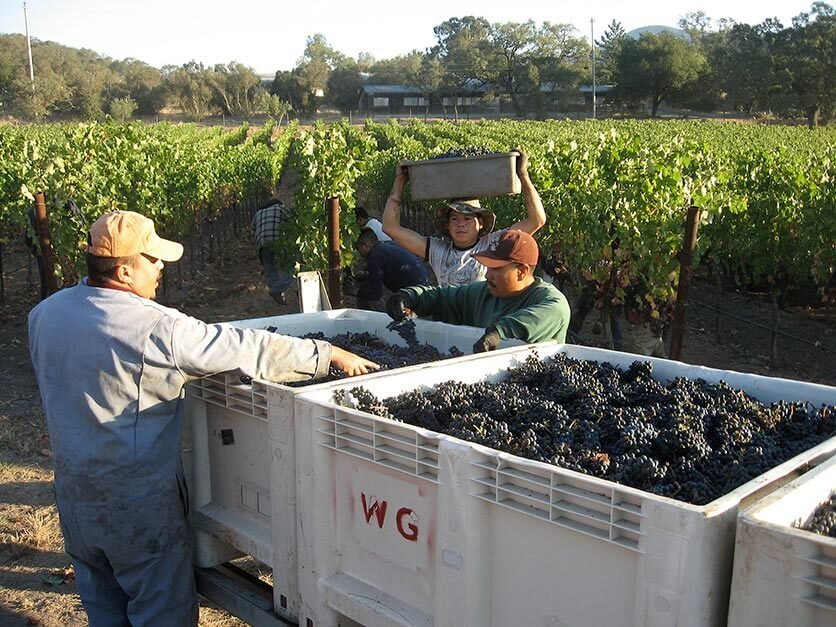 Longtime Bear grows his vineyard
---
Former football standout and longtime supporter Hank McCrorie followed a successful career in sales with purchasing his own vineyard that provides wine to a variety of restaurants and fine wine shops in 23 states.
Hank McCrorie is the owner of Burly Wine, a boutique wine that is available at a variety of restaurants and fine wine shops in 23 states. Known for its bold, intrinsic flavors of tannins and oak, Burly produces around 2,000 cases of wine annually. The name Burly originates from McCrorie's days playing football at Lenoir-Rhyne when he was dubbed Burly Bear by the Charlotte Observer. "The nickname Burly was the result of a picture that was published prior to Lenoir-Rhyne playing Appalachian [State] in football," McCrorie said. "They called me Burly Bear in the caption. It caught on with a lot of my teammates and has stuck for life."
Before McCrorie's adventure in winemaking began, he served a 40-year career with Pzifer, retiring as executive vice president of sales. His work with the company entailed weekly commutes from Charlotte, North Carolina, to New York City. He credits Bernice with taking care of both their mothers during this time, and one of the ways he thanked her was by building the dream home she always wanted in Napa Valley. During the process of building, McCrorie was presented with an opportunity to lease a nine-and-a-half-acre vineyard of Cabernet Sauvignon from the Simpkins' Ranch, owned by Cliff and Joan Simpkins, in the Coombsville American Viticultural Area.
"I had gained an appreciation for small production Napa Valley Cabernets while visiting New York," McCrorie said. "When I discovered the sale included a fourth-generation Italian winemaker and vineyard manager, it seemed like a package deal I couldn't resist."
Massimo Monticelli is Burly's winemaker. He spent his early career at the Cabernet winery Silver Oak producing high-end wines before leaving to focus on smaller boutique labels. He and Michael Wolfe, vineyard manager, work together to enhance the unique environment of the Coombsville region. Wolfe directs the quality and health of the vineyard, while Monticelli guides the winemaking process to ensure the fullness of each grape is expressed.
"Burly Wine embodies the Burly Vineyard terroir," Monticelli said. "The vineyard soil is rocky loam which provides good drainage and low nutrient concentration. We are located in an area where the climate is generally cooler than other areas in the Napa Valley which allows the grapes to hang on their vines for a longer amount of time. This promotes intensified flavors and layering in the finished wine."
Burly has received numerous scores of 90 and above (a score of 90 or above is considered outstanding) by Wine Spectator and won a national award for its label design which features the image of a live oak tree. Bernice, who was instrumental in helping design the label, says the oak is reminiscent of the trees she played in as a child and the Southern oaks her husband grew up around.
"A big part of the fun I had as a child involved climbing in the 13 live oak trees my parents had on their ranch in northern California," Bernice said. "Hank is from the South, where there are also big oaks, and I thought the tree's image would be a great way to bond our childhood roots, so to speak."
For McCrorie and his wife, Burly has provided a way to stay connected with their friends, family, and the LR community, as they use it to spread cheer and help shape special moments. McCrorie regularly hosts Burly Wine dinners in cities throughout North Carolina, and he has donated wine to LR for use at special events. Since Burly's first vintage of Cabernet Sauvignon was produced in 2004, the vineyard has added production of a Chardonnay and Sauvignon Blanc, increasing the variety in Burly's collection of tasting options. According to McCrorie, Burly is regularly sold to National Football League owners and professional athletes, including LeBron James, who has posted about Burly on his Instagram account.
While McCrorie's distribution list may include a number of celebrities, many LR alumni including Ed Byrd '69, have been sipping the wine since it was introduced to the market. "Hank's wine Burly always brings joy to our table," Byrd said. "It tastes like candy."
---
Burly Fun Facts
Mossimo Monticelli is also the winemaker at Paratus, a vineyard owned by LR alumna Christina Andrews Jennings '83 and her husband. Paratus is also located in Napa Valley and was featured in the Fall 2014 issue of Profile.
Michael Wolfe was awarded Grower of the Year by the Napa Grape Growers Association in 2015.
McCrorie originally wanted to name the wine Burly Bear, but Bernice persuaded him otherwise. As a compromise, the small image of a bear can be found in the bottom right corner of Burly's label.
McCrorie, who donned the number 79 jersey for the Bears, only lost three regular season games during his football career (between 1956 and 1959). In his senior year, the 1959 football team became a finalist in the National Association of Intercollegiate Athletics National Championship.
In 1959, McCrorie received the Voigt Cromer Award, honoring an athlete who put team before self.
McCrorie was inducted into LR's Sports Hall of Fame in 1994.
Hank and Bernice provided a generous gift to LR in 1999, enabling the college to open the McCrorie Center in fall 2002, an athletic facility on campus named in their honor.
McCrorie's former LR teammate and roommate, the late John David Moose '59, was not only his close friend but the person who inspired him most to give back to LR. Moose was the first person to call McCrorie Burly.
McCrorie credits his former coach Clarence Stasavich with helping him gain the no fear attitude required for taking on new challenges. "If you ever had the experience of going into film room with Coach Clarence Stasavich you know what it's like to be terrified. He made men out of boys," says McCrorie.
McCrorie credits his LR education with helping to pave the way for his many life successes. "I come from a truck driving family and was the first person in my family to graduate with a college degree. I really learned how to study at Lenoir-Rhyne under the direction of outstanding professors in the business department. They all took a personal interest in my achievements."
While McCrorie travels often with Bernice, he frequently visits LR's campus to attend football games or fulfill his duties as a member of the board of trustees. "I don't miss a Lenoir-Rhyne football game if I can help it."