---
After serving his country, Noah Jenkins, an Army veteran, brings a new perspective to the Lenoir-Rhyne community in pursuit of a post-secondary education. Jenkins chose LR due to the support he received in his transition from military to college life.
"There is a better faculty-to-student ratio here and a culture that supports student success because it is a smaller school," Jenkins said. "My education and experience feel a lot more personal, too."
As a former medic with the 101st Airborne, Jenkins' experience in that role contributes to his current interest on the path to earning a degree in biochemistry.
"I feel like biochemistry ties together all of the knowledge that I have about medicine from the military as well as where I want to go," he said.
A future career in pharmaceuticals sounds promising for Jenkins, not to mention more education.
"I've told my family, let me get my bachelor's degree first, but graduate school is not out of the question," he said. "I've worked in the industry for about three years as a chemist with my associate degree, and I enjoyed it. There's a lot of good work out there. But if I want to climb into the higher ranks of the scientific community, I need a master's degree."
As a military-friendly school, LR provides various GI Bill benefits. Jenkins qualifies for educational assistance under chapter 31, vocational rehabilitation and employment, so he is a full-time student focused on additional liberal art classes, including religion and communications.
"The most challenging class, which I enjoy, is calculus because there's beauty in math," he stated. "But the things that I'm learning in religion from the Rev. Dr. Pierson Shaw are fascinating. I'm learning that it's not all meant to be taken literally, but it's meant to convey a message, and that's fascinating to me."
Paving a path to college success
With a maturity beyond the typical college student, Jenkins is paving his way in academics and relationships at LR.
"I certainly hope to foster relationships with my professors and other students," he stated. "One thing that I've come to realize the older I've gotten is that college is not just about going to class and making good grades. It is a great time to network with some bright people, and it's about building those professional skills."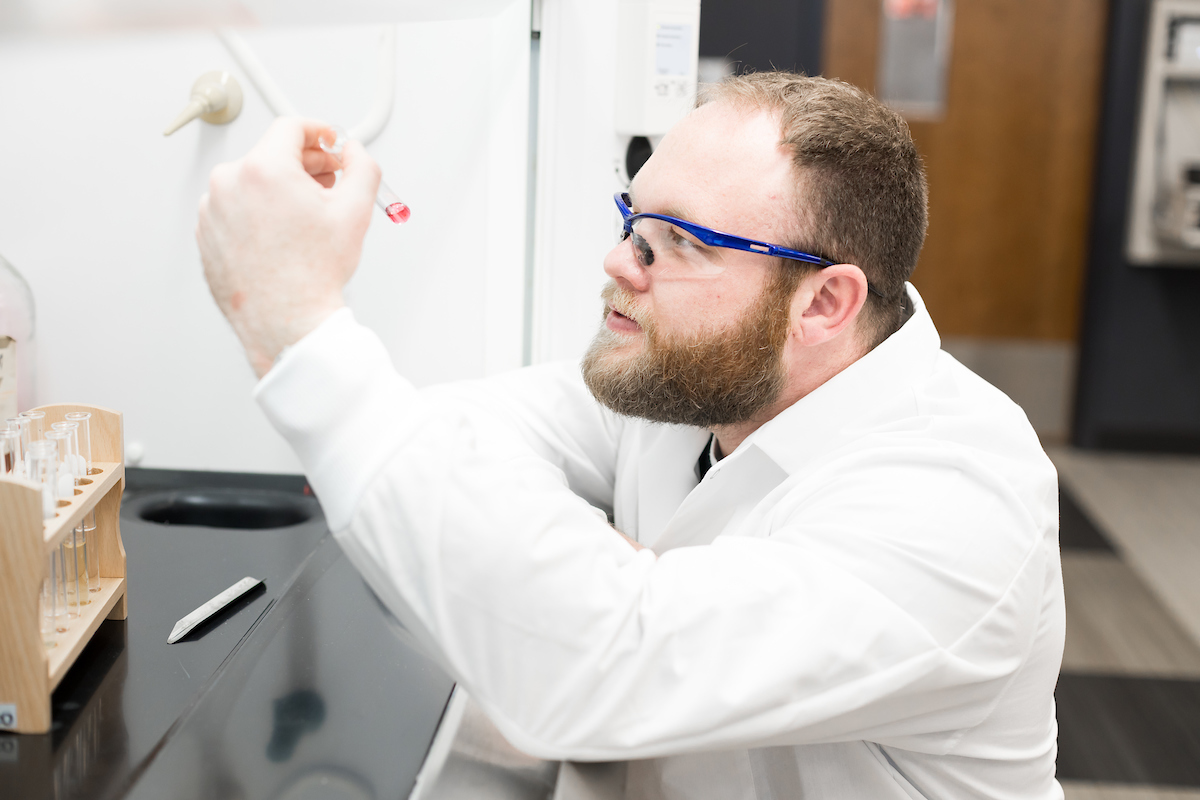 One example of relationship-building is the structure of the calculus course taught by Sarah Nelson, Ph.D., assistant professor of mathematics. With a research grant to guide team-based interactive learning, there are two teams in the classroom. Instead of the traditional math lecture, Nelson provides the learning objectives, and then the students work out the problem on the board.
"We're all working out problems at the same time and rationalizing our approach to solving these functions," Jenkins said. "It's much more engaging than any other math class I've taken."
Navigating the challenges to find himself
Jenkins has lived a fulfilling life, one where he navigated challenges and accepted those obstacles as learning moments.
"Some of the most winding roads lead us to where we are, right?" Jenkins asked. "If you would have asked me when I was a teenager, what I thought I would be when I grew up, I would say a nurse. But my obstacles came from finding myself growing into the man that I was to become. When I was in the military, I signed up for the Army over the Navy because I wanted to be a medic, and they could promise me the job. And I loved it."
Jenkins continued by noting he loved studying the science of being a medic, including combat medicine. In the Army, no two days were alike. But, after leaving that military life, he tired of some of the routines in an EMS position. That led Jenkins to think more seriously about his future.
"I had to figure out what is it that I want out of life," he said. "Honestly, I didn't know that when I graduated high school. I had taken some chemistry courses because they fascinated me. But I didn't know what I wanted to do. And then I got my break working for a company called American Zinc Recycling in Mooresboro, North Carolina."
One of the most demanding jobs he has done, Jenkins worked 12- to 14-hour days with an additional daily three-hour commute, which equated to some difficult days but a relentless attitude.
"It showed me that I was capable when I put my mind to something, and it awakened so many of those passions and gave me a lot of great experience as well," Jenkins said. "I've certainly had some bumps in the road. But it speaks more about how I negotiated those obstacles to be successful."