Community Service
---
A full understanding of the world and a spirit of openness yield a call to service and action in communities at every level.
The university encourages students to become involved in community service as part of our mission to promote responsible leadership for service in the world.
The benefits of community service and service learning—a teaching and learning strategy that integrates meaningful community service with classroom instruction and reflection—enriches the learning experience, teaches civic responsibility and strengthens communities.
Service Opportunities
---
Community service empowers you to maximize your potential and achieve hands-on experience in your pursuit of a meaningful and purposeful life.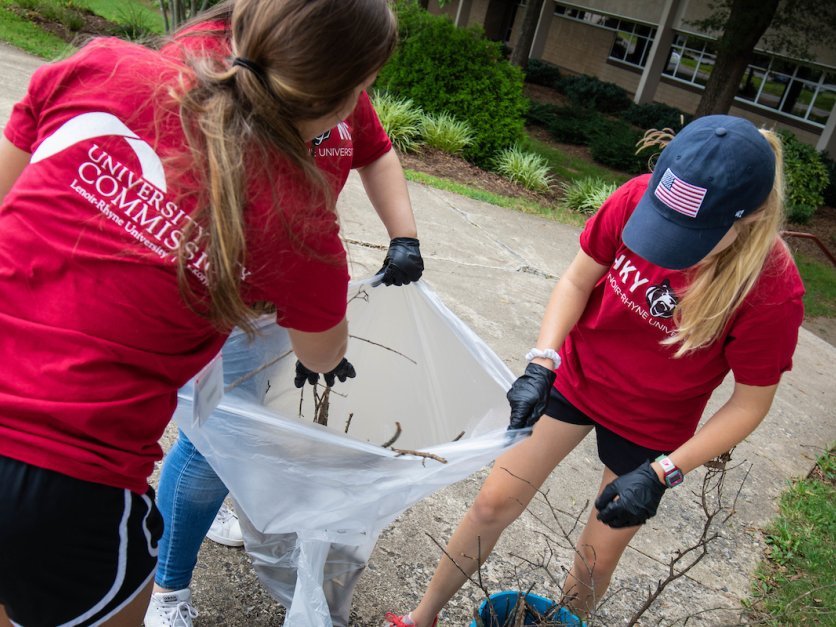 Building A Better World Through Service
---
Participating in community service is a great way to connect with other students, build leadership skills and make a difference in the community.
On-Campus Service Opportunities
Hands on Hickory

Hands on Hickory is LR's flagship service project that was established more than a decade ago. The program exposes and engages new students in a community service experience as soon as they arrive on campus.

As part of the student orientation program, all incoming first-year students participate in community-wide service projects. Small groups of 10-15 students are assigned a non-profit organization where they spend a full morning learning about the work of the organization and then participate in a service activity that benefits each organization.

Student-Athletes Give Back

The university takes pride in developing our student-athletes into lifelong leaders in the community.

The athletics department provides many different forms of service and community engagement within the local area as part of student-athlete development, while also serving as role models and strong ambassadors for the university.

Prior to the Coronavirus pandemic, Lenoir-Rhyne student-athletes ranked 18th nationally out of 316 NCAA Division II schools contributing more than 6,000 hours of community service across 22 sport.

In all, LR student-athletes had 289 total community service opportunities, touching 82 different organizations in the Hickory community and beyond. This marked the second consecutive academic year where student-athletes contributed more than 6,000 hours of community service.
Community Organizations & Opportunities