---
In October 1982, Joby Giacalone '84 and Jennifer Rader Giacalone '86 set out for a Lenoir-Rhyne football game where a costume malfunction, a Hickory Daily Record reporter and a safety pin would converge and change their lives.
The reporter was doing a feature story on the Lenoir-Rhyne Honeybears — a team of women who provided sideline support for teams and officials during athletic events.
"They chose Jennifer as their focal point, and one of the photos was of her with Joe Bear. That was me," shared Joby. "Who has a photo of the time they actually met?"
The first meeting
Before the football game and the photo that set their future in motion, the Giacalones had noticed one another around campus.
"She always wore a headband, so my friends and I just knew her as 'the headband woman.' I thought she was the most attractive woman I had ever seen," said Joby.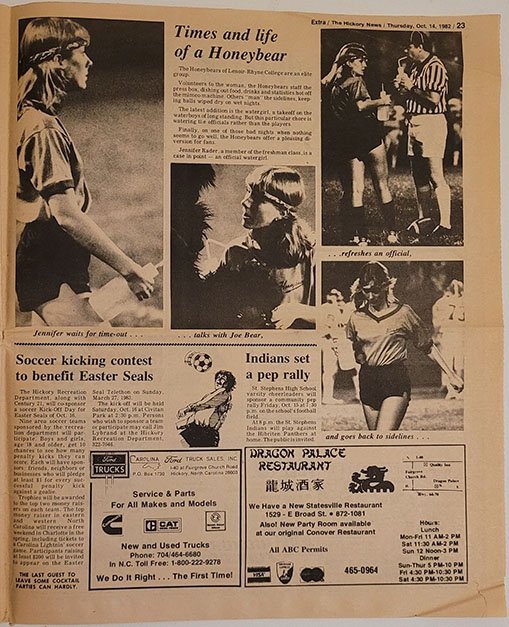 On the night of the football game, Jennifer was performing her Honeybear duties, and Joby was performing one of his first stints as Joe Bear.
"As a mascot, you want to stay on the field to keep that energy going," shared Joby. "But the Joe Bear costume was nearly worn out. There was a safety pin stabbing me, so I asked Jennifer to take it out or fasten it."
Jennifer had a slightly different memory about the safety pin — or lack thereof.
"Apparently, something happened with Joby's costume while he was performing on the field, so he came up to me and said, 'Would you happen to have a safety pin?'" she shared. "I didn't have one, but our romance happened anyway."
The first dance
A photographer from the Hickory Daily Record caught the moment on film, and the photo ran with a story about the Honeybears on Oct. 14, 1982. Four days later, the couple met again at Yesterday's — a popular nightclub near campus.
"Monday nights were only for LR students, so I went with some friends. When I saw Jennifer walk in, I went over to ask her to dance, and she said, 'Did you see that picture of us in the newspaper?'" Joby recalled.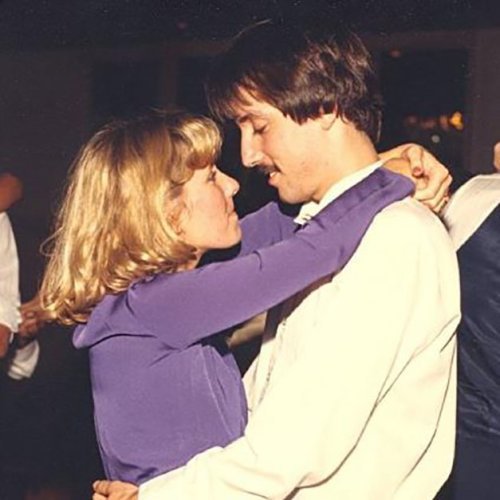 "I asked her if she wanted to dance later, so if she said no, I could say, 'Well, do you want to dance now?' But she said yes, and we danced."
Joby drove Jennifer back to the dorm at the end of the evening and asked her out for the next night. She agreed.
"I got back to the dorm and told my friends, 'I think I might be dating the headband woman,'" Joby said.
The first date
The Giacalones arranged their first date to do laundry together on campus.
"I got there first, so I was sitting on top of a dryer waiting for him. When he came in, he had this bag of laundry that must have been as big as I was. I thought he probably hadn't done laundry since he came to school in August," Jennifer recalled.
"I did laundry once a month, whether I needed to or not," Joby shared.
After the last rinse cycle, the new couple ventured out to find copies of the Hickory Daily Record issue featuring their photo at the game to preserve for the future.
"We found several copies, and we still have them," said Jennifer.
The proposal
When Joby graduated, Jennifer still had two years left at LR. He accepted a job in south Florida, but it only lasted a few months.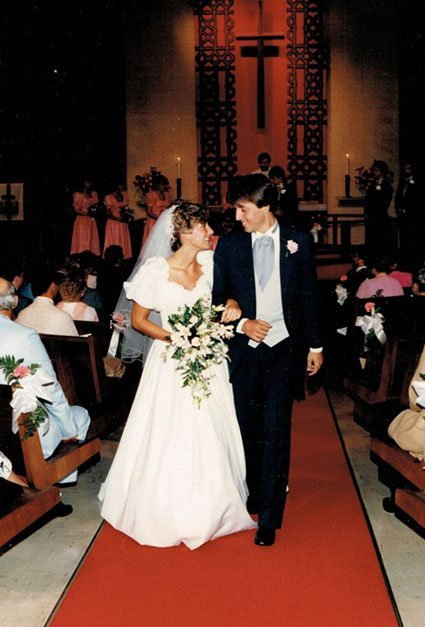 "I didn't like being away from Jennifer, so I quit my job and moved back to Hickory to sell motorcycles and teach computer science at CVCC," he said.
Soon after, he proposed on the Lenoir-Rhyne baseball field.
"He had written on index cards little directions of things to do. The clues led me around the bases. When I got to home plate, the card said, 'Make me the happiest man in the world and be my wife.' Then he gave me a ring," Jennifer shared.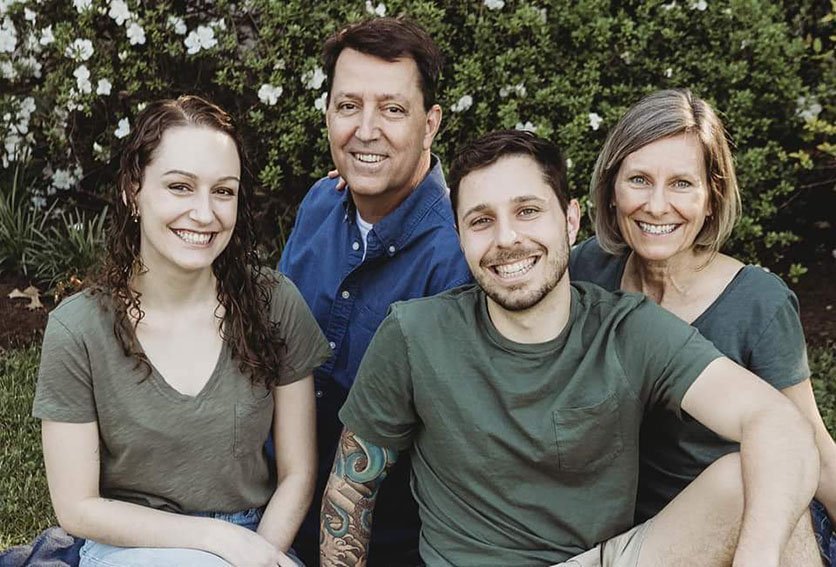 The wedding and life after LR
Joby and Jennifer were married in her hometown of Farmington, Michigan, two weeks after she graduated. They have lived in multiple states and raised two children who are now starting their own marriages. The Giacalones continue to enjoy their friends and memories from LR, and they agree on their favorite part of college.
"I'm glad he asked me for a safety pin. He's the best thing about me going to Lenoir-Rhyne," said Jennifer.
Joby added, "I met the love of my life at LR. You can't ask for more than that from a college experience."
Photo credit: All photos courtesy of Joby and Jennifer Giacalone