---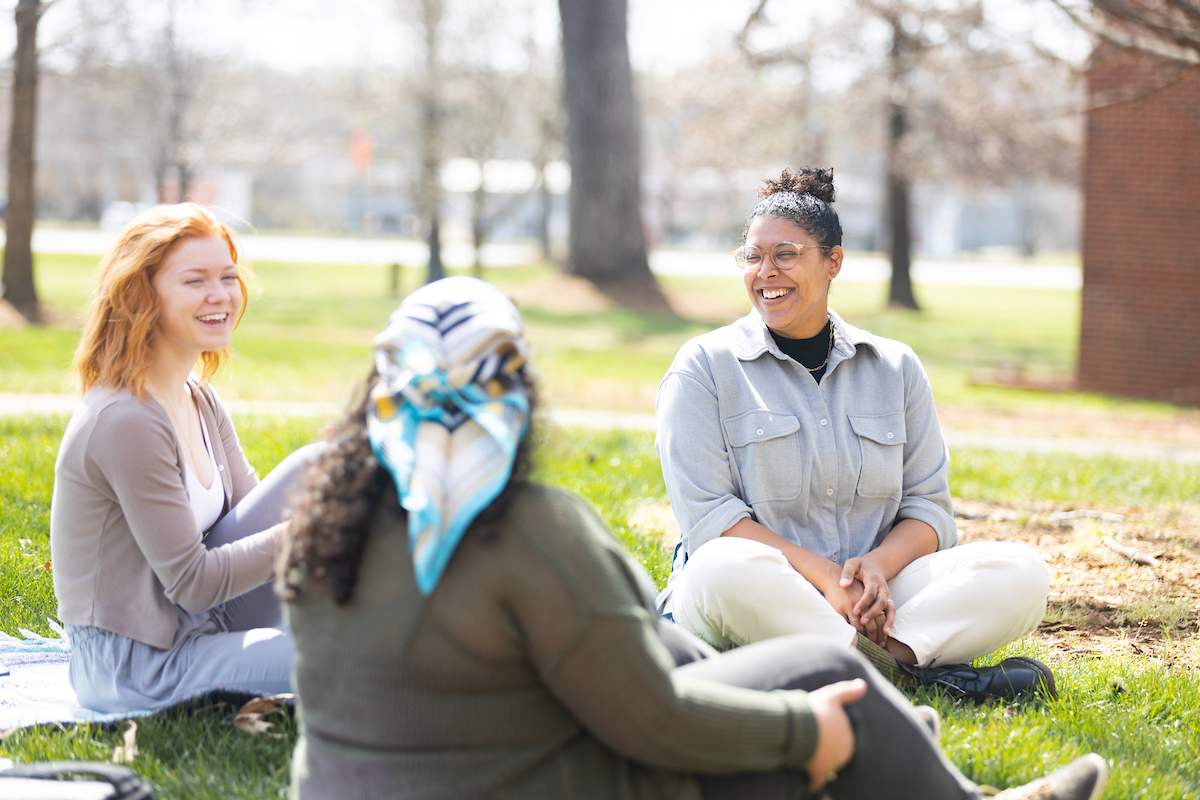 D. M. Spratley was fascinated by poetry as a child. With a lifelong love affair for that distinctive style and rhythm of writing, she uses her passion for providing a transformational experience for students at Lenoir-Rhyne as the current writer-in-residence.
"I want to be able to offer students something I was offered in college, which is permission to be a writer," Spratley said. "I'm not interested in shaping writers who write exactly the way that I write or think exactly how I think. I'm interested in offering them a space where they discover who they are and move forward with more confidence and security that they can bring to their work and their writing."
An award-winning poet, Spratley uses her storytelling experience to influence and challenge her class. Students are reading "Black Nature," the first anthology to focus on nature writing by African American poets, with supplemental readings from contemporary American poets such as Jericho Brown, francine j. harris and Ada Limón. With the use of different literature, Spratley's teaching includes a variety of topics.
"Students receive a broad representation in this class, even as we're looking at something like nature poetry," Spratley said.
Empowering students through writing
With her experience in adult learning styles, Spratley's class, a hybrid workshop and survey course, focuses on applying project-based learning principles to teaching poetry.
"Students submit their writing for peer-based critiques," Spratley said. "This helps students in their practice of writing, submitting their work and editing other pieces."
Throughout the course, Spratley challenges students to consider various perspectives of poetry while gaining insight into the writing process.
"It's an enriching practice to study various genres and literature," Spratley said. "In times of grief, stress, fear or celebration, we often turn to poetry as a way to communicate or process things that we otherwise cannot. For example, with Russia's invasion of Ukraine, some readers in the U.S. shared 'We Lived Happily During the War' by Ukrainian-American poet Ilya Kaminsky, helping them name and explore our situatedness within an imperialist nation, watching another imperialist nation launch an invasion."
Spratley challenges and inspires future writers
In addition, Spratley's classroom discussions inspire students toward real-world application.
"I provide students with the ability to build an analytical framework around listening, reading and deciphering underlying meanings," she said. "When students understand their reactions to what they're reading, that kind of analysis is invaluable, especially in a digital age. In addition, through this practice, they build their ability to communicate complex information and complex feelings with one another."
Senior English student Hannah Davis has gained a broader perspective due to Spratley's teaching.
"Professor Spratley's course has certainly given me a broader perspective not just in relation to the content matter of poetry, but one that applies to the world around me," Davis said. "My favorite part of the course is getting personalized feedback from a writer of D. M.'s caliber. As an English major hoping to continue my education and gain an MFA in creative writing, it is invaluable to have her examining my work and offering advice to me based on her journey through an MFA program."
During her semester at LR, Spratley hopes to inspire the next generation of writers.
"I want to offer students something that was provided to me when I was in college, which is permission to be a writer or to pursue writing," Spratley said. "I want students to know about the possibilities that are open to them and help open those doors in a supportive, welcoming, non-judgmental way. I want to offer students a space where they feel like they can connect with me and ask me questions, helping them find their voices. I'm also interested in offering them a space where they can discover who they are and where they can then move forward with more confidence and skill and bring that into their writing."