Veteran Bears: LR is a military-friendly school
---
It takes a special level of commitment to join the military.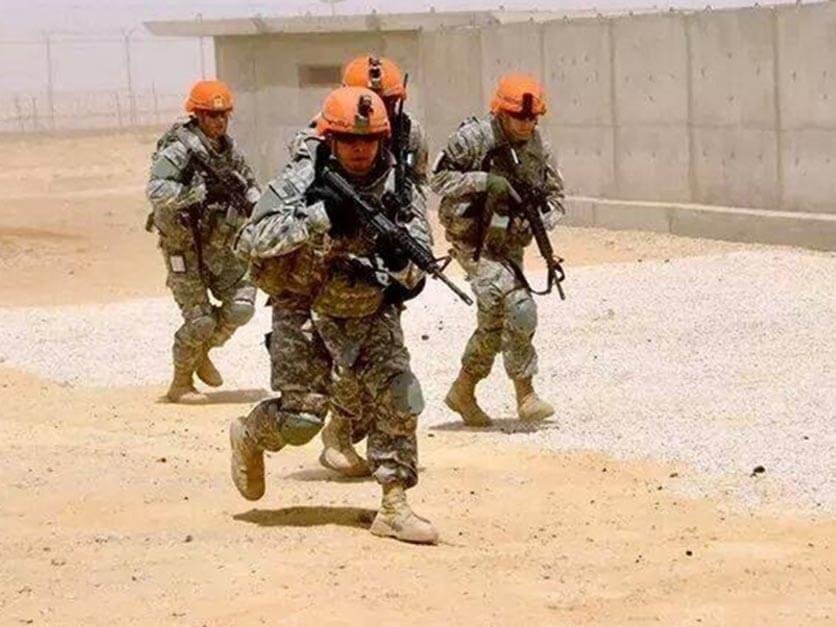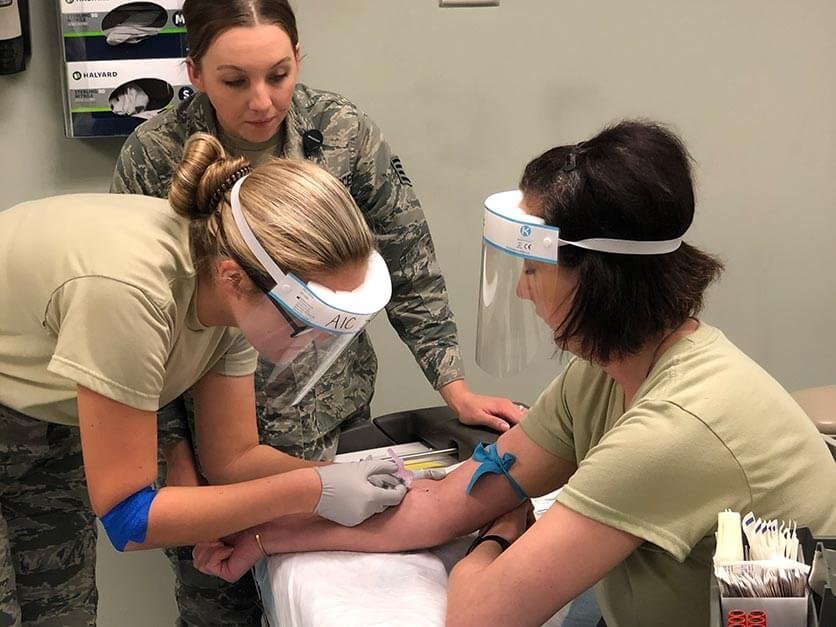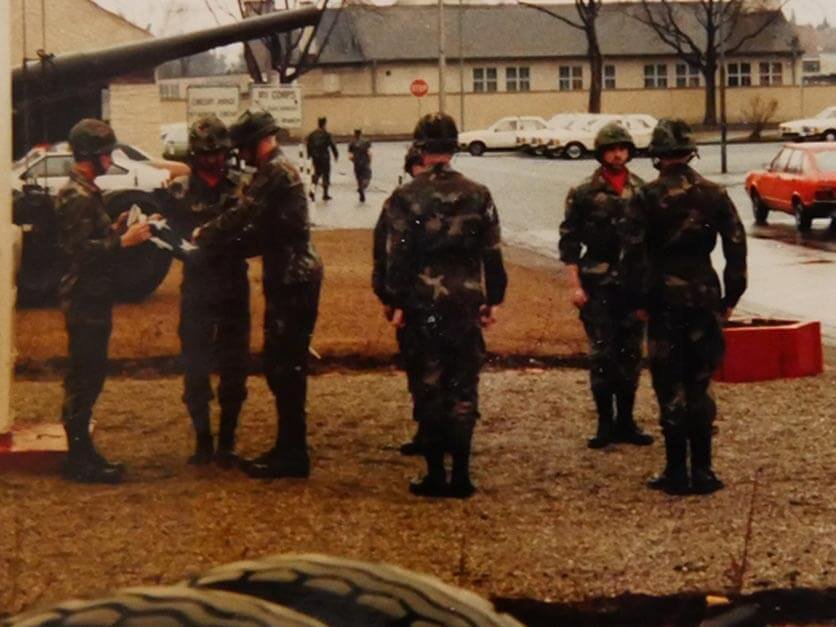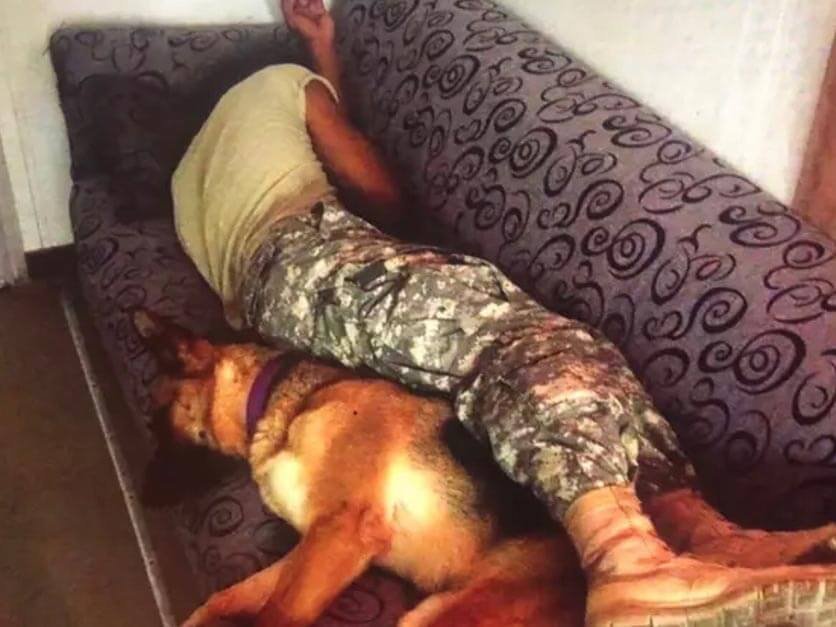 Veteran Bears
---
Lenoir-Rhyne has a long history of welcoming military veterans to campus.
Taking the pledge to serve your country is something that few people make. And once military service is completed, it creates a bond that's never broken. It also comes with a special set of needs for veterans looking to pursue their college degree.
LR's strong sense of community and ability to navigate veteran-specific challenges, like extensive paperwork, have made it a place that many veterans find appealing. As a result, it has led many veterans to choose LR, which also has received official status as a military-friendly school.
As many as 70 military veterans and family members are enrolled at LR in any given year, and 53 are currently enrolled for the 2020-21 school year.
"I felt at home here, as a veteran," said Mark Hager '99, now an adjunct history professor at LR. "When I went to visit LR, I met a professor in the administrative office. His name was John Fogarty. We talked for a little bit, and I found out he was in the military. That caught my eye — having a veteran who was there teaching. I could relate to them and talk to them after class. We would laugh and tell our stories about being in the military."
After World War II and thanks to the G.I. Bill, LR's enrollment skyrocketed. After registering 407 students in 1945, the university saw that number more than double to 843 just two years later. Longtime LR football coach and administrator Hanley Painter was one of those veterans who found his way to Hickory after the war, and in the decades since, many more have followed.
Whether it has been professors of years past such as Painter or Fogarty, or current professors such as Hager and David Jones, Ph.D., interim dean of the College of Business and Economics, LR has frequently counted veterans among the faculty and staff — the university has even held special events commemorating their service on Veteran's Day — and students who are veterans have regularly found that camaraderie welcome in their time in post-secondary education.
Beyond the Classroom
Of course, LR offers more than a shared experience.
Lenoir-Rhyne has more than 50 bachelor degrees and 30 advanced degrees available, with varying admission requirements. Through the undergraduate and graduate enrollment offices, as well as with the assistance of Kimberly Oder, coordinator of enrollment services, the university works with veterans to make sure enrollment is as easy as possible. That can be tricky given the complexity of the G.I. Bill, which has three different sections military veterans can tap into in order to access funds. There also is aid offered through VA vocational rehabilitation, military tuition assistance and benefits for the dependents of military veterans, all of which require extensive paperwork.
Programs like the Yellow Ribbon also can make a difference. It's a program that helps veterans pay for higher out-of-state, private school or graduate school tuition that the Post-9/11 G.I. Bill doesn't cover.
For senior Nikolai Patterson, 25, the Yellow Ribbon program was key. Patterson enlisted in the U.S. Army after completing high school. A native of Shelby, North Carolina, he attended one station unit training at Fort Leonard Wood in Missouri after basic training. He was deployed to the Sanai Peninsula for almost 10 months performing route reconnaissance and route security for VIP generals and non-commissioned officers. Upon his return to the states, he served out the remainder of his enlistment as a K-9 handler in a military police unit.
"Lenoir-Rhyne's Yellow Ribbon program helped me make the final decision, because they were willing to lower their cost of tuition for a veteran so that my post 9/11 G.I. Bill would cover all of my tuition," said Patterson. "And I would get my housing paid for through the bill. This was a deciding factor, and I pounced on it."
Flexibility and LR's personal approach also were the deciding factors for Taylorsville, North Carolina, native Camri Smithey, 21. A junior nursing student at LR, Smithey also is an Airman First Class in the 145th medical group of the Air National Guard. She serves one weekend a month and two weeks each summer based out of Charlotte, North Carolina, with the goal of becoming a military flight nurse.
"I was a last-minute application because I was in Germany," she said. "My application didn't start until December, but I had a lot of help from the faculty and [Oder]. They made a schedule ahead of time for me so I could get tuition assistance.
"I would say LR is military friendly because of how helpful everyone is. The National Guard works really well with being a student. The National Guard is usually deployed a lot, especially stateside. Right now, my unit is deployed due to COVID. That's the main reason why I joined, so I could finish school and receive the benefits of being in the military. I could deploy any time my unit needs it. If it's summer, I could complete a 70-day deployment between semesters."
A Plus in the Classroom
Veteran students are also a valuable asset to their peers and the classroom experience.
"From my experience, faculty feel like veterans have experiences that can really enrich the classroom," said Katie Fisher, dean of student life. "I believe veterans here feel like faculty members really want to hear what they have to say."
In his time at LR, Patterson has been involved in civic support events and named to the S.A.L.U.T.E National Veterans Honor Society. The organization was founded in 2009 at Colorado State University to honor academic achievement from students who are veterans or actively serving.
"This is something that only veterans get to be a part of if they have the GPA for it," Patterson said. "A lot of other schools do not have a chapter of this organization on their campus."
And LR's personal approach even extends to student IDs. "Something really small that LR did for me was put an American flag behind the picture on a veteran's student ID instead of the normal background," Patterson said. "I took an oath to defend and would do it again if called back. This also distinguishes you from the average 18-year-old student. It was small, but actually meant a lot to me personally."
Small actions like that add up and make veterans feel truly welcome at LR. "We're glad veterans choose LR," said Fisher. "Not only do they have the courage to go serve our country, but they also have the courage to come back and go to school. From my experience, they have a high level of maturity. They've been working with rules and regulations, and they're good students."