Unique courses offer students fresh perspectives
---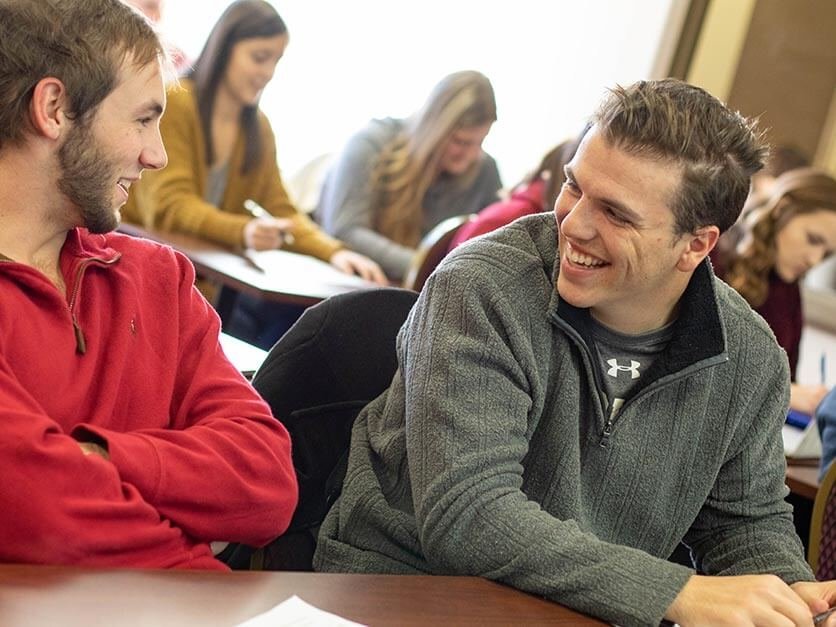 Learning through fun
---
LR implements classes that teach students by appealing to their interests such as courses on memes or Star Wars.
In the course The Meme-ing of Life: An Introduction to Visual Rhetoric, Cade Hamilton, instructor of communication and director of LR's debate program, uses internet memes to teach communication. A meme is an image, video, or piece of text that is copied, often with slight variations, and is often shared by Internet users.
"This class is unique because it takes something as contemporary as memes and applies a meaningful part of communication studies–visual argument," Hamilton said. "Students have been able to take something they do anyways, while sophisticating their perceptions and uses of memes."
Throughout the course, students are tasked with analyzing a new, popular meme and are introduced to a number of perspectives and critiques of how viral images circulate through people's lives and have real world implications on human interaction. For coursework, students create a series of memes and present to the class. The final project culminates in an analysis of a particular culture, such as college football or video game groups, to identify how, why, and the effectiveness of each culture's memes.
"While the media we use change over time, applying a broader understanding of visual rhetoric and argument enables students to consume, contemplate, and create communications more meaningfully," Hamilton said.
For Susan McGill, senior in nursing, The Force of Star Wars: Examining the Epic introduced her to a unique course outside the box of ordinary nursing curriculum.
"Learning about how Star Wars came to be through the imagination of George Lucas and seeing how he transformed his childhood pastime of comic books and his interest in fast cars to produce such an imaginary universe has been fascinating," McGill said. "While Star Wars itself has little to do with nursing, the written word and the powerful influence it holds, pertains to virtually all things."
Amy Sturgis, Ph.D., adjunct assistant professor of liberal studies, said students learn from her course that storytelling is more than entertainment.
"Storytelling is how we explore our own histories, how we cultivate morality, and how we ask important questions about who we are and what we should be," Sturgis said. "Once they complete the course, I hope students will think more critically about what they watch, read, and hear."
Another unique component of the course is the semester long research project Sturgis assigns to the students.
I work with the students one-on-one to help them choose a topic that speaks to their majors or personal interests. They develop a research plan and formulate a critical argument they have discovered.
In the course Pandemics and Human Behavior, Kathryn Tinkelenberg, Ph.D., professor of nursing, encourages students to explore the relationships between outbreaks of infectious diseases and how they influence behavior.
"I use a variety of materials to teach the class, ranging from the CDC website to a fictionalized account of the first Ebola outbreak in 1976," Tinkelenberg said. "I hope they learn that how we respond to an epidemic or pandemic can impact the outcome."
Jorge Queriapa, senior in finance, said Tinkelenberg's class was interesting from the view of economics and psychology.
"I especially liked the HIV/AIDS section of the course where we read the book, 'And the Band Played On' by Randy Shilts," Queriapa said. "It really brought out the psychology enthusiast in me and struck me as one of the most impactful segments of the course due to the reality of how diseases impact our interactions with other groups of people."
Summer Lackey, junior in biology, also said the class was valuable. "It has been interesting to learn more about infectious diseases like cholera, ebola, or influenza," Lackey said. "Dr. Tinkelenberg also presents the material in a unique way, utilizing group work, demonstrations, and readings to help us learn the material in a very hands-on manner."
In another science course with a different classroom approach, Joshua Ring, Ph.D., associate professor of chemistry, taught Physical Science in the Kitchen.
"My goal in this course is to teach chemistry and physics and build the learning around the lab, which was in the setting of a kitchen," Ring said.
Ring said the goal isn't for students to learn how to cook. Instead, he provides context in experiments that help students learn how physical and chemical changes take place during heat transfer, how molecules interact with each other, and the basic principles of kinetics and thermodynamics.
Throughout the course, students changed the variables in several experiments to test for different outcomes. "For example, during one lab, we talked about the differences in making homemade ice cream because of the physical change due to a temperature change," Ring said. "In the same lab period, we reacted the same ingredients to make caramel, and students learned how heating caused a chemical change instead."
American Tales is one of the very few, fully online level one Humanities courses, which makes it unique. Taught by Veronica McComb, Ph.D., associate professor of history and director of the University Honors Academy, this interdisciplinary course explores the formation of the concept of the American dream through history, literature, film, television, and music. Students examine intersections of gender, race, ethnicity, class, and religion in an effort to understand the meanings of nation, nationhood, and belonging in the United States through a critical analysis of American stories.
"The course is highly collaborative and contains many opportunities for students to work individually and in small groups as they work toward a deeper understanding of course content," McComb said. "I hope that students develop the ability to see beyond the very attractive spirit of the cultural ethos that the American dream represents and to grapple with the complex reality of achieving that dream. I also hope students develop a greater degree of compassion for individuals who may experience barriers to their ability to achieve the dream and that they will take that compassion and advocate for themselves and others."