---
Percussionists tend to hear music in the rhythms of everyday life — the click of computer keys, the crash of a construction zone, the syllables of words. For his most recent composition, Zachary Bailey '23 took inspiration from 19th-century telecommunications.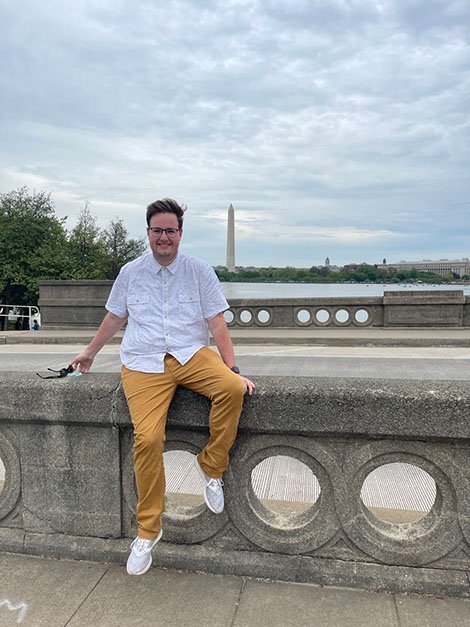 "My percussion instructor had asked me to write something for us to play, and I started thinking about Morse code because it uses a series of short and long beats. I chose the instrumentation, added a melody, and it came together," said Bailey.
The composer
The composition, entitled "Morse Code," opened the LR percussion ensemble's spring concert on April 5. The piece relies heavily on marimbas — Bailey's favorite instrument for its tone and versatility — which create layered, sometimes whimsical, sounds that contain hidden messages.
"I spell out 'SOS' and the words 'music 'and 'run' in the composition. It's about how there is darkness in the world, but we're sending messages to each other across great distances, sometimes in distress and sometimes in warning. But then we all come together to create music and joy," Bailey shared.
"Morse Code" is not Bailey's first original composition. The music education major has worked with the Lenoir-Rhyne Summer Youth Music Camp for several years and has written three other compositions for chamber ensembles and percussion ensembles.
"Last year I wrote a piece called 'Junkyard,' and it represented the sounds you would hear inside of a junkyard, so we used some special instruments in the performance — for example there was a metal trash can and a few other items you normally wouldn't see in a concert setting," Bailey explained.
The performer
Like many of his peers, Bailey joined the band in middle school because he needed to choose an elective and liked music. He started out playing the clarinet, but when he joined the marching band, he discovered he didn't like marching with a wind instrument.
"Then I learned I could join the front ensemble, which plays with the marching band but remains stationed up front. I ended up enjoying percussion more than the clarinet. I found I really like the aspect of putting on a show with the music," he said.
Bailey's most recent marching band performance took him and the rest of the Spirit of LR marching band to the National Cherry Blossom Festival parade in Washington, D.C. – where the group performed for an enthusiastic crowd.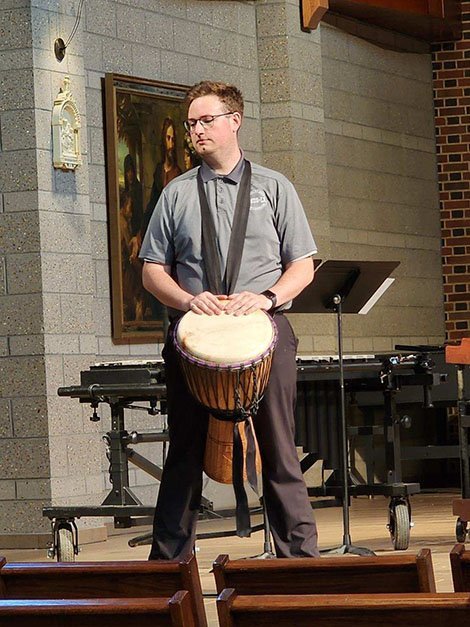 "The weather was hot, but there was a lightness in the people who were friendly and seemed excited to have us there. While we were doing the parade everyone was cheering for us and sharing the moment like they knew us. Then there was a corner with a whole bunch of alumni that came out, and they were excited on another level. It was a really cool experience," Bailey shared.
The educator
Spirit of LR director Neil Underwood played an instrumental role in getting the band to D.C. and in bringing Bailey to Lenoir-Rhyne, as Underwood had been Bailey's band director at North Lincoln High School.
"He kept coming back and checking on me, and I really liked the aspect of it being a small environment here. With the other students and the faculty, we spend so much time together that we're like a family, lifting each other up and working toward a common goal."
Bailey hopes to carry that sense of belonging and cooperation into his own career as a music educator. He will start the master of arts in teaching program at LR in the fall.
"I decided I wanted to teach when I was mentoring eighth graders back in high school. I had my first experience of leading a student to that 'aha' moment, and I thought 'I want to do this all the time."
Now Bailey is looking forward to working with high school students, helping them progress beyond the basics and develop as musicians. He's still writing music, so those students will likely perform a few compositions penned by their own director.
"When you hear something you've written played in a real performance setting, it's like being in a dream. There's a scene in 'The Greatest Showman' where they finish an act and the camera shows everyone clapping, but you don't hear them clapping. A great performance feels like that."