---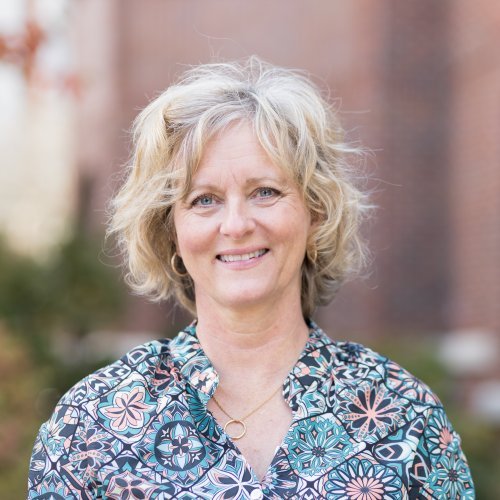 It's fair to say Jeannine Van Sandt was a little nervous about returning to the classroom. It had been 20 years since the mother of six and grandmother of three was a student, but her drive to help others gave her the courage to join Lenoir-Rhyne's Master of Counseling program.
"It's a strong calling that comes from deep inside of me," said Van Sandt. "It was sprinkled throughout my life. One way or the other, I would find myself in a position of helping, whether I was mentoring mothers of preschoolers or mentoring high school students. I've always been organically placed in that position. Now, I'm able to do this in a way that will support me. It's going to be a career that supports me in my old age."
Van Sandt says she spent a lot of life focusing on her children, watching them build their resilience and grit. While motherhood has been rewarding, with her children now grown, she can exercise her own fearlessness.
"My children have been supportive of me in this venture," she explains. "They're proud of me, which helps. Some days it's just an organic, intuitive process, and some days I have to make definite boundaries," she explains. "It's about drawing and walling off boundaries to make space for this program and for myself." 
Power of a support system
Fellow students, shares Van Sandt, have also given her plenty of encouragement.
"The camaraderie has been amazing as well as the peer support," Van Sandt said. "Even though our program doesn't have a cohort per se, it's such a small program that we end up in each other's classes and milieu often. It's just so nice to feel like we're doing this together." 
Van Sandt shares that the professors' belief in counseling and faith in her have also made returning to school easier.
"I'm sitting in class with some students who just graduated three years prior," she shares. "There is a discrepancy in ability. For instance, I had never done APA-style writing before. The professors are just incredibly supportive and answered every question I ever had."
Van Sandt believes the program will have her well prepared to achieve her dream of opening a private practice or working with other therapists to specialize in relationship counseling.
"There's been a lot of relating to the real world through this program," she said. "I don't think we'll be surprised when we go out and begin our careers."
And, she adds, the timing couldn't be better.
"I don't feel like it's too late," Van Sandt stated. "Everything I learn, every class I take, inspires me to keep moving forward."