---
When Ben Rogers '24 felt a calling to become a church elder in the United Methodist Conference, he knew he wanted to find a seminary close to home. As a pastor at not one but two churches in the Columbia, South Carolina area, the location was paramount.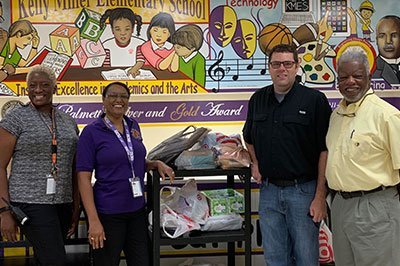 He enrolled at nearby Lutheran Theological Southern Seminary in 2018 to begin earning a Master of Divinity and found not only a program that fit his geographical requirements but also one that helped him in his daily ministry.
"LTSS allows me to be in the classroom, which helps me grow in learning, not only about God but also from other students, as we are all answering the call that God has placed in our lives," said Rogers.
The professors and students serve as a network of support, shared Rogers, and help him identify the needs in his community.
"The professors bring out real-world scenarios that we face daily and also the obstacles that those behind the margins are dealing with that we, as clergy, should preach and teach about to our congregation," he said.
Rogers began serving as a local pastor in 2014 in the Florence, Orangeburg and now Columbia District. Since 2020, Rogers has served at Monticello and Bethel United Methodist Churches.
"They are two small congregations that are big in heart," said Rogers. "They lift the church by their prayers, presence, gifts, service and witness." 
The coursework at LTSS has allowed Rogers to apply what he is learning directly to his church families.
"Each class has taught me how to become a disciple of Jesus Christ for the transformation of the world," he said. "I try to realize that what I do in the classroom helps translate to work in the parish."
Although balancing his roles at two congregations and seminary work is not always easy, Rogers trusts his faith and calling.
"I have realized that I need to let God do the leading instead of me thinking that I should be the one doing all the work," Rogers said.