---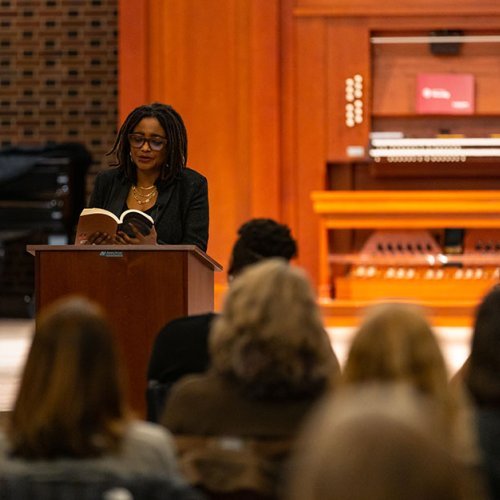 The Visiting Writers Series kicked off the spring semester of its 34th season on February 2 in Grace Chapel with an emotionally resonant reading from Tracy K. Smith, United States Poet Laureate from 2017 to 2019.
Following a welcome from Rand Brandes, Ph.D., professor of English and Visiting Writers Series director, Emily Asvestas '26 stepped forward to introduce Smith — keeping with a tradition of student introductions dating to the inception of the Visiting Writers Series.
After enumerating Smith's many awards and accolades — including her 2003 Cave Canem award, her 2012 Pulitzer Prize for Poetry, her Academy of American Poets fellowship in 2014 — Asvestas drew a breath.
"I have to pause after I read that list every time. I am shocked every time I read that list — and I wrote the list," Asvestas shared.
Over the course of the next hour, Smith proceeded to spellbind the audience filling the Chapel with observations, questions and images ranging from outer space, local supermarkets and historical records
"I love reading in churches — such a beautiful space — and I feel that poetry is a force, a cosmic force, that allows us to feel the largeness that we contain. It also reminds us how important it is to feel small in the large scheme of things," Smith shared.
Smith's reading included selections from her Pulitzer-winning "Life on Mars," a collection of poems using a science fiction framework to explore the nature of being human, and her 2018 book, "Wade in the Water," an investigation of similar themes through the lens of daily life and human history on Earth.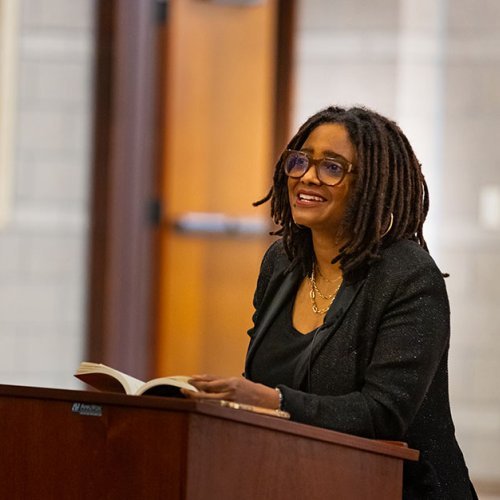 One of the most powerful readings came from the latter text. "I Will Tell You the Truth About This, I Will Tell You All About It" pulls its lines from letters written by Black soldiers seeking their pensions after serving in the U.S. Army during the Civil War and left the large audience speechless and, as Brandes described at the end of the evening, "spellbound."
Before concluding with a series of selections written about her time as a translator for Chinese poet Yi Lei, Smith offered her thoughts on the purpose poetry serves as a means for making sense of the world.
"Poetry is a really great tool for thinking about what is difficult. It is also great for imagining and remembering what joy is possible."