---
Alumni Share Their Stories from LR to Success
Fueled by passion, these three Lenoir-Rhyne alumni have applied the skills they gained at LR and used them to advance their careers.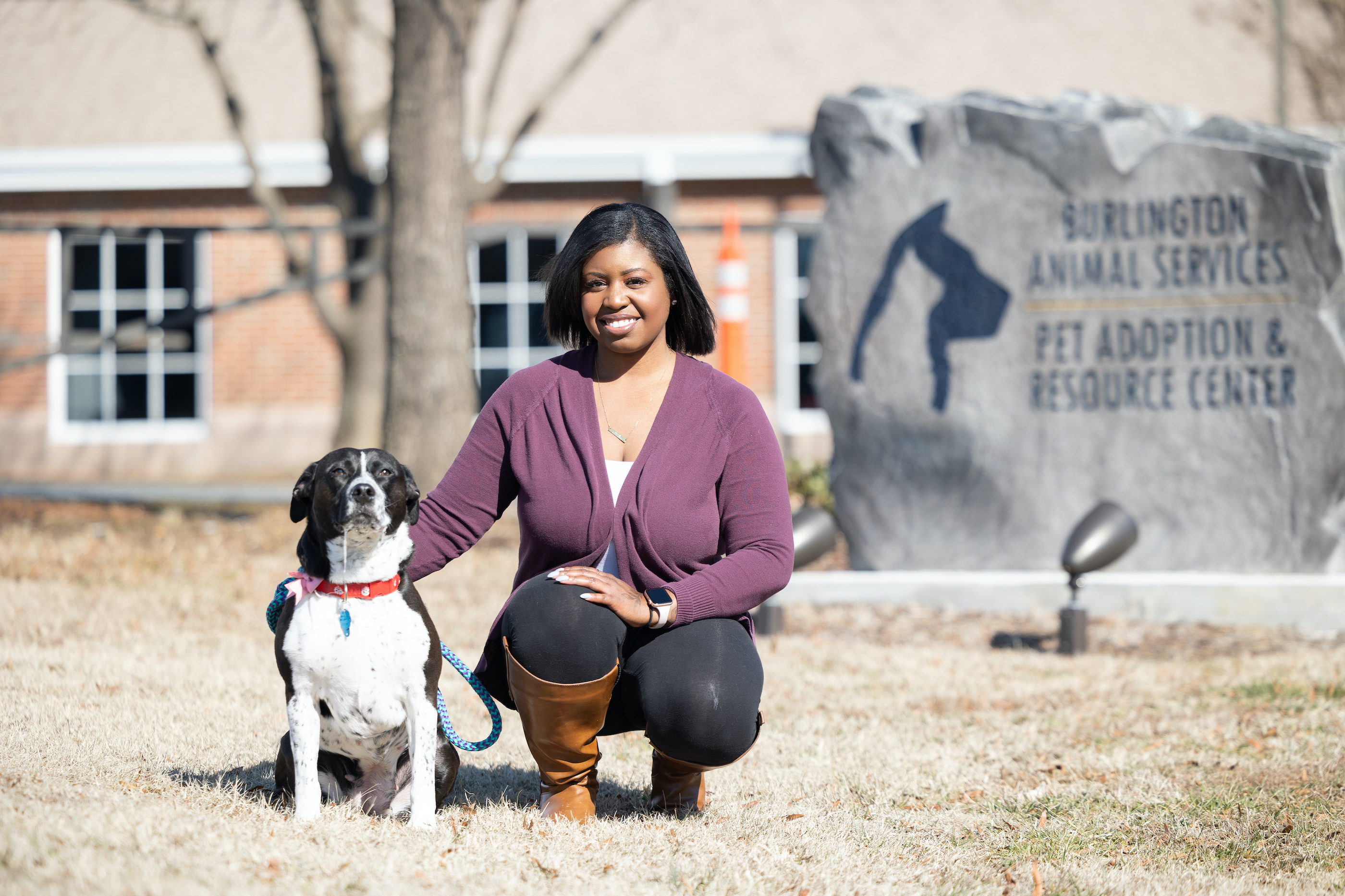 HELPING THE COMMUNITY
Amber Currie '12 didn't plan on attending LR, but once she stepped on campus, she was sold.
"There was a sense of familiarity and home," Currie said. "It was the right fit from day one."
After graduating with a bachelor's degree in sociology, she returned home to Burlington, North Carolina, and began her career at NCWorks Career Center in Alamance County as a youth career adviser. For the last eight years, she has worked with 16-to-24-year-old, first-generation and low-income students to find funding for college tuition and supplies.
The move home provided not only a job but also opportunities. Inspired by her love for animals, Currie began volunteering with the local animal shelter. She collected items, like collars and towels that the shelter needed, but found herself asking what more she could do to help.
In speaking with the staff at Burlington Animal Services (BAS), she learned that they did not have a rescue coordinator and from here, the idea for Amber's Animal Advocacy was born.
The 501(c)(3) organization aims to create networks between shelters to help them find homes for cats and dogs and raise money for transportation and medical needs.
"Our goal is to help animals in the community in any way possible," Currie said, who is the founder and operator of Amber's Animal Advocacy.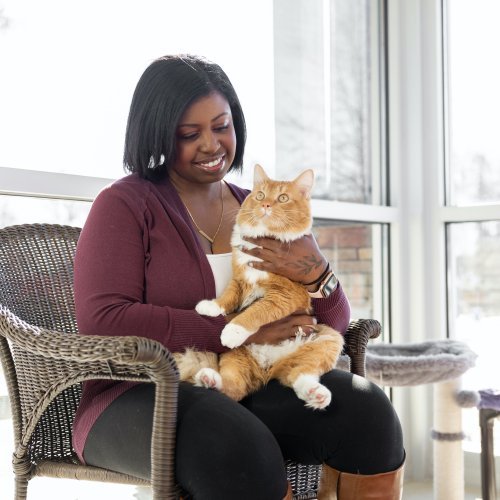 In June 2021, the nonprofit reached its fifth anniversary, having helped more than 500 animals with various needs and transporting animals as far south as Texas and as far north as Ohio. One of those animals was Charlotte Grace, a mixed breed dog Currie met at BAS.
After losing her chocolate lab, Milano, to cancer in November 2019 and her mother, Debra, in January 2020 from complications with pulmonary fibrosis, Currie had no plans of adopting. But after meeting and fostering Charlotte Grace, she gave her a home.
"I did the number one thing you see when someone fosters — they adopt them," laughed Currie.
Working full time as a youth career advisor and running Amber's Animal Advocacy keeps her busy, but she feels prepared every day for the unexpected, thanks to her degree from LR.
"It gave me a better understanding of people — those who have similar and different backgrounds," she said. "I feel well equipped to work with those from diverse perspectives and have the knowledge on how to collaborate together."
Her commitment to the community has been noticed by others — as she was nominated for the Petco Love Volunteer Grant by BAS.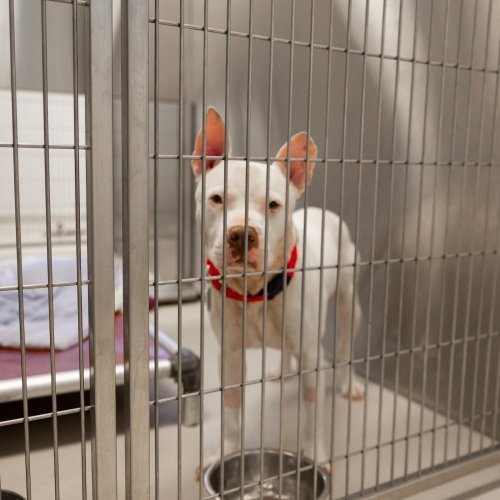 Currie shares the following advice for those looking to help their local animal shelters and rescues.
"First and greatest: spay and neuter. It helps with overcrowding in shelters and strays on the street," Currie said. "Volunteer your time. This can include helping wash dishes, laundry, walking animals and interacting with them. Donate. Everything takes funding. Lastly, share posts you see on social media for pets needing a foster. You never know who you can reach."
LR BEAR TO ITALIAN FOOTBALLER
When it came time to look for a university to study and play soccer, Aqsa Mushtaq '20 started looking stateside. But what drew the Bradford, United Kingdom, native to LR, was the close-knit community.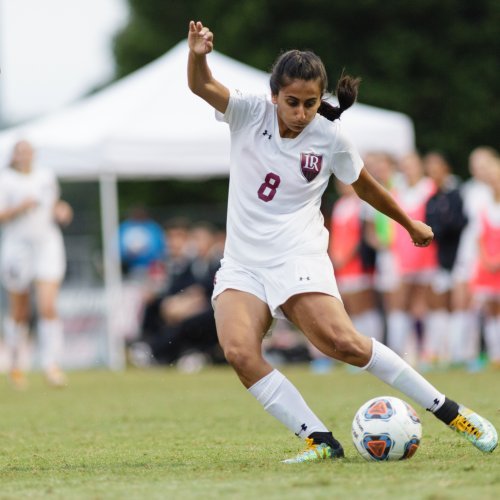 "For me, the head soccer coach was one of my main focuses because that person brings the team together, so my decision was made easier by seeing how great the team was and how they were looking to improve long term," said Mushtaq, who earned her bachelor's degree in psychology. "Plus, at a small Division II school, everybody knows everybody, and you receive support reaching beyond your team."
At LR, Mushtaq was an active player on the women's soccer team and was voted South Atlantic Conference Player of the Year in 2019-20.
Post-graduation, she was looking for her next opportunity, which came down to deciding between graduate school and playing soccer.
"I got some interest from agents wanting to help me find a team," she said. "They were very comforting and told me that I should not give up playing football as I could get onto good teams."
At 22 years old, she signed her first professional contract with Napoli Calcio of Serie A, the highest level of professional soccer in Italy. Mushtaq played with a club based out of Naples, Campania, from August to December 2020 before moving to Rome to play the remainder of the season for Roma Calcio Femminile.
With her degree in psychology, she has been able to apply the knowledge she learned to understand how the mind works and how connections are made and apply them on the field.
"There is always a mental aspect of the game, so sports psychology can almost overtake the physical aspects of the game," she said.
The transition from college to professional soccer changed her life in many ways, but one of the biggest changes is the language. Mushtaq had only lived in countries where English was the primary language, but an unexpected aide has been the addition of Italian lessons to her other preseason workouts with other non-native teammates.
As she works toward her goal of playing for a top team in England or America, Mushtaq reflects on the challenges she has faced thus far in her career path.
"I am a British Pakistani, and I think with being Pakistani, there is always a certain way other people who are within the same culture see you," she said. "Being a Muslim, it is not seen as the right thing to do for women to play sports or to go far away to study. I have always had people look down on me for playing soccer, especially because I am from Bradford, which is heavily populated by British Pakistanis. However, it does not affect me anymore as I have a different mindset. It does not matter what others think as long as my family supports me, and my friends are by my side. That's all that matters."
ENGINEERING BETTER HEALTH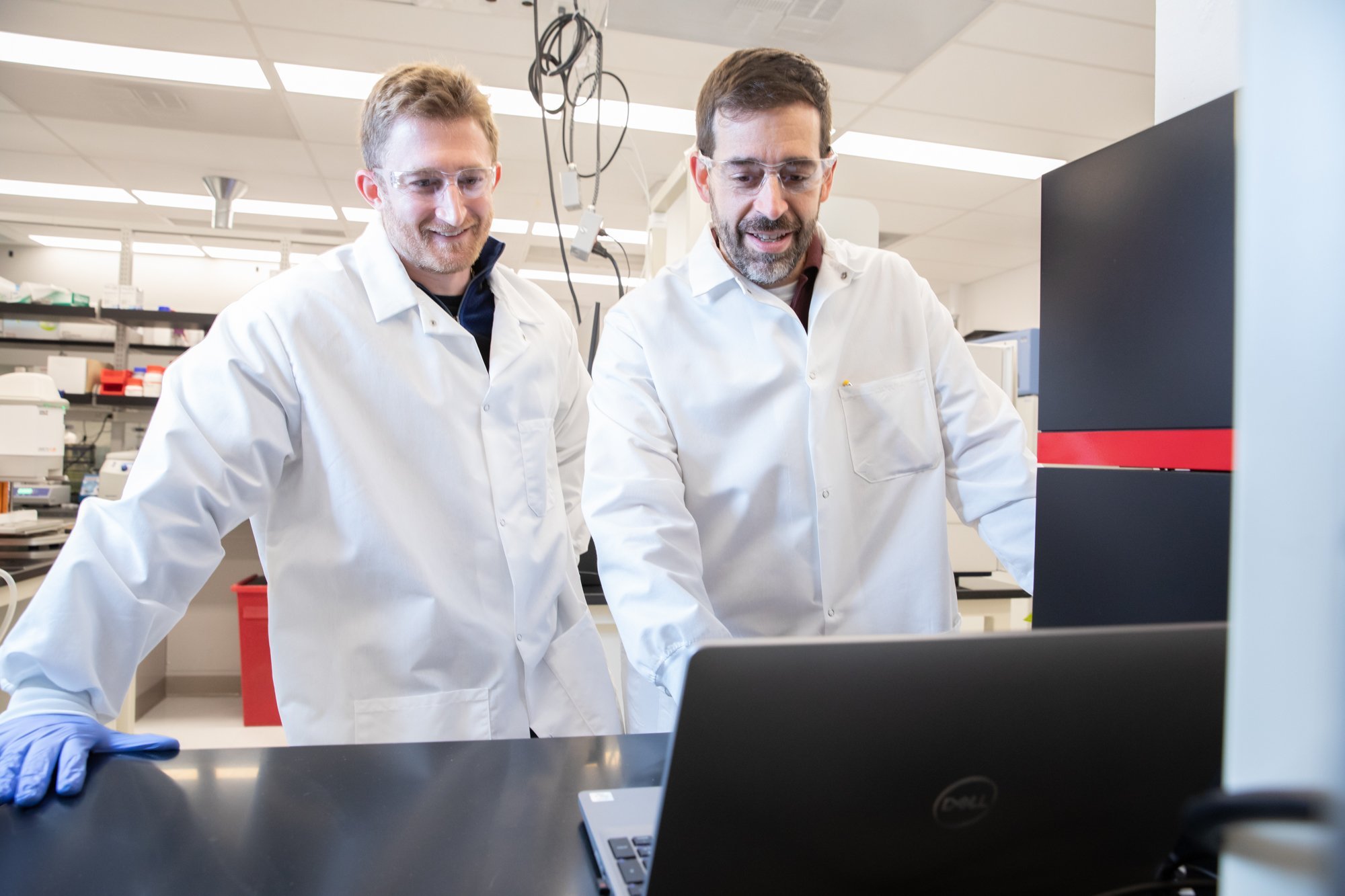 Growing up near Lenoir-Rhyne's campus, Jacob Stuckey '11 always pictured himself attending the university.
As a cross country and track student-athlete, his collegiate days were filled with running and organic chemistry.
"Not many people will claim to love organic chemistry, but my time with Dr. [Joshua] Ring, [associate professor of chemistry], in organic chemistry and biochemistry showed me early on how chemistry principles help to make a difference," he said.
Equipped with his bachelor's in chemistry, he went straight to graduate school — attending the University of North Carolina, Chapel Hill — and earned his doctorate in pharmaceutical science in 2016.
While at UNC, Stuckey's research focused on chemical probe discovery for potential epigenetic drug targets ­— non-genetic influences on gene expression — for cancer therapies. From this, he developed a chemical toolset for studying the effects of antagonizing protein structure domains called chromodomains, contained in Polycomb Repressive Complex 1 (PRC1) — which play a major role in how cells regulate conversion from DNA to RNA.
Inspired by his work in graduate school, Stuckey continued to look at effective molecules when he joined the team at Constellation Pharmaceuticals, a biopharmaceutical company located in Cambridge, Massachusetts.
As part of the new project team, Stuckey supported both advanced and exploratory epigenetic drug discovery programs — which led to being co-inventor of the CPI-0209, a second-generation inhibitor of a protein called EZH2 — which is currently in clinical trials.
"When I joined Constellation, a first-generation molecule inhibitor had already been created for patients that was efficacious and safe and resulted in no dose-limiting toxicity," he shares. "So we asked ourselves if we could further improve the efficacy?
"We pushed forward and made some of the most potent molecules that have been described for any drug target, not just EZH2 — just measuring the potency of these molecules was a significant achievement scientifically," Stuckey said. "The ultimate goal moving forward is to access the full potential of targeting EZH2 in cancer."
In January 2020, Stuckey felt ready for a change and began working at Third Rock Ventures, a venture capital firm that creates and invests in biotech startups, which led to his current position at Flare Therapeutics, a biotech company with a focus on targeting transcription factors to discover precision medicines for cancer and other diseases.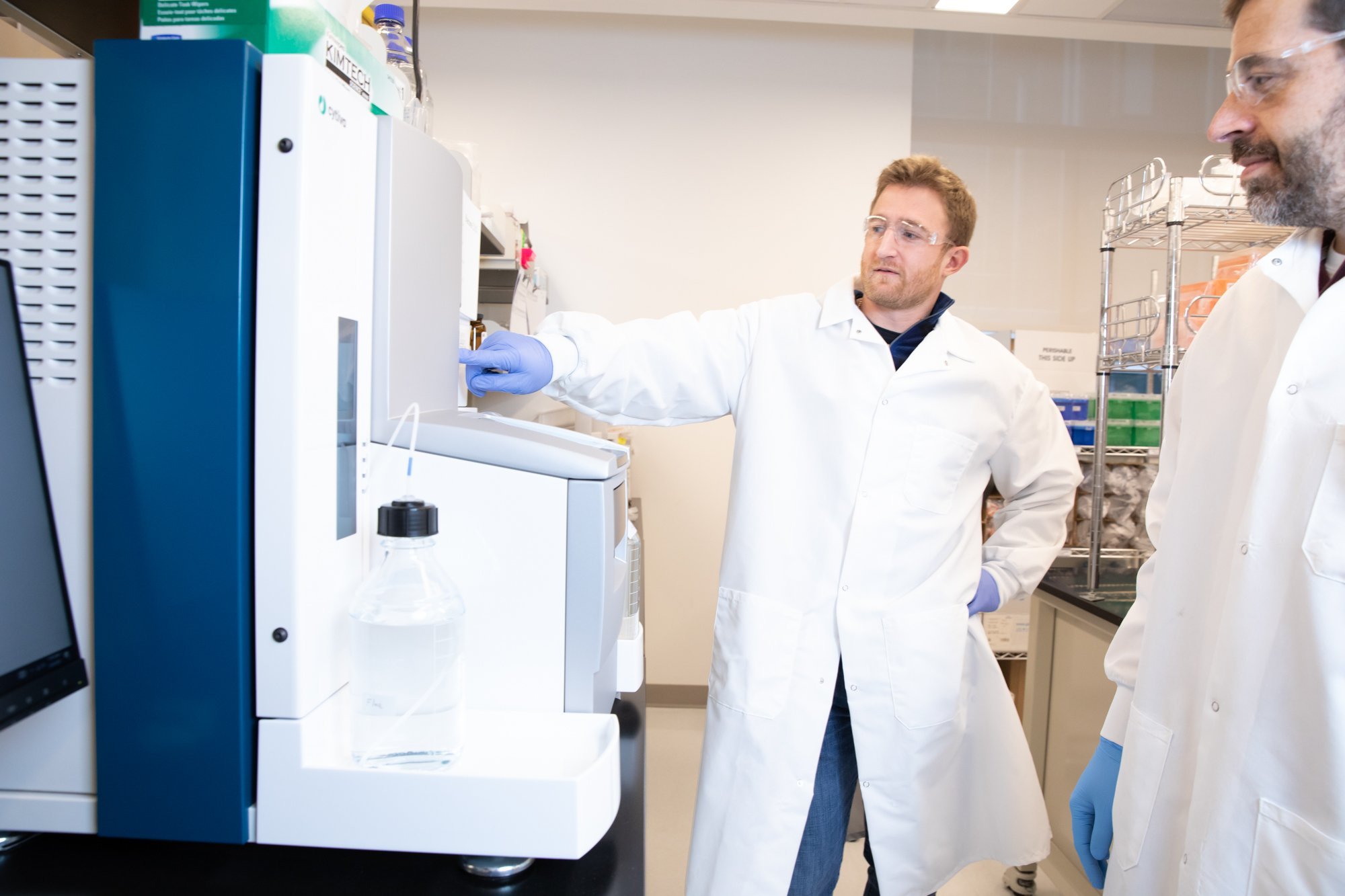 As founding scientist and senior director of biochemistry and chemical biology at Flare, he leads a team of four internal scientists and approximately 10 external scientists in research focused on small molecule screening and studying how advanced molecules interact with their targeted protein in the body.
What's next for Stuckey? Continued research that stems from a love of chemistry first discovered at LR.
"My time at the university set me up completely for my future success and endeavors," the father of two shared. "The chemistry program gave me the fundamental understanding I needed to go into graduate school prepared and ready for the next level the moment I walked in the door."