NFL prospect, teammates engineer laser timer
---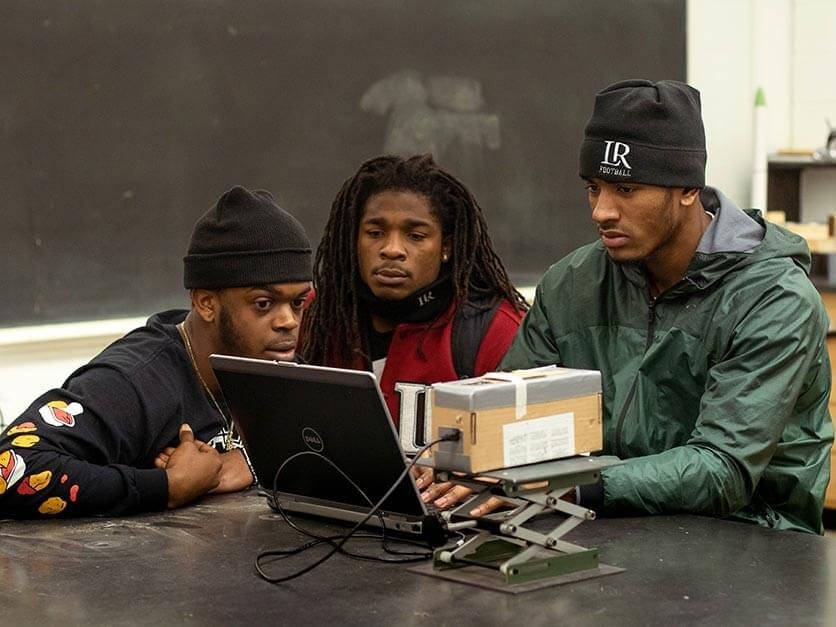 Football standouts excel in the lab
---
Kyle Dugger, Demarius Hampton and Saaehim Brooks coded and engineered a laser-timed 40-yard dash machine for their research physics class project.
A blazing 40-yard dash time would do wonders to help the draft stock of top prospect Kyle Dugger heading into the 2020 NFL Draft.
He's addressed that—in more ways than one.
As part of a senior project for Research Physics, Dugger worked with Lenoir-Rhyne University football teammates Demarius Hampton and Saaehim Brooks to engineer a laser-timed 40-yard dash machine.
"Every time we take a big step or make a big jump with this project, we start getting excited and get more into it," Dugger said. "Then we have to slow ourselves and focus again on the little details."
Doug Knight, Ph.D. and assistant professor of physics at LR, teaches the course and approached the group with the idea for their senior project given their football background and academic aptitude.
"All of those guys individually are smart," Knight said. "Put them together, and they're really bright. They each have different skills that complement each other and that's what they need."
All three are members of a Bears football team that went undefeated during the regular season, winning their second straight South Atlantic Conference championship -- en route to a berth in the quarterfinals of the NCAA Division II playoffs -- with Dugger playing safety and Brooks and Hampton lining up as wide receivers.
Working on this project has allowed them to combine sometimes competing interests.
"It's the best of both worlds," Brooks said. "There's a lot of excitement because the team won, and there's that good feeling of knowing you're doing things right on and off the field."
All three have displayed creativity and innovation away from the bright lights and cheering fans, putting in long hours with forward-thinking ambition to not only prepare for a playoff run, but also successful careers.
Kyle Dugger, Demarius Hampton and Saaehim Brooks
---
All three are members of a Bears football team that went undefeated during the regular season, winning their second straight South Atlantic Conference championship.
Dugger, Hampton, and Brooks were up at the break of day with morning weightlifting and training schedules as early as 5:30 a.m. Between workout schedules, classes, film sessions, and homework, they sometimes were completing work into the midnight hours.
Initial planning took place at the beginning of the semester before the trio went to work on the project.
All three student-athletes had previous fabrication experience from classes on campus that involved building rockets or fighting robots, however, this was their opportunity to lead a project from concept through to completion.
"We started on the coding first, because that was the hardest," Hampton said. "Then we knew once that was done, the rest would be easy. We all live in the same building actually. (Brooks) is my roommate and (Dugger) lives next door, so we just met in my room to work on the coding."
"There wasn't any code for this kind of thing, so we had to build it all from scratch," Brooks added.
In late fall, after finishing coding, the trio worked on 3D printing boxes to hold the processors and lasers, while programming the components to interact flawlessly. They designed it so the timer operates from a cell phone and stops when a runner crosses the laser.
Throughout the semester, they met weekly with tasks assigned to different members of the group. Dugger and Brooks have taken on more responsibilities relating to software, while Hampton has had a larger hand in fabrication, according to Knight.
In a world where football players and athletes can be derided for their lack of dedication to academics, Hampton, Dugger, and Brooks aspired to pursue another path.
"People doubt you," Hampton said. "We already have the background to prove people wrong. With this project and our majors, even though we play football, we can show people that's not all we can do."
After this semester, Dugger is likely heading off to the NFL as arguably the top small-school prospect in the country having competed in the Reese's Senior Bowl, which serves as one of the premiere scouting events for NFL teams. However, he fosters ambition of being an architect when his playing days are over.
Hampton and Brooks have another season of eligibility as redshirt juniors and could return to the back-to-back conference champion Bears, however, they're graduating early and preparing to head out into the career field as engineers.
"A lot of people don't give them the credit they deserve," Knight said. "The fact that they're doing this is just more reason to let people know that football players are smart."