---
Alumna Kellie Medley '11, M.A. '14 has been appointed the new director of residence life.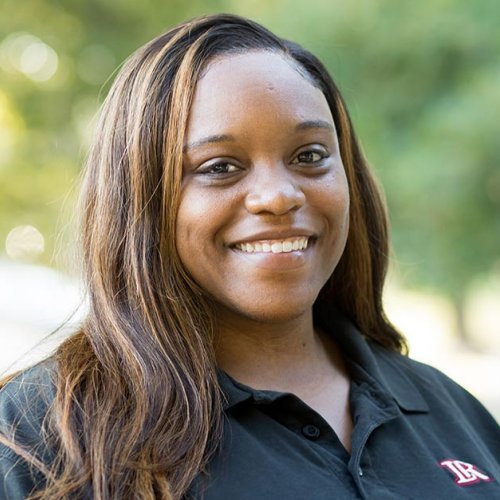 Medley began her new role September 19 and is charged with coordinating residence life for approximately 800 students on the Hickory campus and assisting with 40 students in residence at the Columbia campus.
Responsibilities for this position include managing housing assignments, organizing move-in and move-out days, collaborating with offices across the university to develop relevant and meaningful training sessions and community development experiences in the residence halls, training and supervising resident advisors and directors, reviewing and enforcing relevant student life policies and other duties to support student development and residence life.
"Coming into this role, I asked myself 'How can I bring what I've learned over the past ten years into this role and better serve the university and our students?'" shared Medley. "Being face to face with students on a daily basis, conversing with them about their lives and being a friendly face for them – I am excited to get a well-rounded understanding of the students from this new position."
Medley is a two-time graduate of LR, earning a bachelor of arts in political science and a master of arts in clinical mental health counseling.
After graduation in 2011, Medley held a variety of roles in the counseling and residence life fields. She previously held the role of program manager at McLeod Addictive Disease Center, then became a counselor at Bunker Hill High School. She joined LR's Columbia campus as a student life coordinator and returned to Hickory in 2020 as the coordinator of alcohol and drug education and a mental health counselor at Cornerstone Student Support and Wellness.
With the switch from Cornerstone to residence life, Medley shared how her drive for student engagement motivated her to apply for the position.
"I want to be more hands-on with students on a daily basis, not just for crises – it's the experience of watching students grow from freshmen to seniors, preparing for graduation and being involved in every aspect, not just the mental health piece," said Medley, who will graduate with her doctor of education in organizational leadership with an emphasis in higher learning from Grand Canyon University in spring 2023. "It also felt like the right time for a change. I tell my clients all the time, change is one thing in life that doesn't come easy, but it's always necessary. Right now, for me, change is necessary."
As director of residence life, Medley hopes to show students what makes LR special.
"Lenoir-Rhyne is more than just a university – it is a family. I hope to help students make the motto 'Once a Bear, always a Bear' a concrete part of their lives," she shared. "I am excited to continue giving back to the university that has given so much to me and to help students discover the joy in experiencing life as an LR Bear."