---
Lenoir-Rhyne University has announced the promotion of Brittany Marinelli '17, M.A. '21 to director of international education. Marinelli has served as the interim director of international education for the last year and previously served as the assistant director for four years.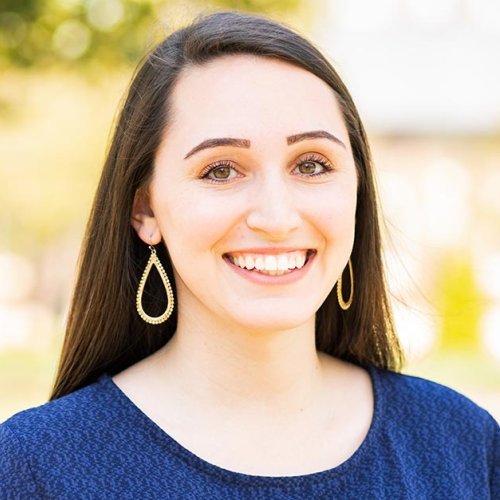 "I have been so impressed with Brittany's leadership and am excited to partner with her to continue to enhance international education at LR," shared Jennifer Burris, Ph.D., university provost.
In her role, Marinelli guides and advises students through the study abroad application process, ensuring that students select academically appropriate overseas programs that fit their budgets. She also provides comprehensive student support services to student exchange visitors and coordinates social and cultural events to promote cross-cultural learning for all Lenoir-Rhyne students.
Earning her bachelor of science in biology in 2017 and master of arts in university leadership in 2021, Marinelli has always called LR home and is inspired to help students make the most of their time at the university and the opportunities available through studying abroad.
"I witnessed firsthand how transformational a liberal arts education is, and I wanted to share my journey with students to encourage them to make the most of their college experience. As a first-generation college student, I came to LR without a lot of guidance from my loved ones, and fortunately, that lit a fire inside of me to get involved and try different experiences to figure out who I was as a person and what I wanted to do with my life," Marinelli said.
"I was involved in things like work study, campus activities board (CAB), academic honor societies, etc., but the most impactful experience was joining the International Peer Advisor/Leader (IPAL) Program, which gave me the opportunity to gain leadership experience by mentoring incoming exchange students. This led to me working in the International Office as a student worker as well. When I graduated, I wasn't ready to leave that behind. I wanted to 'bring the world to LR' and encourage U.S. students to go abroad to find themselves like I did. This is when I found my passion."
As the new director, Marinelli is looking forward to expanding the reach of international programs to our students.
"I truly believe that each student that engages, in some way, with the Shuford Center for International Education is contributing to building bridges between the U.S. and the rest of the world. The most rewarding aspect of my job is to see how a student is changed, in a positive way, by the end of their program, and I want to witness more change like that," she said.