---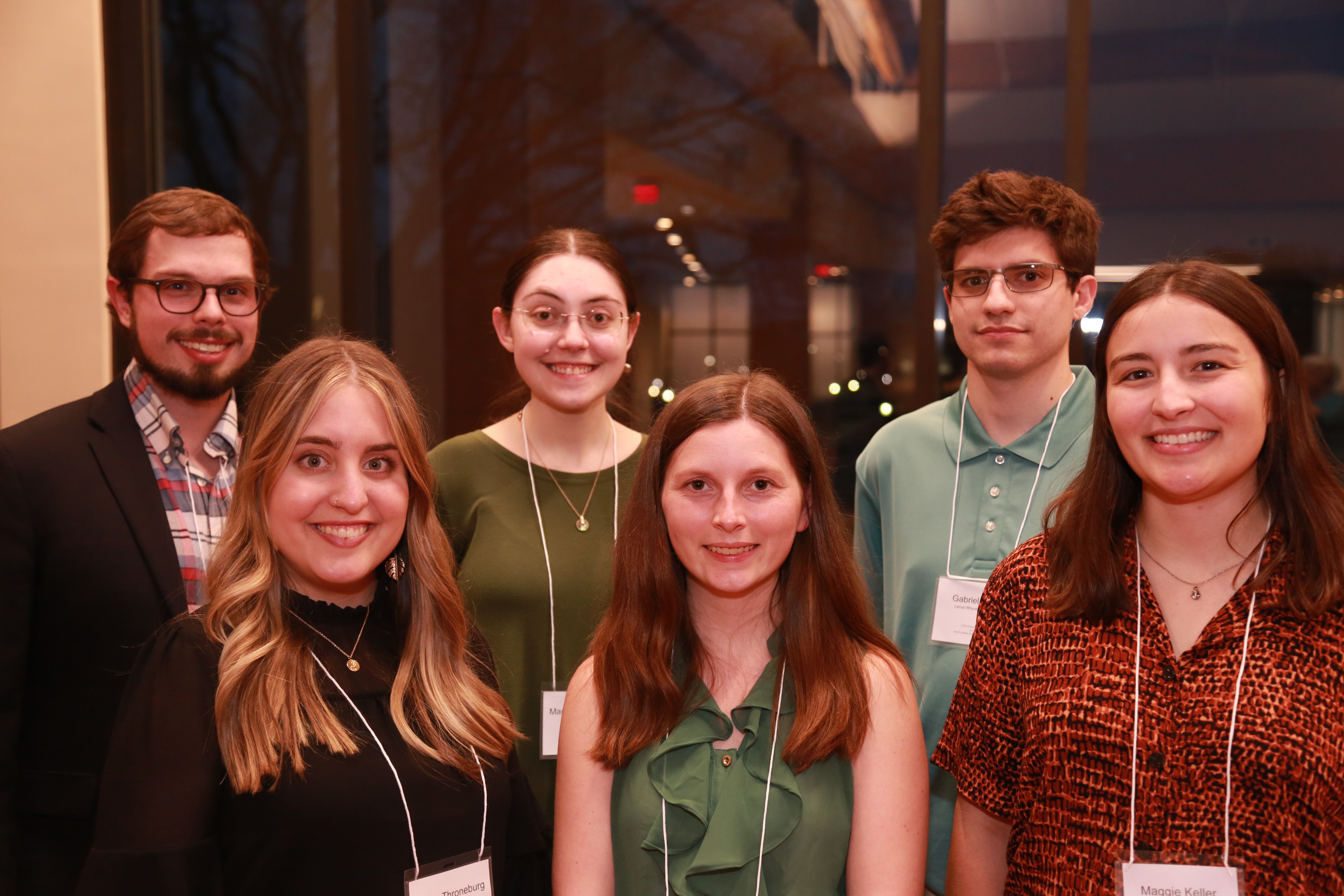 On March 18 and 19, 2022, seven honors students from the College of Natural Sciences and Mathematics traveled to the North Carolina Academy of Science annual meeting in the company of nine faculty members to present their undergraduate honors research and interact with student researchers and professors from other colleges and universities across the state of North Carolina.
After canceling the annual conference because of COVID-19 in 2020, the 117th annual meeting was hosted virtually in 2021 by Lenoir-Rhyne University. This year the event was held in person and virtually on the campus of Campbell University.
LR's honors students delivered oral and poster presentations that earned first and third place awards. Senior biology students Maggie Keller and Maggie Lou Alice Carter earned first and third place, respectively, in the ecology, botany and zoology oral presentation category. First place was awarded to Zachary Norman, senior pre-medical science student, in the microbiology poster category and senior biology student Gabriel Corn for his oral microbiology presentation. Additionally, senior engineering physics student Harrison Boston and sophomore engineering physics student William Mauney earned second place honors with their virtual oral presentation in the category of engineering, physics, pharmacy and chemistry.
Lenoir-Rhyne has a long history of membership in the NCAS with several faculty members serving on the board both now and in the past. LR has participated in the annual NCAS conference by taking student presenters to the event for more than 50 years. In fact, since 2000, more than 100 LR natural science students have had the opportunity to begin their scientific careers by presenting their honors research at the annual event, often earning awards. Many of those alumni are now practicing scientists, some with doctorate degrees while others are physicians, dentists, veterinarians or other science-related careers. This event is often a significant milestone of their undergraduate journey toward becoming a scientist.
Student attendees and their research titles are listed below.
Maggie Lou Alice Carter, senior biology student: Copper Tolerance in Tardigrades (Bypsibium exemplaris) Modeled by Na/K ATPase Inhibition
Gabriel Corn, senior biology student: The Dispersion of Aerosolized Mouth Bacteria When Playing the Trumpet
Maggie Keller, senior biology student: The Role of the Lateral Line System in Prey Acquisition Behaviors of Xenopus laevis  
Angel Martin, senior engineering physics student: The Effect of Light Intensity on Chlorella vulgaris Biomass Accumulation and Chlorophyll Concentration
Harrison Boston, senior engineering physics student, and William Mauney, sophomore engineering physics student, (virtual): Self-Guided Payload Using Grid-fins to Translate.
Zachary Norman, senior pre-medical science student: The Effect of Nicotine on Biofilm Formation by ESKAPE Pathogens
Emma Throneburg, senior biology student: The Behavioral Effects of Integrating a New Male into an Established Herd of African Elephants (Loxodonta africana)
Also attending were junior pre-medical science student Tanner Chase White, senior biology student Caleb Fluno (virtual) and junior medical studies student Heather McDowell (virtual).