Homework & honeymoons: Stevensons find love at LR
---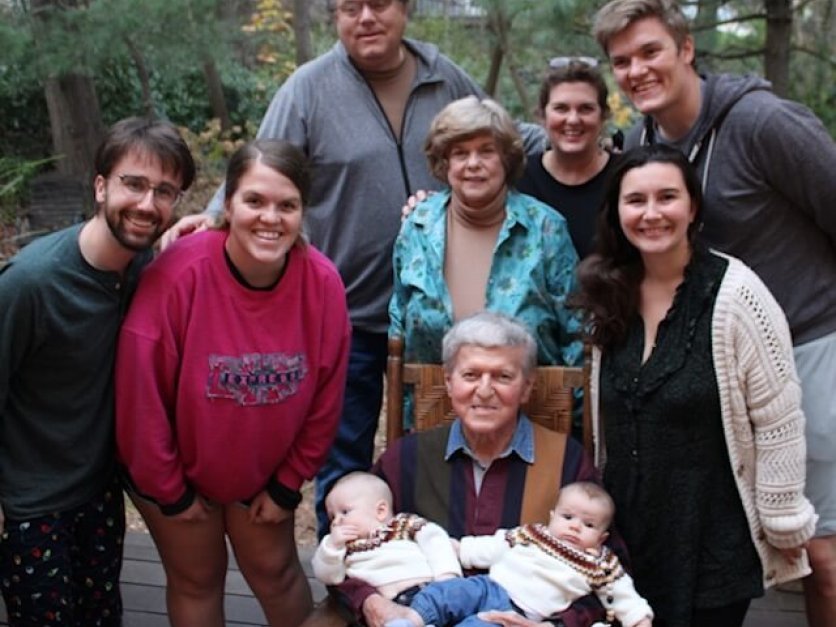 Three straight generations met their spouse at LR
---
(Left to right): Micah Rufsvold and Jenna Fisher, Tim Fisher, Betty Ann Stevenson, Bill Stevenson with great grandsons Timothy and Jon, Mary Lynn Fisher, Jake Fisher and Patricia Garay Cortes.
By attending Lenoir-Rhyne University, prospective students expect to come away with an excellent education. They can expect to find knowledge, experience and friendship on their way to completing a degree.
If you're a Stevenson, you may also expect to come away with a spouse.
Bill Stevenson followed family tradition in deciding to attend LR. He went on to earn an advanced degree from Harvard and spend a career in the Department of Defense. However, it all began in Hickory where he earned a degree in sociology. And where he met Betty Ann (Hackmann), both members of the Class of 1962.
"Our family history at LR goes back even further than us," he said. "My mom and two of my aunts graduated from there, so it was just expected that's where I would go.
"We're certainly proud of our time at LR. It's something we look back on and think it's one of the best times of our lives."
The two spent their careers in federal service, while raising three children: Laurie (Stevenson) Urland '90, Chris Stevenson '93 and Mary Lynn (Stevenson) Fisher.
The former two both attended LR — where they met their spouses Doug Urland '91 and Gennie (Haring) Stevenson '95 — while the latter attended Virginia Tech.
"She's the black sheep of the family," Bill Stevenon joked.
However, by all accounts, that transgression has been forgiven.
"She redeemed herself when all three of her children went to LR," Laurie Urland said.
Jamie Fisher ran cross country at LR and participated in student government graduating in 2012, and he was followed to Hickory by Jake Fisher '15 and Jenna Fisher '16.
"LR instantly felt like home for me," Jenna Fisher said. "I had family connections, but it extended beyond that. It instantly felt like home and like family."
That family was extended in 2017 when Jenna Fisher, sticking to family tradition, married fellow Bear Micah Rufsvold '16. A year later, Jake Fisher married LR Spanish exchange fellow Paricia Garay Cortes.
"At LR, I was safe to learn how to be a young adult," Jenna Fisher said. "Micah and I could go to debate competitions. We could explore. We did a lot of volunteering in the area, but we could always return home. The campus still feels like home to me."
For the Fisher's growing up in Maryland, the decision to move away from home and attend Lenoir-Rhyne was a purposeful one.
"I chose LR very intentionally," Jenna Fisher said. "I wanted a campus that, when you walked by someone, they didn't feel like a stranger. You knew their face, their name and could talk to them. When I toured LR, that was one of the first things I noticed. People of different ages, races and walks of life, everyone knew each other. They didn't hesitate to say hello and strike up a conversation and make you feel like a part of the community."
The family legacy and connection to LR began with Helice (Waugh) Stevenson '33 who went on to a career in education. Bill and Betty Ann (Hackmann) Stevenson found each other and careers in government service after LR, while Doug and Laurie (Stevenson) Urland parlayed their degrees into careers in public health and psychology. Chris Stevenson is an attorney, and Gennie is in education. Micah Rufsvold works at the Baltimore Urban Debate League, while Jenna Fisher works in the non-profit sector supporting those with disabilities. Jake Fisher and Patricia Garay Cortes moved to Spain following graduation where he now teaches and she is a market analyst.
Be it near or far, government service or non-profit, by both calling and vocation, LR was the place for them all to be.
"The degree provides a lot of flexibility," Laurie Urland said. "You can go on to do a lot of different things with a degree from LR."
Her niece concurred.
"I never questioned my choice to go to LR simply because it spoke in a different way to my heart, while challenging my brain," Jenna Fisher said.
Perhaps that will carry on to the next generation.
In July 2020, Rufsvold and Jenna Fisher welcomed their first child, Timothy, followed nine days later by Jake Fisher and Cortes who welcomed the birth of their son, Jon.
Members of the Bears Class of 2043?
"More likely 2042," Bill Stevenson said smiling.
* The Stevensons celebrated their 50th wedding anniversary at Lenoir-Rhyne University.