Graduating senior aims to help others as medical physicist
---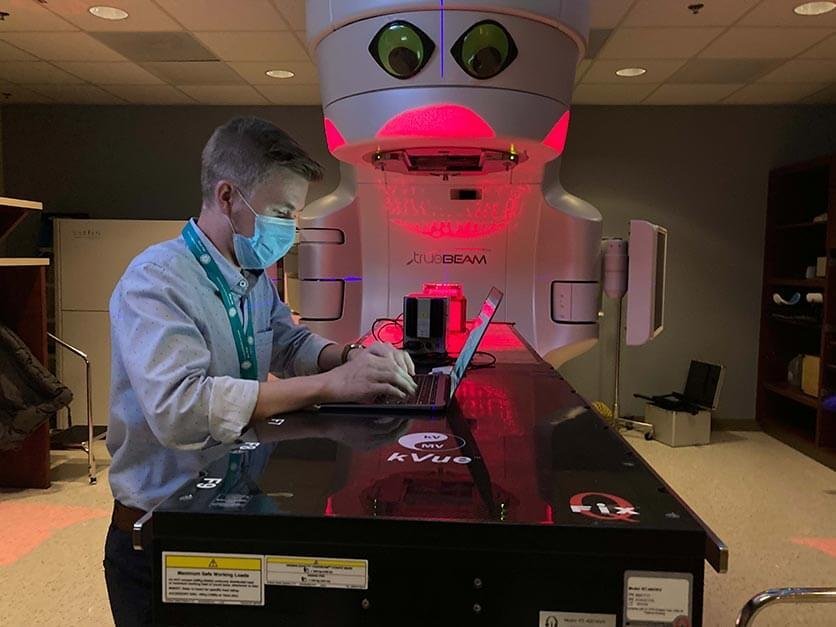 LR senior utilizes engineering skills in medicine
---
Spencer Welland is a member of the LR rocketry team, but he's taking his engineering physics skills into the medical field as he strives to help oncology patients as a medical physicist.
Spencer Welland doesn't come from a medical background, and he doesn't have a tragic story of losing a loved one.
Instead, he wants to help people.
As the 22-year old Valdese, North Carolina, native prepares to graduate from Lenoir-Rhyne University and head off to the biology in medicine program at UCLA, he's set to do just that.
"The simplicity of medical dosimetry appealed to me, but I realized I wanted to have a more active role in problem solving so I switched to medical physics," he said. "I began to see that medical physics allows a person to use skills and knowledge of physical phenomena in a cool way that benefits people."
Initially a biology major, Welland shadowed a neighbor, a medical physicist, and observed radiation dose measurements, treatment plan creation for cancer patients and quality assurance tests for ensuring proper functionality of equipment used in the process.
And just like that, he was hooked.
To prove his commitment, Welland made the switch official and changed his major from biology to engineering physics before his junior year. And, to catch up, he took Calculus II and two physics classes — courses designed for two semesters — over the summer.
He also started work on an independent engineering project to develop a quality insurance tool for Surface Guided Radiotherapy (SGRT) that simulates an individual's breathing motion during radiation treatment. If the patient moves outside of a specified tolerance, the radiation beam shuts off, preventing healthy tissue from being exposed to radiation.
"The kid is a go-getter," said Doug Knight, Ph.D., assistant professor of physics and director of the LR rocketry team. "He's amazingly driven. He wants to understand the theory, but he also has the engineering skills."
As one of the team leads for the rocketry team, Welland oversees the team's ability to create a rocket that can travel 10,000-feet in the air and release a payload while returning safely to the ground.
"If you look at it from a high level, they're completely different," Welland said of his interests. "One is rockets, and one is ionizing radiation in a medical field. But when you dissect it, you use the same tools for each. One thing I've learned from LR is how to be an independent worker. I've developed a toolbox of problem-solving skills that help me on both of those projects."
When he explained that to the researchers at UCLA, they couldn't wait to have him join the team.
Welland said typical first-year doctoral candidates in the program spend the first 12 months trying out different research labs before choosing their area of specialty. However, UCLA invited Welland to skip that phase and move right into the program's working aspect as a research assistant in the Center for Computer Vision and Imaging Biomarkers.
"I was very excited and quite surprised to hear they liked me that much," he said.
The program can take up to six years to complete, after which Welland will have to complete a two-year residency with the end goal of serving as a medical physicist at a university hospital.
"By being at a university hospital, there will be a research component to my work," he said. "I want to stay on the edge of knowledge and begin researching applications for artificial intelligence on cancer diagnosis and treatment."
Welland graduates Friday, May 7, at Moretz Stadium. LR will host several commencement ceremonies to celebrate both 2020 and 2021 undergraduate and graduate students.