---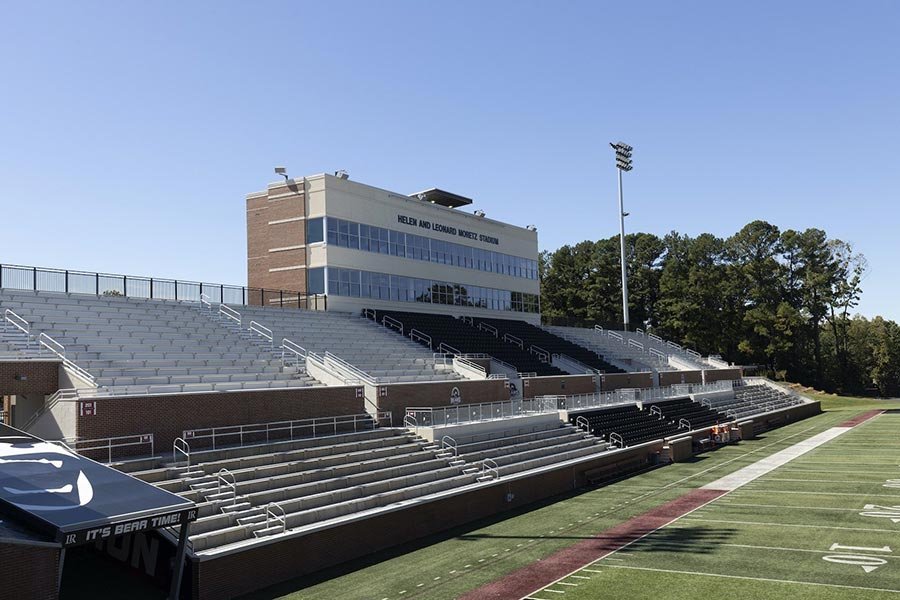 As fans returned to campus for the first football game of the 2022 season, they were greeted with the familiar feeling of being between the bricks — but with a fresh look.
"I feel incredibly grateful and appreciative to have had the opportunity to play a part in the transformation of Moretz Stadium that will impact generations of future LR students, alumni and the broader campus community," said Kim Pate, vice president for athletics. "I also feel a huge sense of relief in knowing that we were able to complete the renovation in time to host our home football season despite the unique challenges of a pandemic, supply chain issues and rising inflation. This was a huge project and required a total team effort to be able to pull this off."
Officially opened in 1924, Helen and Leonard Moretz Stadium — named in 1989 — has been an integral part of the Lenoir-Rhyne experience for students, alumni and the community. The field has been the backdrop for football, men's and women's lacrosse, commencement and campus events, as well as community events such as concerts, high school graduations, camps and youth sports.
"Moretz Stadium is an iconic facility on the Lenoir- Rhyne campus and in the Greater Hickory area. We are excited about the future of LR Athletics made entirely possible by the generous support of alumni and friends," shared Fred Whitt, Ed.D., university president.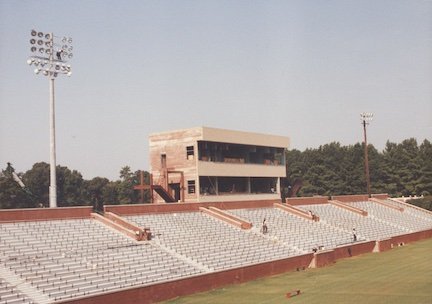 The idea for the renovation came through an unlikely source. A comprehensive engineering study and review of the stadium in 2019 by Taylor and Viola Structural Engineers of Hickory found issues with the structural integrity of the home-side seating area and bleachers.
Temporary bleachers were put in place for the season, but a long-term solution was needed. As the fourth-oldest stadium in continuous use in NCAA Division II and one of the oldest in the country, Moretz Stadium is a well-loved part of the LR experience. Rather than simply replace the bleachers, the university decided to renovate the stadium fully.
The $18-million project was fully funded by external donors, with no university dollars required. According to Pate, the stadium renovation will provide nationally competitive facilities for the university's Division II athletics program, aid in the recruitment of student-athletes and enhance Lenoir-Rhyne's position as a university recognized for both its academic and athletic success.
"This truly is a once-in-a-generation project that very few people will ever have the opportunity to experience in their lifetime. With this project we accomplished something truly remarkable that says a lot about the tremendous dedication of our alumni and the broader LR community," Pate said. "This was the largest amount raised for any one project in the 132-year history of the university (double the previous mark) and was raised in a year's time."