---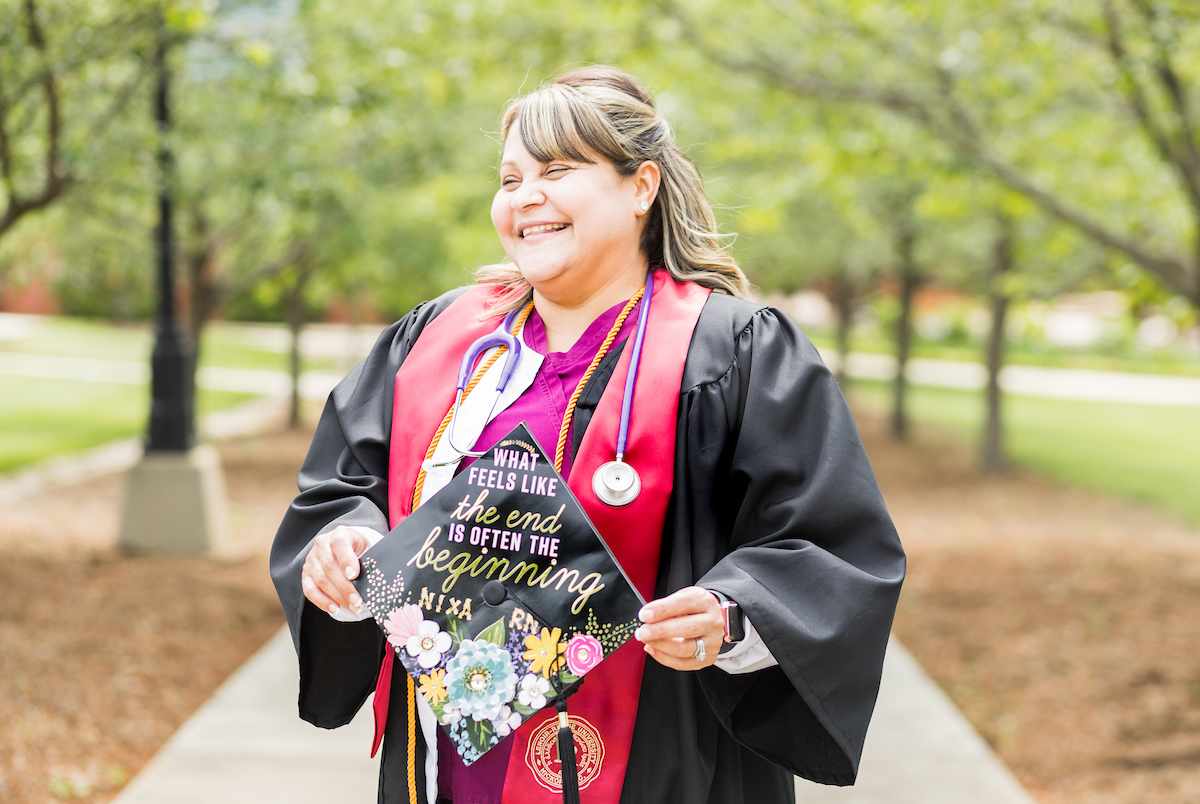 Nursing is a passion. It is a calling to help others, save lives and give to the community. A Lenoir-Rhyne nursing graduate is preparing to do just that after graduation.
Nixa Rivera, a mother and grandmother originally from Puerto Rico, stands apart from other Lenoir-Rhyne students in her life experiences. When she graduated high school, she initially planned to be a teacher but dropped out of college at 20 to marry and start her family. By age 32, she was divorced and working three jobs to provide for her children's needs.
"When I got divorced, my mama flew from Puerto Rico to North Carolina to sit with me that weekend," Rivera said. "I cried all night and the next day. My mother asked if I wanted to come back to Puerto Rico and I would say 'no' because I wanted to provide the best for my children."
Overcoming adversities to complete nursing school
Doing her best at the time equated to earning her associate degree as a medical assistant. When the opportunity to work in labor and delivery presented itself, Rivera accepted it as her chance to embrace the world of health care. It was the validity she needed to solidify her dreams of becoming a registered nurse.
At the same time, her father was diagnosed with pancreatic cancer. But the timing was not right with the responsibilities of working and caring for her family in North Carolina and traveling to Puerto Rico to start her nursing degree. In 2017, when she applied to a state institution, she didn't get in.
"I was so disappointed," Rivera said. "A nurse at work suggested Lenoir-Rhyne instead. I first made excuses about needing to get all the paperwork."
In Feb. 2018, Rivera visited her ill father for the last time.
"He told me, 'I want you to finish nursing school. That's my goal for you,'" Rivera said. "It was my last memory of him. He died March 8, 2018."
Relentless in her pursuit
In April, she applied for admission to Lenoir-Rhyne School of Nursing and started classes that July. Atrium Health's Levine Children's Hospital launched a scholarship pilot for CNAs for her second year of college, providing the financial support she needed to finish her degree.
Relentless in her fulfilling her purpose, Rivera wakes at 4 a.m. to leave in time for her first class at 8 a.m. She uses the drive time to pray, listen to Christian music or her lectures or call her mom.
"I always call my mother for any advice," Rivera said. "She is an amazing woman and she always says, 'you can do anything you want and be anything you want in life.' And she always gives me love."
In addition to her family, Rivera has received unquestionable support from the faculty and fellow students.
"Nixa is not your typical nursing student at Lenoir-Rhyne," said Kerry Thompson, Ph.D., chair of LR's School of Nursing. "Her diverse background, maturity and drive to obtain her degree have captured the hearts of her nursing professors. I have seen her dedication and determination to become a nurse. She has sacrificed so much to make nursing her reality. It was truly an honor to have Nixa in my class, as I saw firsthand her passion for serving others through her chosen profession."
Despite the challenges, Rivera has achieved her dream. Upon licensure, she has accepted a position in the operating room at Atrium Health Union West in Matthews, North Carolina.
"It's been a long, long journey for me. It's not been easy, but God provided for me every day," Rivera said. "I wasn't thinking about the tuition. I wasn't considering the drive of an hour and 40 minutes one way. I enjoy nursing. I enjoy helping people. I desire to make a difference."