---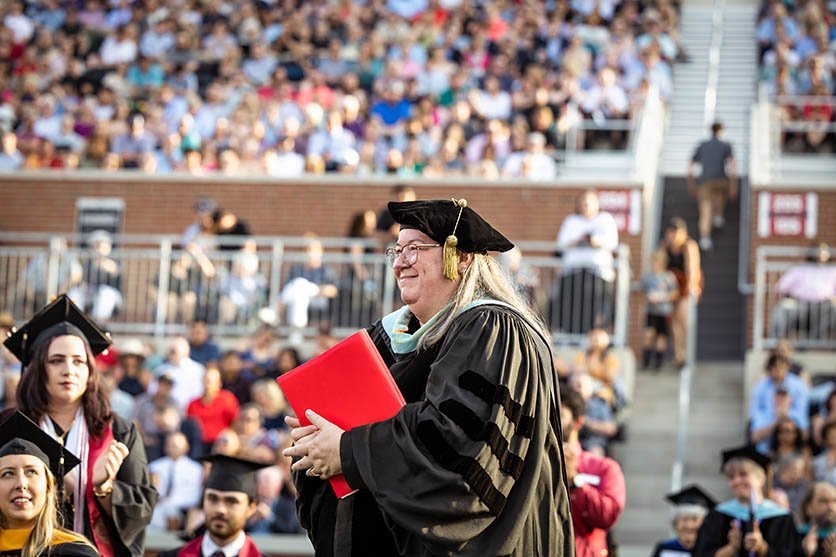 Since becoming dean of student life in 2009, Katie Fisher, Ed.D., has provided the bedrock underpinning almost every aspect of student life at Lenoir-Rhyne – from policy oversight to student well-being to campus engagement, and everything in between. Known to all on campus as Dean Katie, when Fisher retires at the end of May 2023, the foundation of leadership, community and empathy she has built at LR will remain.
"Working with Katie has been an honor and a privilege. She is an outstanding leader, fiercely loyal to her staff and particularly her students, whom she supports on every level from compassionate care to holding them accountable for their actions. All of us are blessed to know her, and I wish her Godspeed as she moves to the next chapter of her life," said Becky Sharpe, who has shared office space, mission and friendship with Fisher as the administrative associate for student life at LR.
During her 14 years in the office on the second floor of Cromer Center, Fisher kept the door open for any student who needed her.
"Dean Katie made LR feel like a home away from home," said Olivia Thorn '21. "From her first speech at freshman orientation, you immediately felt you could come to her with anything, whether you needed a listening ear, someone to help you navigate a difficult situation or just general guidance. To me, she was LR's 'Mama Bear.'"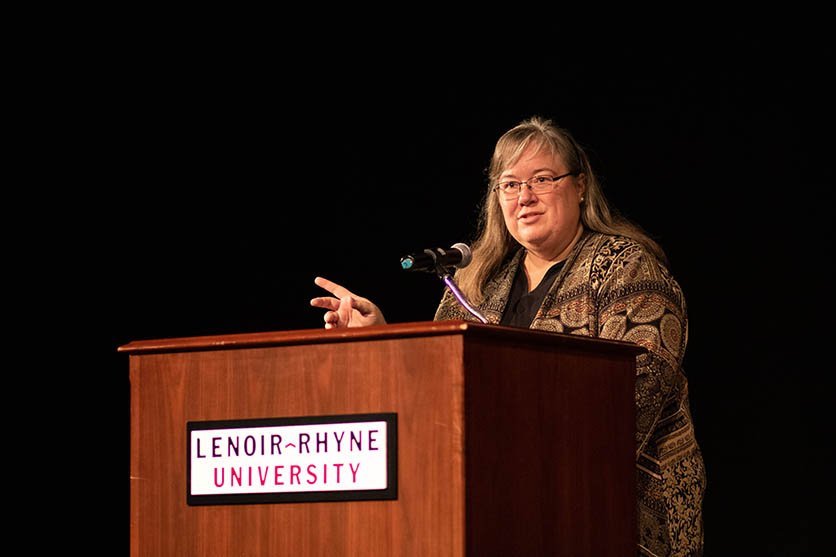 Taking an active role in all things student life, Fisher could be found not only in her office but also anywhere students were.
"Dean Katie was always the smiling face I looked forward to seeing around campus. Every time I took prospective students on campus tours, she would always stop to chat with us about Lenoir-Rhyne and her favorite spots in Hickory — and she always remembered the students' names," said Cami Howard-Longshore '22.
Beyond campus, Fisher has visited students hospitalized for sickness and injury to provide comfort and academic assistance, including once administering an exam to keep a student on track to graduate after a car accident. She has supported diversity, equity and inclusion on campus in policy, word and action, including marching with students at the annual Bridge Crossing Jubilee in Selma, Alabama, commemorating the Selma to Montgomery march and the Voting Rights Act of 1965. She has introduced or encouraged at least a dozen Bear marriages, including Garrett Baker and his wife, Olivia, both of whom graduated in 2018.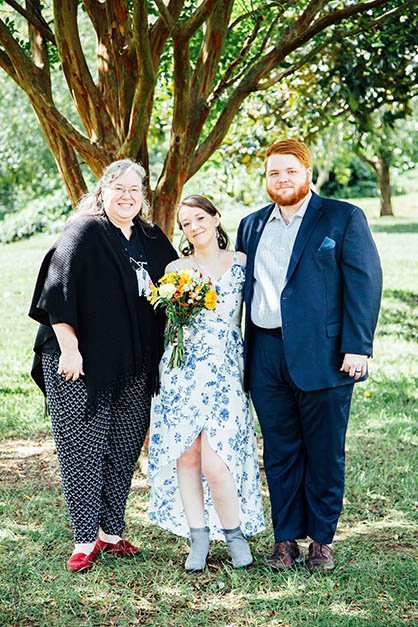 "Olivia and I had been dating for no more than a month — we were both still freshmen — when we were both up in Dean Katie's office for some reason I can't remember," Baker shared. "Dean Katie told us she wanted to be invited to the wedding when we got married. I was taken aback at the time, but six years later, in the middle of the pandemic, she was one of the very few non-family members invited to our wedding!"
Joshua Mackey '13, now the assistant editor for the publication INTO, echoed the gratitude of two decades of students and alumni who have attended LR during Fisher's tenure. "Having had the blessing to be in her orbit, I can attest that Dean Katie is simply a shining light in higher education and in this world. I'm overjoyed that I could be at LR while she was there."
Fisher joined the faculty at Lenoir-Rhyne in 2002 as a professor of education after several years as a physics teacher and soccer and volleyball coach at Pace Academy in Atlanta, as the coordinator of residence life at Auburn University, and as the Director of Public Programs at Catawba Science Center in Hickory. A year after arriving at LR, she was chair of the School of Education, and she became dean of student life in 2009.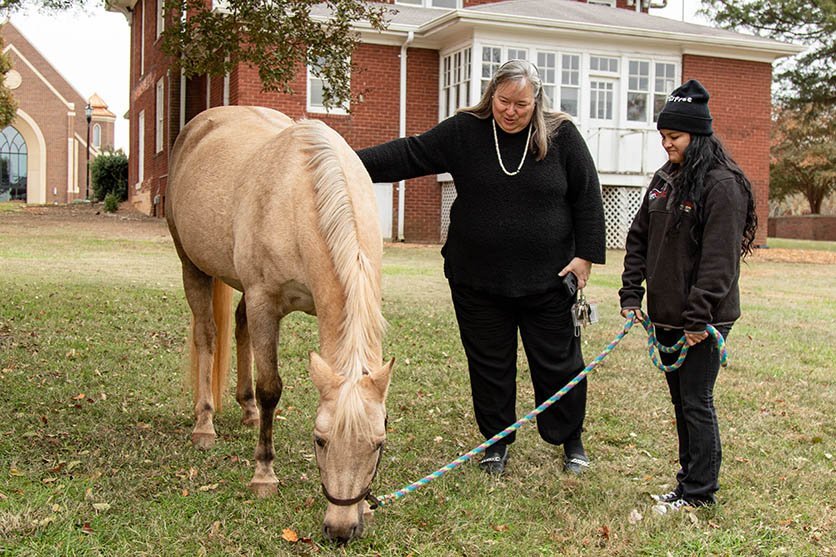 "I wanted to do this kind of work all along," said Fisher. "The best part of this job is just watching students become more involved on campus – to become good leaders. I feel like I'm helping people succeed in reaching their goals and dreams."
By setting an example of leadership in service to others, Fisher has inspired and guided the students who have known her to follow a similar path.
"I've never met anyone who cares so much about all her students. I graduated in 2015, and when I see her, she still can speak to me about things relevant to my life. As an educator, I use her as a role model because I want all my students to feel as special as she made and makes me feel," said Shalon Scott '15, MA '18, now a behavior coach with Winston-Salem/ Forsyth County, N.C. Public Schools.
Clifton Garmon '13 has carried Fisher's example through years of work with non-profits and community activists in New York City. "Dean Katie is among a small group of exceptional human beings whose leadership and impact echo beyond academia. After all this time, I still lean on the lessons and tools she helped me learn and develop. I suspect she will continue to inspire meaningful excellence well into her retirement," he commented.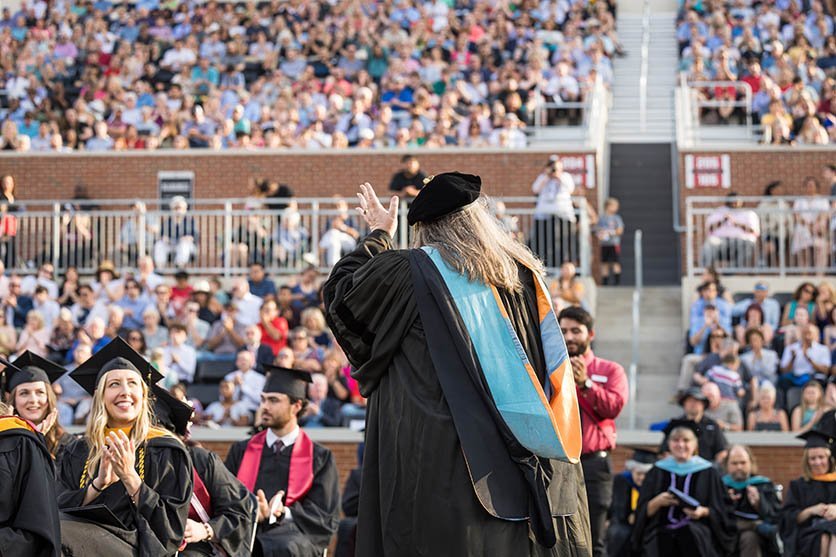 As she prepares to move forward to the next chapter, Fisher offered the advice that has defined her career success to pass along to Bears of the past, present and future.
"Approach others with empathy, and see leadership as a verb, not a noun. Be a servant-leader who empowers others. And know people's names — it shows everyone that they matter."