Ensuring a better world for future generations
---
Alumna turns personal experience and passion into disability and inclusion program
Lenoir-Rhyne is a life-changing experience. From joining clubs and making new friends to finding the career you want to pursue, LR students make memories that last a lifetime. For Erica Crane '06 attending Lenoir-Rhyne was about more than football games and study hall — it was about learning a skill that would change her life personally and professionally.
Hearing loss at an early age
After struggling with prolonged high fevers due to an illness, Crane lost her hearing at 21 months old. As the child of two hearing parents who provided everything they could, but were not aware of the resources available to them to assist with a deaf child, she navigated the physical and emotional challenges that came with being a member of the Deaf community alone.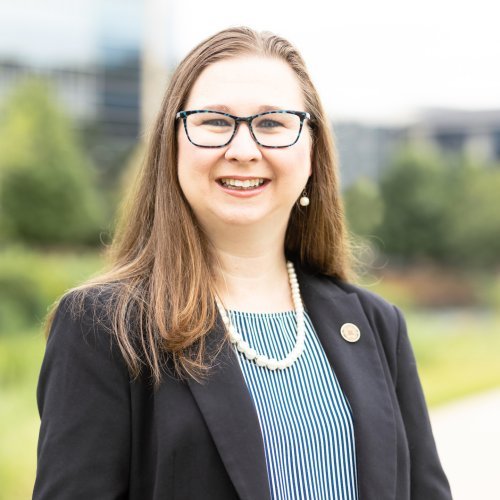 "Awareness and resources were not what they are now, making it difficult for families like mine to be prepared to meet the challenges head on," Crane shared. "Being the only Deaf family member in my immediate family, I know I had a hard time connecting with people at that level. There were times during family conversations in cars, mealtimes or just around the house playing with siblings or cousins that I wish I could hear so I could follow along with conversations and not feel left out."
Even though she had learned to read lips as a child, family mealtimes were often a time when she struggled most — and sometimes still does.
"I can never truly follow a conversation and keep up lipreading each person," said Crane. "It is exhausting to lip-read everyone and I eventually gave up (when I was young) unless I truly cared about the topics… My family has learned over the years they will have to repeat things for me and have adapted that way, but I do occasionally hear 'Don't worry about it…' or 'I'll tell you later…' and later never comes. I've missed out on a lot of information and connections because of this growing up."
Although she experienced hardships with traditional verbal communication with her parents and siblings as a child, Crane says there was no doubt who supported her the most.
"Even though I felt alone, my family was my biggest support system and tried to make sure I was always included, even if it was hard for me to hear," said Crane.
During her junior year of high school, Crane added another member to her support team when her high school hired a counselor for the Deaf who began working with her to learn American Sign Language (ASL). In addition to helping her gain a new skill, the presence of the counselor marked a milestone for Crane.
"When I was in high school, I had never met anyone else before who was Deaf or Hard of Hearing (HoH)," said Crane. "The counselor opened my eyes by introducing me to sign language, other Deaf students my age from other schools, and encouraged me to go to Lenoir-Rhyne's Deaf/HoH open house."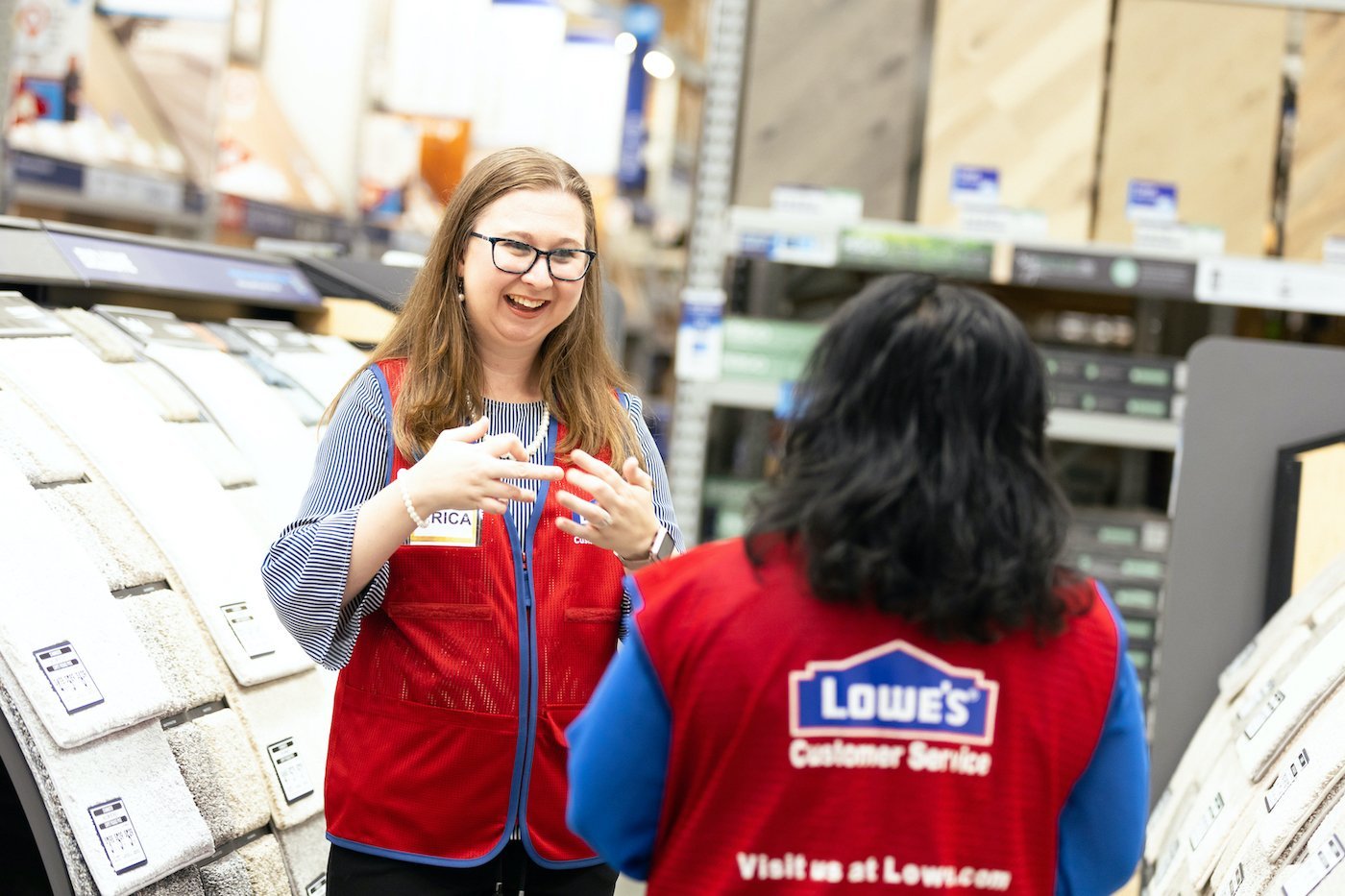 Finding community at Lenoir-Rhyne
The first time Crane stepped on LR's campus was for the Deaf/HoH open house, and it was a moment that would forever change Crane and her future.
"The open house was the first time I had ever felt like I was home and part of a community," explained Crane. "That day, I decided I did not want to tour any other school and that LR was the place and school for me."
Crane used the friendships she made at the open house as a launching point for her future. She kept in touch and focused on learning sign language so she could communicate with her newfound friends.
"Learning about ASL interpreters also inspired me to learn ASL so I could make my own life easier knowing it would benefit me as well to have ASL interpreters in my classes when I got to college."
Crane also began taking ASL classes offered through Wilkesboro Community College and relentlessly studied a sign language dictionary given to her by her counselor. She also practiced ASL by learning how to sign songs for church.
Upon arriving on campus in the fall of 2003, Crane wasted little time submerging herself into the Deaf culture.
After spending the majority of her childhood unable to communicate with those around her, she had found her home with people she could relate to.
"I finally fit in and found where I needed to be," said Crane.
She joined Sign Troop, a group that performs songs in ASL, and frequently hung out with the students she had met two years earlier at the open house — a group that she remains in touch with to this day. She attended classes, pursuing a bachelor of arts in management information systems and a minor in web and net-centric design, all with the help of LR's Deaf/HoH services staff, including Trula Baker and Shawn Frank.
Becoming a disability advocate
During her senior year, Crane encountered what would be another life-changing opportunity: an internship with Lowe's Store Support Center in nearby Mooresville, North Carolina.
After graduation from Lenoir-Rhyne, Crane accepted a job with Lowe's, spending the first thirteen years of her career with the Store Operations Communications department, working her way up through various communication roles. However, as much as she loved the company, she wasn't finding her spark.
"There was a time that I was itching for something more to do with my career — something more meaningful," Crane explained. "I had always wanted to figure out how I could use my own disability to improve the lives of others but did not want to leave Lowe's. So, I wondered if switching to the Culture, Diversity and Inclusion (CD&I) team would fulfill that."
Luckily for Crane — and Lowe's — it did.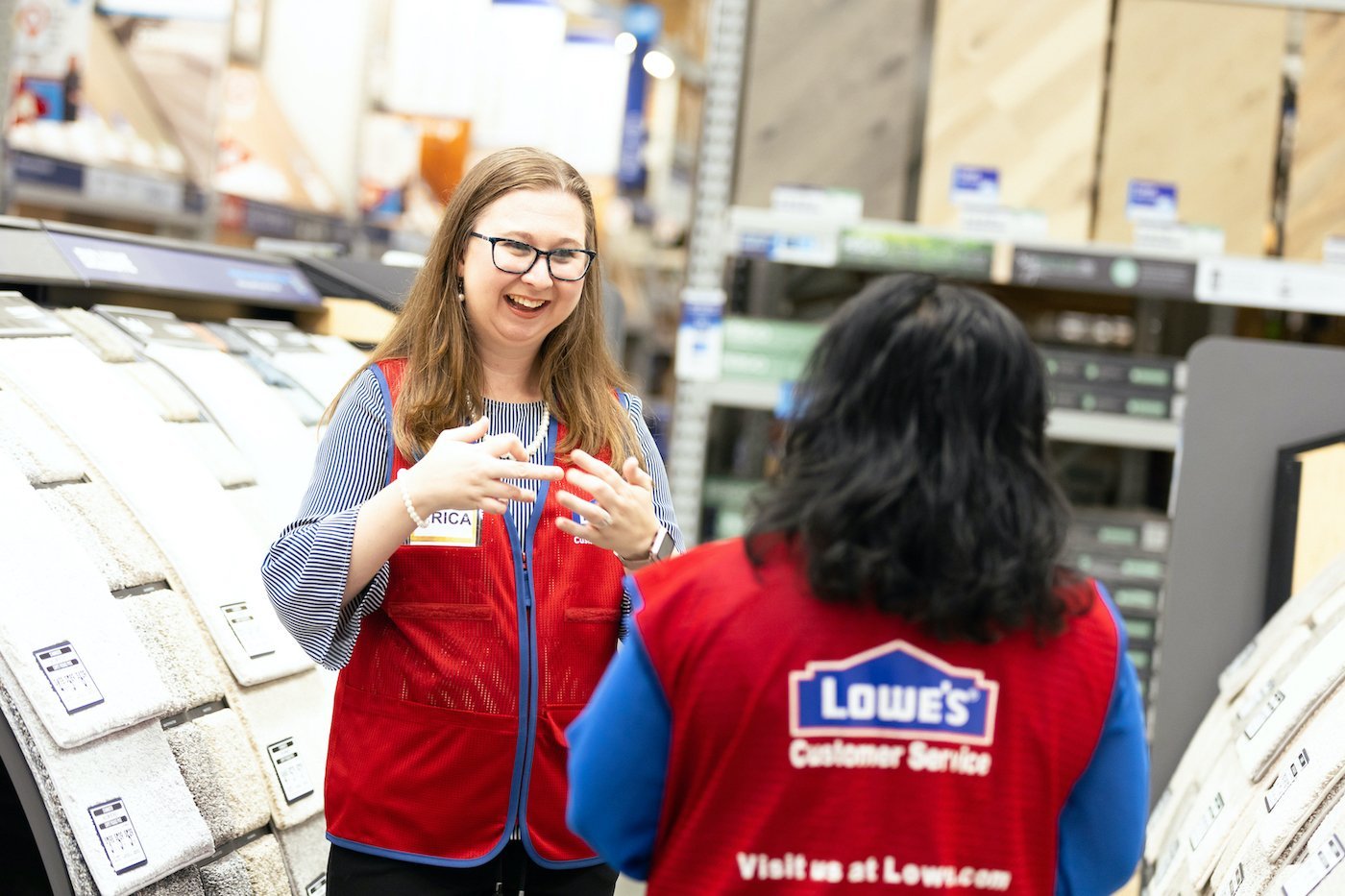 "I switched career paths," said Crane. "Given my passion for disabilities, I gravitate toward projects that support disability inclusion in the workplace."
The career change led her to the Human Resources department and the CD&I team, where she has spent the last three years.
As a senior analyst, Crane's work includes conducting external benchmarking surveys that help gauge where Lowe's stands among peers and improve — including how well it serves its employees with disabilities.
The Disability Equality Index (DEI), a joint initiative by Disability:IN and the American Association of People with Disabilities (AAPD), provides "the most comprehensive benchmarking tool for disability inclusion," according to its website. The index uses an "objective, reflective, forward-thinking, and confidential disability inclusion rating tool" to provide businesses with "a roadmap of measurable, tangible actions that they can take to achieve disability inclusion and equality."
Each participating company receives a score between zero and 100, with those scoring above 80 earning a place on the list of "Best Places to Work for Disability Inclusion." In each of the three years that Crane has led the survey's distribution at Lowe's, the company has received a 100 percent score, earning a place among best-in-class companies.
But what exactly does that mean for employees and customers?
If you ask Crane, it's simple. Lowe's has created a workplace that brings out the best in its associates, customers, and the communities they serve by fostering an inclusive and compassionate culture. The company believes that in order to best serve its customers, it must first ensure that the needs of its associates are being met.
This is where Crane and her fervor for disability access and accommodation have truly been allowed to shine.
Although Crane's job description doesn't include disability-specific duties, that hasn't stopped her from diving head-first into every opportunity possible related to disability access and inclusion.
Recently, Crane spearheaded the launch of a collection of tools and resources for Deaf/Hard of Hearing customers and associates of Lowe's. The resources include special custom-designed American Sign Language vests and polo shirts with the company's name printed in ASL on the back along with the phrase, 'Please tap me on the shoulder if you need assistance,' as well as 'I Know Sign Language' badges and 'Please face me to communicate' pins.
"These tools provide awareness to customers and other associates that [the employee] may use ASL language or communicate differently," explained Crane.
The company also launched a new app with Talk-to-Text capabilities to the mobile devices associates carry, allowing them the ability to communicate more efficiently and effectively, as well as a specific training to better educate associates and leaders on the unique needs of the Deaf and Hard of Hearing community.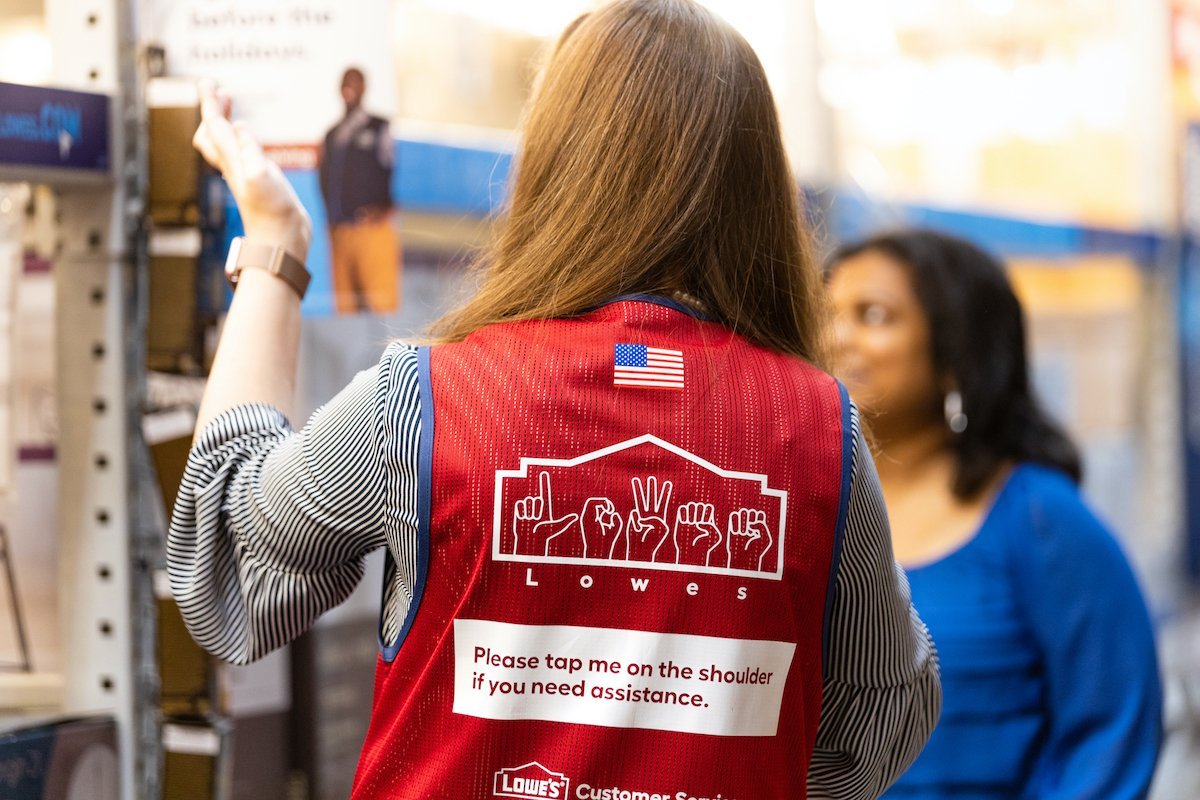 "This particular project means a lot to me, being Deaf myself," said Crane. "I am honored to have supported all of our Deaf/HoH associates and even Lowe's customers with this work."
If you think launching a nationwide corporate initiative and helping her company rank among the best for disability inclusion are where Crane calls it a day, think again. In addition to her job with the CD&I team, Crane has also begun dedicating her time to serving as a leader in ABLE, one of Lowe's business resource groups that stands for A Better Life for Everyone.
"My hope is that ABLE will help increase awareness and knowledge, opening doors for others to learn and making a positive impact on associates and the community," said Crane. "This will hopefully help associates with disabilities bring their whole selves to work as proud individuals."
Although she frequently touts her passion for working in disability advocacy, her dedication to providing a safe space for employees and customers alike is rooted in more than just her own personal experience with being Deaf. It's actually much more than that.
"Not only am I Deaf, but I also have juvenile Rheumatoid Arthritis, my 11-year-old son has ADHD and is neurodiverse, and my husband had an accident over three years ago that resulted in the loss of his right leg below the knee," said Crane. "We have both visible and invisible disabilities in my immediate family that we must advocate for and address challenges and obstacles."
For many, the challenge of living in a world you can't hear could have meant escaping as far away from disability work as possible. But for Crane, the opposite is true.
"My passion to ensure future generations have an inclusive workplace is fierce, and I have been doing everything I can to improve these things at my workplace."