---
Birmingham, West Midlands, is a bustling city of more than 1 million people. As the second-largest city in England, it's a manufacturing hub, a cultural center home to orchestra, ballet and theatre and home to the University of Birmingham. Taylor Newton, Ph.D., and her family had plans of making it their new home, as well.
Newton had spent 10 years in front of a classroom, including the last five as a psychology professor at Lenoir-Rhyne before taking the opportunity to have a professional leave year in 2020-21 and complete research in her area of specialty.
"I had secured a visiting researcher position at the university there," she said. "We had a house lined up south of Birmingham, and we had rented out our home in Hickory. Our kids were transferring to schools to the United Kingdom."
COVID-19 had other plans.
"That was in January and February of 2020," Newton said. "After lockdown, we held out hope because we weren't supposed to move until summer, but I remember vividly when we finally realized we weren't going. We canceled our plans and adopted a cat."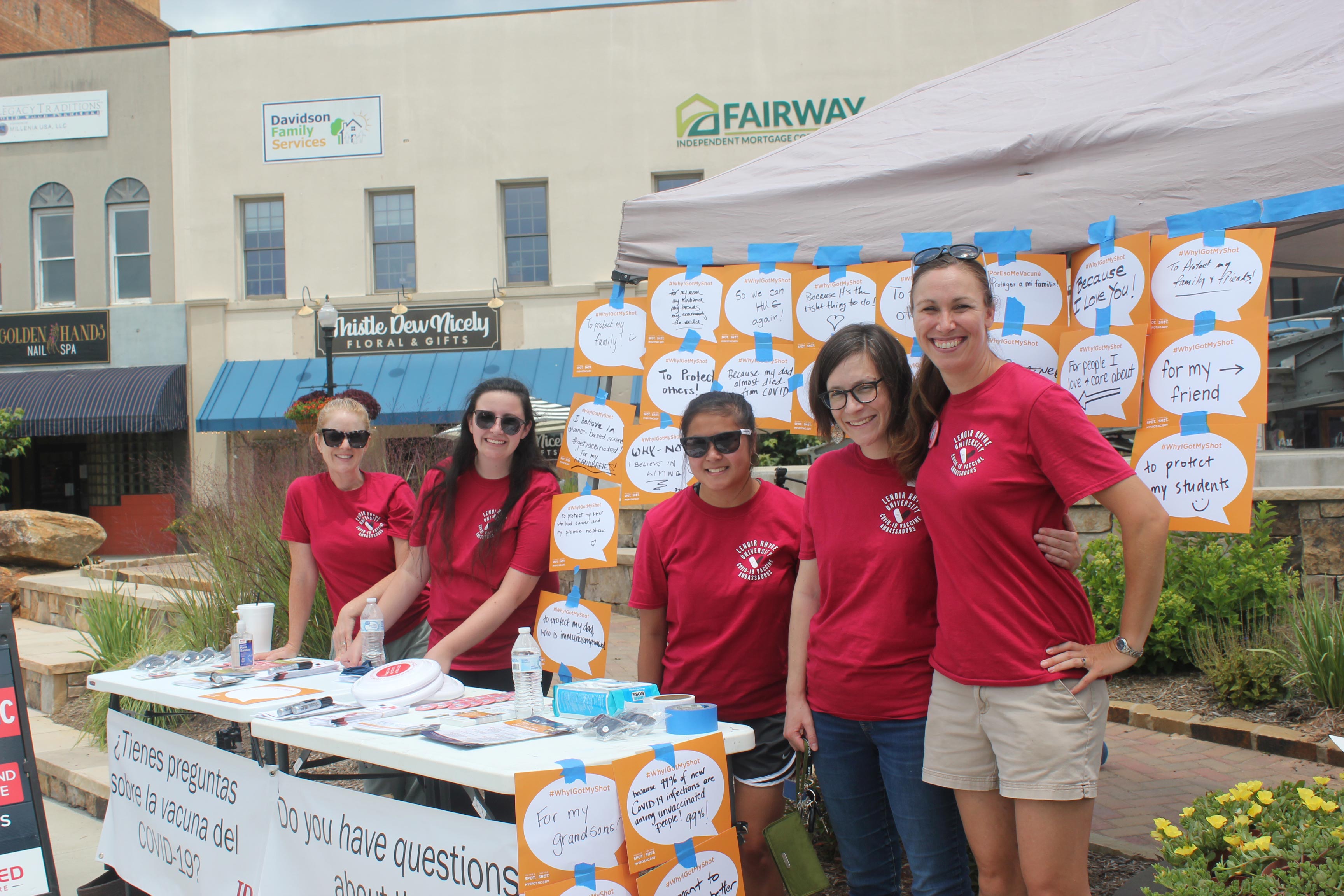 Purpose and Passion in New Path
With her year of professional leave approved and plenty of time to fill, Newton went to work finding something meaningful to accomplish. Her research interests look into the interrelationship of psychology and religion. She had originally intended to study a persuasive technique called paradoxical thinking as a tool to better understand relationships between religiousness, biases and attitudes toward science.
However, the onset of an unknown pandemic that is still surrounded by abundant amounts of misinformation, and her expertise as a social psychologist, put her in the position to be at the forefront of study and research on the ground level in Catawba County and the highest levels in the state.
"It's common for professional leave proposals to evolve," said Gary Johnson, Ph.D., university provost. "Sometimes you get into what you think you want to do, and it doesn't work out. Sometimes it leads you down a different path. I will say the changes and challenges Taylor faced were not common. She had to be very creative in terms of how to adapt."
In the early summer of 2020, Newton worked with director of LR's Center for Teaching and Learning Devon Fisher, Ph.D., on developing a virtual COVID-19 class that was free to students, faculty, staff and the community at large and featured instruction from faculty at LR's campuses in Hickory and Asheville, North Carolina, and Columbia, South Carolina.
The class looked at the virus and pandemic from various disciplinary lenses, including biology, communication, economics, history, physical and mental health, theology and more.
More than 900 people registered for the course, which not only addressed concerns and supplied information for people affiliated with Lenoir-Rhyne and surrounding communities, but it also served as a springboard for Newton to take part in statewide research pertaining to the pandemic.
"We worked with a lot of community partners in the class and people who were dealing with the pandemic in different ways," she said. "That got me thinking about the sorts of problems our community was facing and put me in touch with public health officials and other community leaders."