---
The engineering physics program at Lenoir-Rhyne gives students a clear path to their career and academic goals. An upcoming program revision will align the undergraduate degree even more closely with current industry needs while preparing students to adapt to an ever-changing future.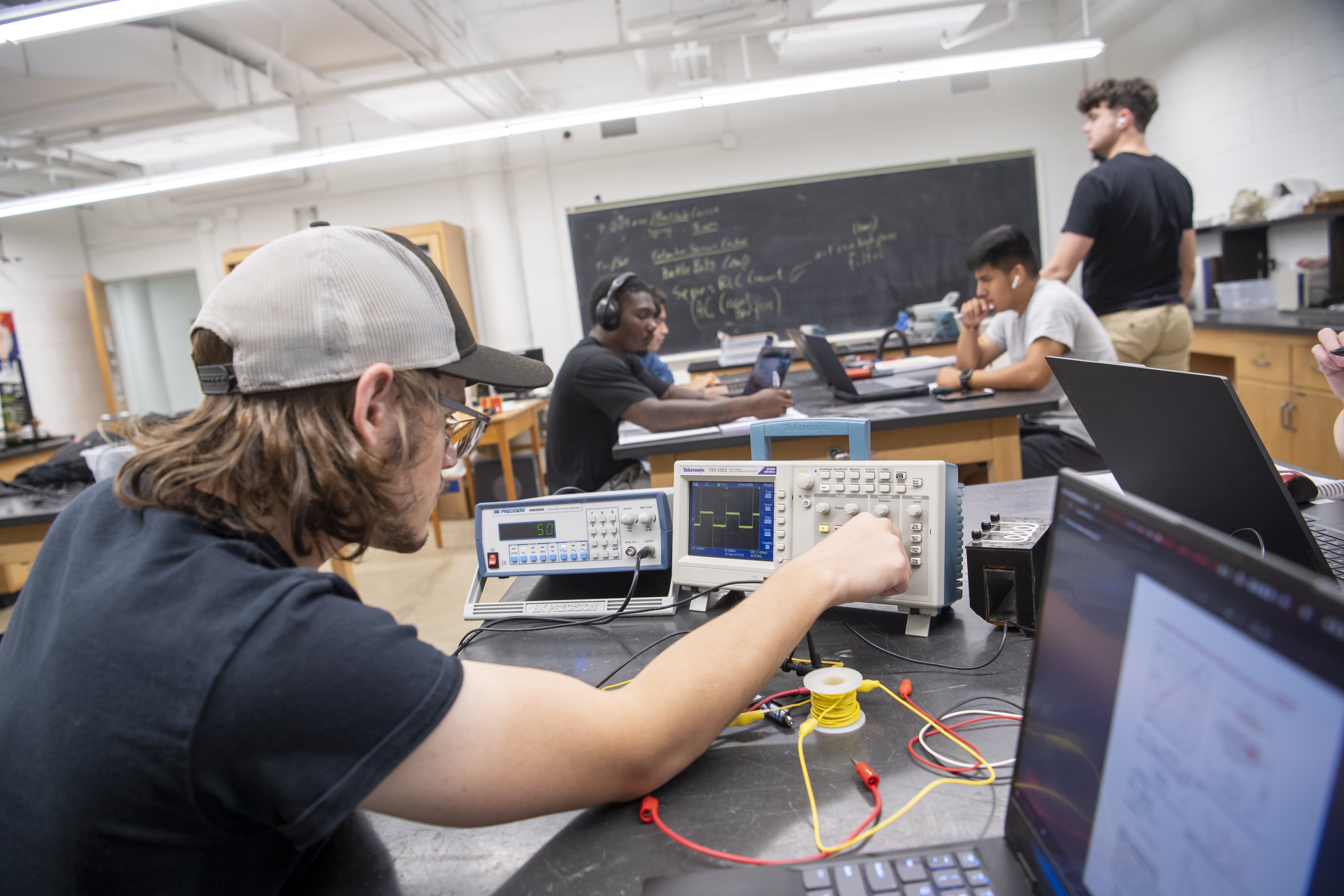 "The current faculty members in the undergraduate engineering physics program do amazing work with our students both in and out of the classroom. The upcoming revisions to the program will strengthen student learning and allow for more networking opportunities during their time at Lenoir-Rhyne," shared Jennifer Burris, Ph.D., university provost.
96% of LR undergraduates are fully employed or attending graduate school within six months of graduation, and that number spikes to 100% for engineering physics majors. Revising the requirements and focus for the major will ensure students expand that advantage in the marketplace.
Burris added, "The upcoming enhancements will also allow students to qualify for a wider range of job opportunities and graduate programs after graduation. I am so thrilled to celebrate both our faculty and the engineering physics program as we look to the future."
A full toolkit
One advantage of an undergraduate engineering physics degree over a specialized engineering area is the flexibility of the engineering physics knowledge set.
"Physics can teach you how to solve problems, and that's really what engineering is — solving problems. Our undergraduates are sophisticated problem-solvers with the tools that allow them to approach problems from a lot of different angles," shared Bill Eichinger, Ph.D., adjunct professor of engineering physics.
The cross-disciplinary, multifaceted approach gives students a marked advantage in moving forward in their careers.
"You learn to do a lot of cool stuff," said Doug Knight, Ph.D., assistant professor of engineering physics. "It's like a buffet. You can 3D print and laser cut. You can fly rockets, launch weather balloons, build tools for nuclear engineering, create computational models, build electrical projects or work with optics. It's a strong program, and it's getting better and better."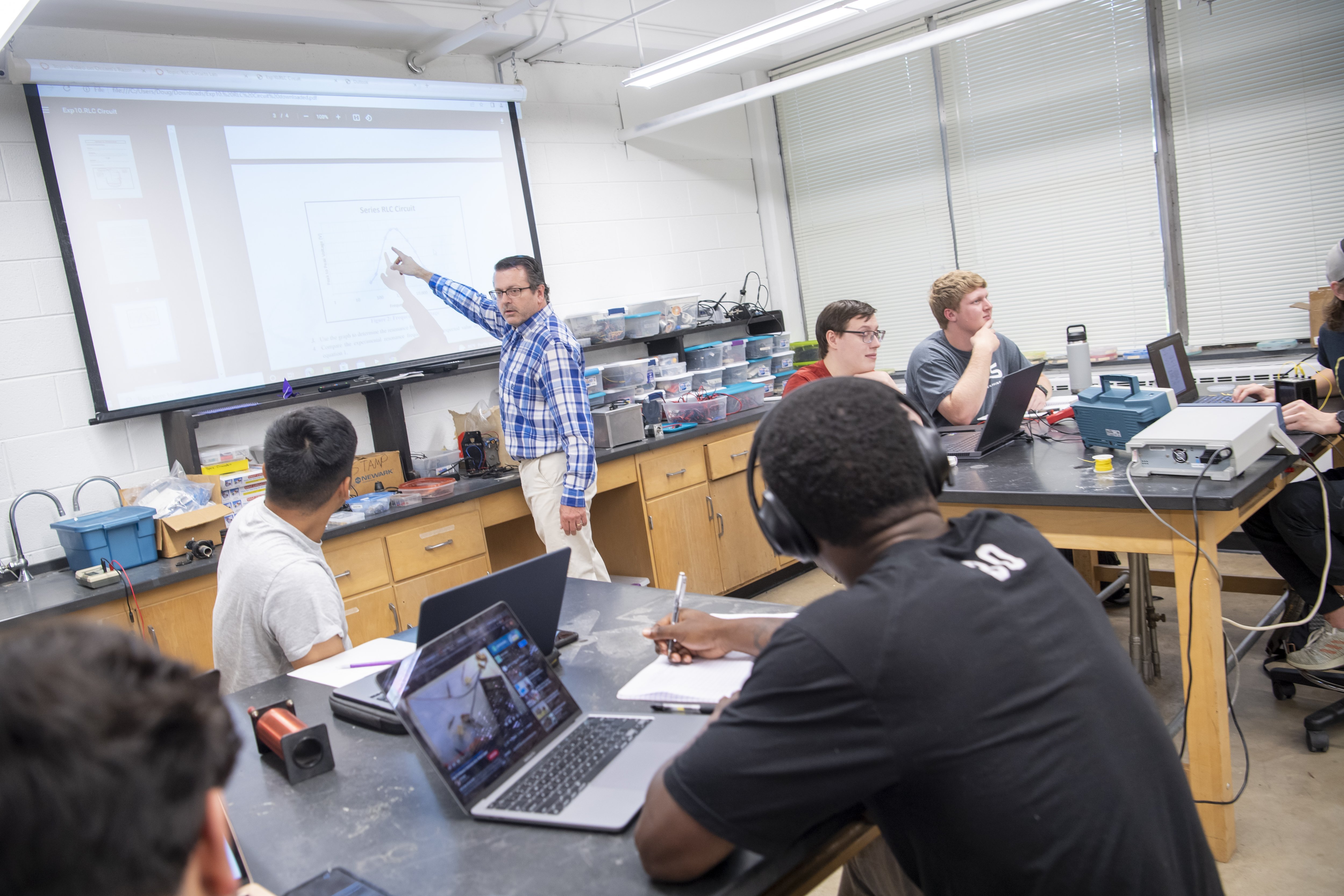 Ready for the next step
While engineering physics majors already boast an advantage in the job market, the planned revisions for the program will ensure they maintain that advantage in a world of evolving technologies and workplace demands.
"We're tailoring this program for where the students are going. There is a very high demand for experts who can apply theories to real-world problem-solving and innovation — especially in western North Carolina. At the same time, our undergraduates are well prepared to adopt a specialty like civil or chemical engineering at the master's level," said Shaun Williams, Ph.D., dean of the College of Natural Sciences and Mathematics.
Using feedback from current and prospective students, as well as connections to area companies, to guide the revisions, the program will adopt an even tighter focus on practical applications of physics to address job market demands.
"We have a lot of manufacturing in this area, but it's not the manual labor our parents and grandparents did in furniture and textile factories," Knight explained. "The jobs now call for mental labor for automation, computing, data acquisition or high-precision measurement."
Like all the science majors at LR, the engineering physics major includes a research requirement that also prepares students for the rigors of graduate study and specialization, should they opt for that path.
"Our faculty does really well with identifying and engaging students' interests and helping them find or design projects to expand and refine those interests," Eichinger shared.
Hands-on experience
Within the small university setting, undergraduates in the sciences at LR face lower levels of competition for resources — allowing them to design and implement original research as a degree requirement. The revised engineering physics major will preserve this hands-on approach.
"Part of the program's purpose is to give students more opportunities to do more themselves, as opposed to just reading a book and studying in class and never doing the work in a lab. We want our students to have those practical lab experiences throughout their programs," Williams explained.
In addition to lab experience, students across disciplines have access to a highly competitive rocket team. Success in rocketry competition brings together a wide range of engineering specialties, allowing students to apply their knowledge and explore their interests in another real-world context.
Knight, the team advisor, shared, "Our motto is 'MSH' — Make Stuff Happen. When you come out of this program, you can make stuff happen."