---
Bright and self-motivated, Zakiya Ruth is a student in the Teaching Scholars program at Lenoir-Rhyne. When she initially toured LR, Ruth thought she wanted to major in business. But during her visit, Ruth realized she had a connection with the education faculty. Plus, she enjoyed working with young people and aspired to be a teacher.
"At other schools, I hadn't seen any programs like the Teaching Scholars program, which was interesting," she said. "The program at Lenoir-Rhyne has education majors go to school and interact with students and people in the program during their first semester. I've never seen other schools promote it in that way."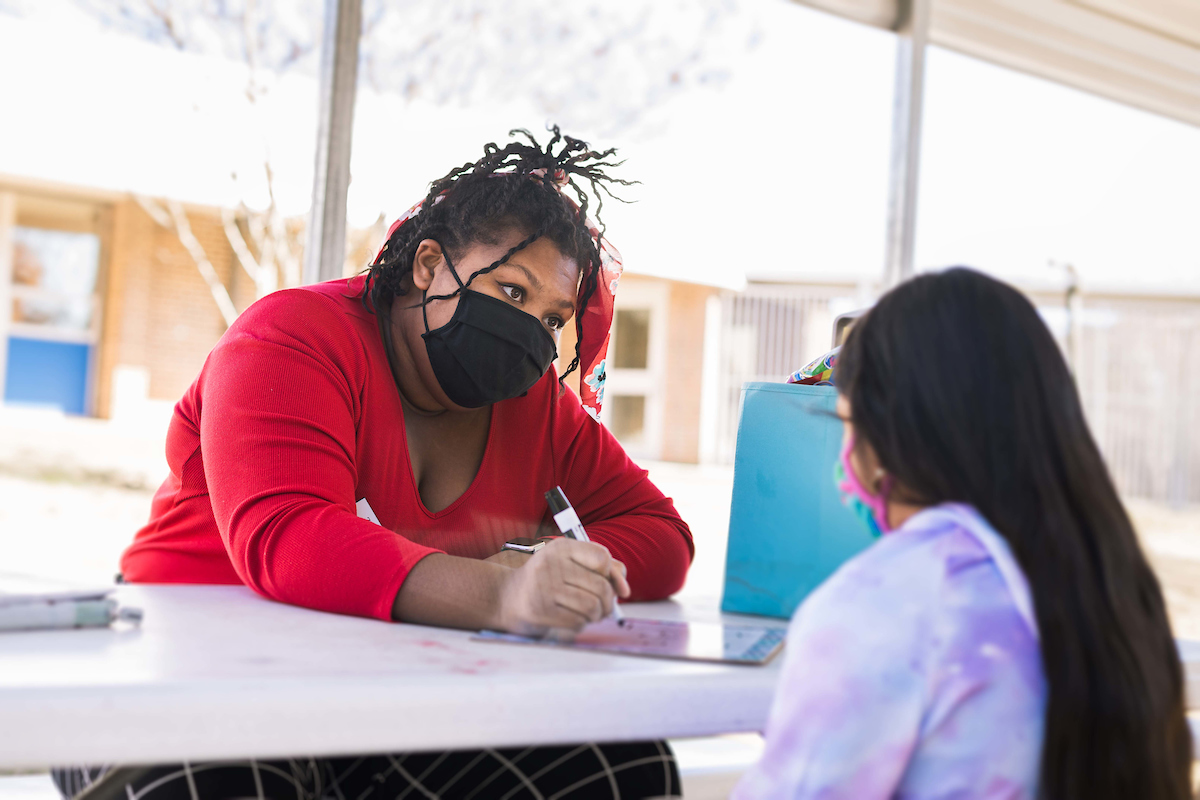 Before classes even started her first year, Ruth was part of an orientation that Teaching Scholars offered. With peers in the same program, she said they were given nametags, visited schools to meet teachers, talked to principals and observed classrooms, all of which encouraged networking and connections with the community. As the program continued into her sophomore year, she observed and participated in second-grade science and third-grade math classes.
Ruth said the real-world classroom experience is exceptional and preparing her for her future role as an educator.
"I've enjoyed being able to form a connection with teachers already in the education field," she said. "They give you a lot of tips and serve as mentors."
Now, she's serving as a tutor at the LR Literacy Center at Southwest Primary School in Hickory, where teacher candidates complete their reading and mathematics foundations coursework and fulfill their lab requirements by tutoring elementary students.
"I mentor two students," Ruth says. "I have a second grader for math and a kindergartner for reading, and it's one-on-one tutoring. It's amazing because I build relationships with the students."
Lenoir-Rhyne's literacy program is one of only 15 schools out of 1,000 nationwide and the only one in North Carolina to receive an A+ rating for its ability to produce highly qualified reading teachers.
Another advantage of the Teaching Scholars program is the tools provided by the faculty that are equipping Ruth for her success. For example, she creates her lesson plan as a course requirement.
"I have a lesson plan to submit at the beginning of every week," she said. "It shows what I'm teaching each student and how I'm helping them grow. Then, my teachers – Dr. Monica Campbell and Dr. Joyce Davis – give feedback to alter my plans before I meet with the students."
Campbell, a professor and chairperson for the School of Education at LR, directs the literacy program. Davis is an instructor of education at Lenoir-Rhyne.
In addition to the Teaching Scholars program, Ruth is employed as a tutor at Centro Latino in Hickory through the federal work-study program. She is also a peer tutor at Lohr Learning Commons and volunteers on the weekend at her church. Ruth says the common connection to these activities is her drive of selfless service to young people.
"My mom raised my siblings and me to be selfless and not think about ourselves, but to reach out and help those outside of us," she said. "I feel like that is what builds most of my life right now. All of my tutoring and my volunteer work is because my mom has built us to focus on service to others."
Apply to the Teaching Scholars program today!