Dunks & DNA: LR basketball star excels in the lab
---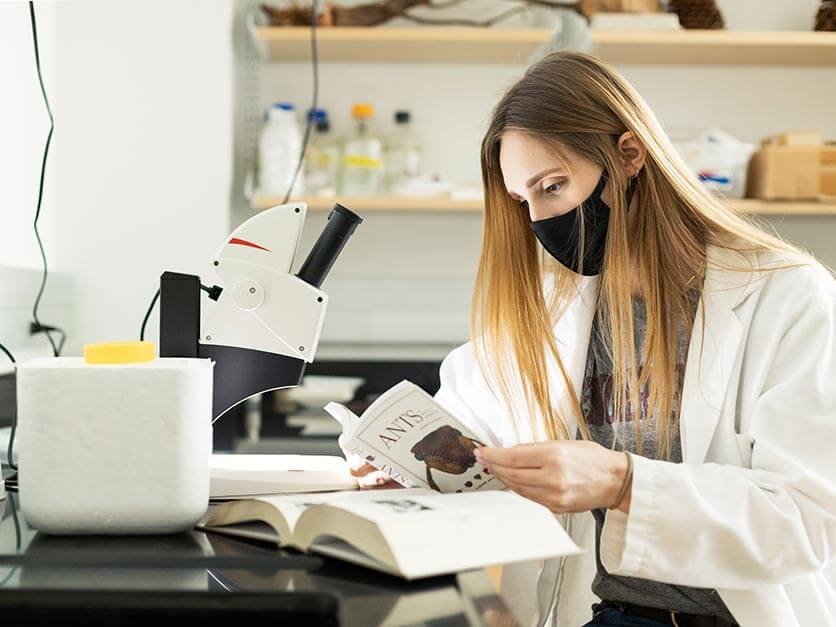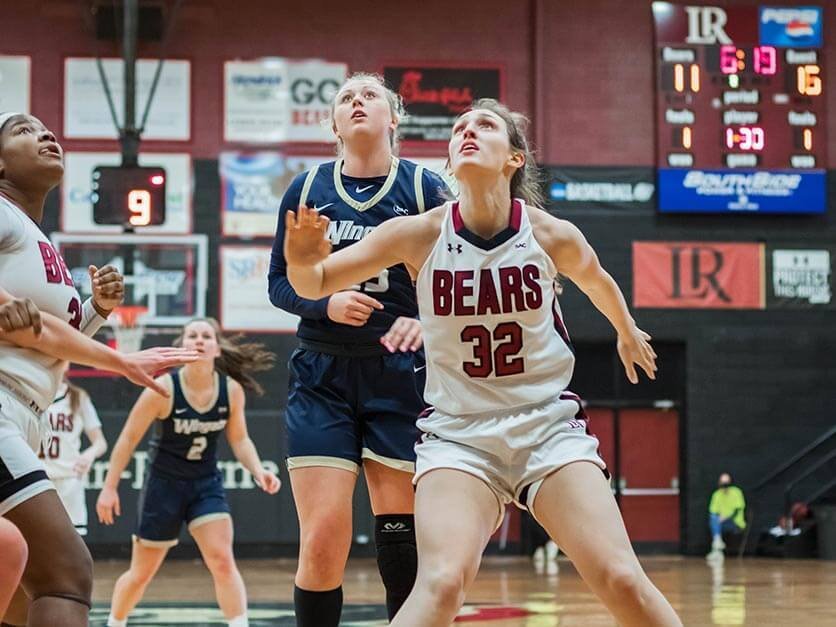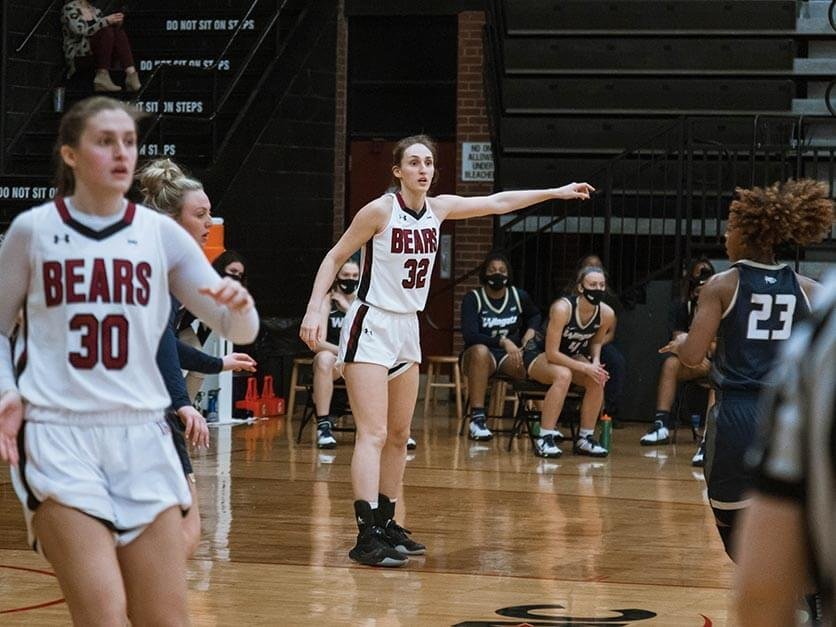 Olivia Nunn excelled on the court and in the lab
---
Olivia Nunn was the starting center for the Lenoir-Rhyne women's basketball team, as well as an honors biology student. She has been accepted into a Ph.D. program at Vanderbilt.
As a 6-foot-1 starting center for the Lenoir-Rhyne University women's basketball team, Olivia Nunn is encouraged to swat back shots from the opposition.
However, as an honors biology student and participant in a nationwide project to collect and genetically barcode ant species for Cold Spring Harbor Laboratory out of New York, swatting participants is discouraged.
"I was enthralled with eusocial colonies, so I just dived in," Nunn said. "I fell in love with it the first time I looked at an ant under the microscope.
"Growing up, you see an ant and think it's just an ant. Now, at the age of 22, I'm looking at ants under a microscope trying to identify them. There are 20,000 species of ants. That's such a challenge. I could discover a new species of ant every day for the rest of my life."
Up to the Challenge
A native of Lexington, North Carolina, Nunn has never really been one to go the easy route or follow the crowd. Rather she's opted for adventure and the road less traveled.
"I remember when she came in as a freshman in my biology class," said Scott Schaefer, Ph.D., associate professor of biology at LR. "It was the year we were doing all the crazy renovations in the science buildings and had classes in the library. You have certain students who ask questions about anything you lecture about, and Olivia was one of those students. We were talking about organic molecules and basic genetics. She was always one of those students who was interested. She wanted to discuss it and know more."
A prospective health science major, Nunn, instead, decided to major in biology with a minor in chemistry. A tough curriculum for anyone, let alone an honors student and student-athlete.
"What she has been able to do in the classroom over the last four years and the major she's in, with the amount of time she has to spend with her classes, labs and academic programs and be a Division II basketball player is pretty incredible," said LR women's basketball coach Grahm Smith. "We're putting in eight hours a week during the preseason and 20 hours a week during the season. To be able to manage both loads the way she has and perform the way she has, you don't see many student-athletes who are able to do it."
As a senior and starting center for the Bears, Nunn served as a defensive stopper and rim protector for LR. At the midway point of the season, she was second on the team in rebounds, steals and blocks, while chipping in as the No. 4 scorer.
She averaged just under 30 minutes a night for LR, which, when you add on practices, weight training, film study and study hall, places a premium on her time.
"She definitely goes above and beyond between her time in the classroom and the time she puts in studying, but at the same time, she's fulfilling her duties with us," Smith said. "She's putting her time in at the gym and getting individual workouts in. I think it's a real testament to her time management skills."
Nunn was already serving as a Bear of Distinction, mentoring incoming freshmen and guiding tours of the campus for aspiring Bears when she was tabbed by Schaefer to work on the project for Cold Harbor.
"She was the first person who came to mind as an excellent team member because she's interested in entomology," he said. "Then we added another to our team, Brian Johnson, who is an LR [1999] alumnus and teaches at Gastonia High School."
The trio makes up one of 40 teams from across the country and four in the Southeast — but the only team in North Carolina — to take part in the study barcoding ants to create a nationwide database.
"Basically, we're trying to isolate species to try and identify them," Schaefer said. "We isolate DNA in those specific species, amplify a specific gene and send it to the laboratory in New York. They then take those samples and sequence that specific gene, CO1. They send it back, and we annotate it. We are basically trying to look for a large enough fragment to compare it against other databases at the National Center for Biotechnology. We give them the coordinates and see if it matches against any other species in the database."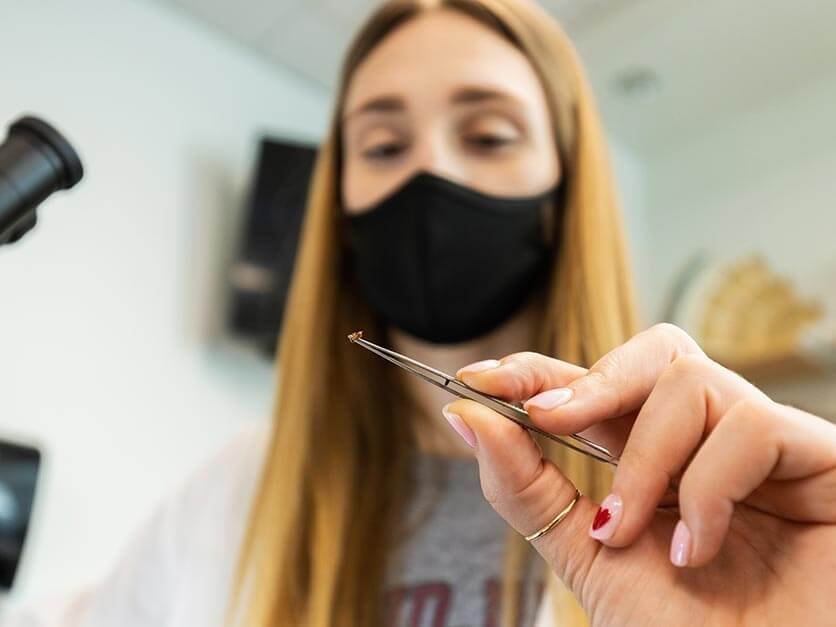 Olivia Nunn excelled on the court and in the lab
---
Lenoir-Rhyne basketball standout Olivia Nunn also excelled in the classroom cataloguing ants in a database for a lab out of New York.
Laying the Ground Work
Nunn has done a lot of the ground work for the team, baiting, identifying and cataloging ants during her downtime. She said she averages about an hour a day working on the project.
"Collecting ants was really tricky," she said. "I caught a lot more than the number I ended up with, but there were times where I dropped the collection container and lost all the ants I'd gathered. I squished more ants than I planned on, so there were tricks I had to learn."
One trick was freezing the specimens, which made it easier to manipulate them with tweezers under a microscope.
"A few times I thought I'd grabbed them gently, but I'd accidentally popped their head off," she said. "It definitely made me work on my hand-eye coordination when working with something that is less than 3 millimeters."
Nunn said she has collected 700 ants with the goal of identifying 400. At the beginning, she tried baiting and leaving traps at the base of trees, however, it mutated into using an aspirator to catch ants one by one. To date, she hasn't discovered any new species, however, she did come across one, Tetramorium bicarinatum, that is exotic and native to Southeast Asia.
Through her work barcoding ants, Nunn has also developed the framework for her senior honors research project that looks into the different distribution of ants on black walnut trees compared to red maples.
"This is preparing her for graduate school and a professional career," Schaefer said. "Catching ants is not a simple project. You have to bait them and then go into traditional identification using different types of dichotomous keys. Then you have to use the microscopes. She's learning DNA isolation and a step higher where we're amplifying a specific gene. That means you have to understand how to run thermocyclers and what components go into a [polymerase chain reaction]."
For the spring 2021 term, Nunn is continuing her identification of ant species and helping instruct students in Schaefer's genetics lab. Students are participating in her research as Nunn shows them how she extracted DNA from various species and went about identifying them.
"This project has helped connect the dots of what I learned when I took genetics last year," she said. "I am excited to be a part of the ah-ha moment other students will experience with these upcoming labs."
Nunn is scheduled to present her research at the North Carolina Academy of Science and the Symposium On University Research and Creative Expression (SOURCE) before defending her project in front of the biology faculty, which often leads to publication and a permanent spot for the research in the Lenoir-Rhyne University library for future generations of Bears to study.
She has already applied to several doctoral programs with the goal of attending Cornell, Kansas or Vanderbilt to continue her studies in entomology.
"It's a grind that doesn't really stop, but it's fun," she said. "It's even more encouraging to do what I do and excel at it all. It has taught me balance. It has challenged me to go outside my comfort zone.
"I just have a desire to learn more and keep myself on my toes in a sense because in research, you answer one question and that leads to 10 more. It is a continual pursuit of knowledge that challenges you critically."