---
Faith has always been an integral part of Kevin Burke's life. Today, he is equipping men to serve in the Lutheran faith while furthering his education at Lutheran Theological Southern Seminary.
In 2010, Burke participated in a One Year to Live retreat organized by Lutheran Men in Mission, an independently incorporated ministry based out of Chicago, Illinois. The Evangelical Lutheran Church in America also supports the organization.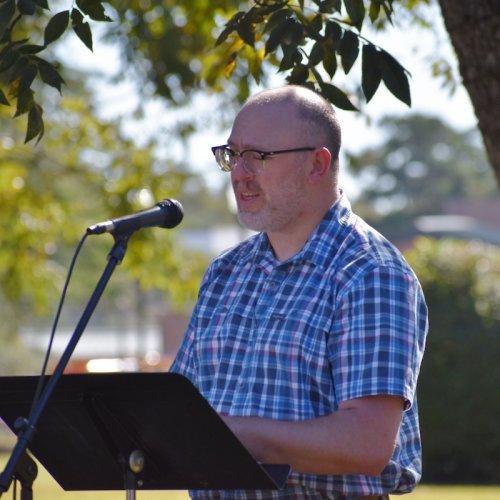 "The retreat allows you to focus on who you are, where you're from, where you're at and where God is calling you to be in the future," Burke said. "My father passed away the year before, and it helped me process and figure out who I was."
His exposure to that initial retreat led him three years later to apply for the role he currently serves. In his position, Burke is responsible for the annual retreats offered throughout the United States. OYTL, a spiritual bootcamp for men desiring a stronger relationship with Jesus Christ, helps men assess their goals and develop plans to work toward them over the following year. Burke ensures that the copyrighted material produced for LMM by Lyman Coleman, founder of Serendipity House Publishers, is protected. In addition, he organizes Bold Gathering, where speakers share their stories about their work and how it connects with men's ministry.
Due to COVID-19, those events are now offered virtually. LMM has also launched Project 12, an ecumenical roundtable for men's ministry.
"I enjoy this type of work," Burke said. "It's beyond just one church building and there are no boundaries. I serve to pull resources and connect people in different ways."
While building connections and serving the Lord, Burke works toward his master's degree in Christian ministry.
"My intention has always been to come to seminary and take that knowledge into my current role and to be able to disciple on a different level," Burke said.
Passion for faith-inspired leadership
Burke is proof that faith inspires his leadership and gives context to his actions. For example, a gentleman joins nearly every Tuesday online LMM book discussion and Thursday Bible study. When six weeks passed with no word from the man, Burke called the police department in Illinois for a wellness check. The police called back to share the phone number of the man's father. Burke learned the 43-year-old man was suffering from vertigo issues because of chemo treatments and had been in a rehabilitation facility.
"Both the father and son were stunned that I would track him down," he said. "Then, when I learned which facility, they were amazed that my boss in Illinois visited him. He at least knows there are guys around the country that care about him, pray for him often and we won't let him feel like he's alone. That's a piece of the work I get to do, and I love it!"
Burke said his life story is service to others, and he's thankful for a supportive family. Married for 20 years to Amanda, a 2021 LTSS graduate, they have three biological daughters and two adopted daughters from Ethiopia. Their ages are 12, 14, 16, 16 and 20. In the fall, Amanda started her call as an associate pastor at Redeemer Lutheran Church in Columbia, South Carolina.
"Sometimes I exclude myself from my family to serve the community or am there for others," he said. "That's how I operate. It's not that I feel obligated; it's a matter of having the capability and a big heart to do God's work."
The seminary also supports Burke's calling, and he sees his last year of studies as an opportunity for growth.
"I get one more year of exposure to meet peers and colleagues in different parts of the country that broaden my spectrum and broaden my circle of influence," he said. "I'm always searching to learn how I can love and serve others in a creative and inspiring way."