Biology major graduates in three years to become a vet
---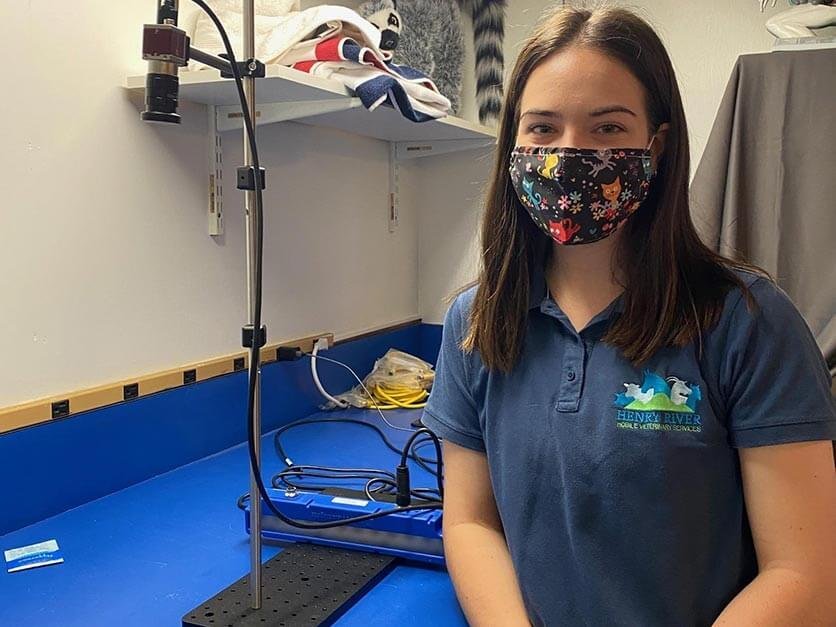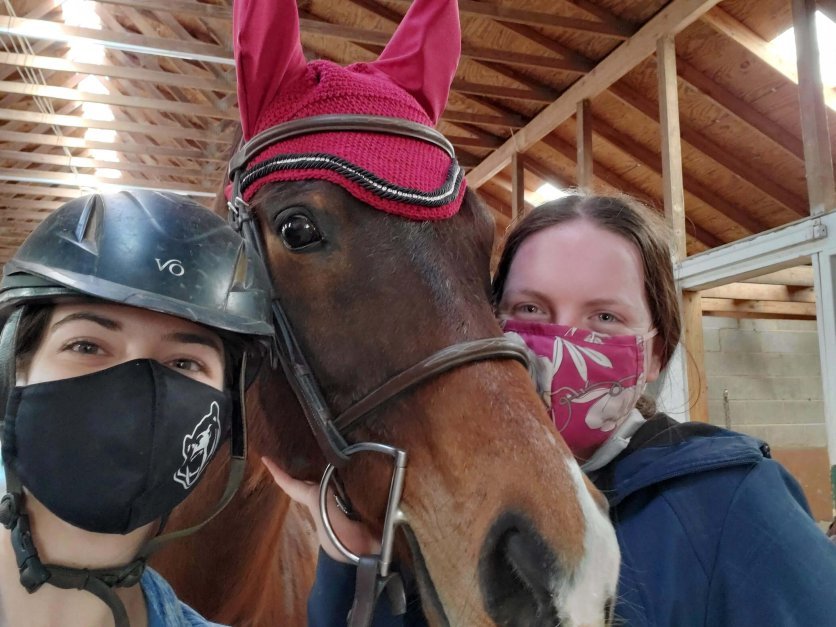 Biology student dreams of becoming a veterinarian
---
Jillian Petersen spends her free time around animals. She rides horses for LR's club team and has studied zebrafish in the classroom. All of that has prepared her for graduate school to become a veterinarian.
Jillian Petersen spends her free time around animals, so it would only make sense that she does the same for a career.
A senior biology major at Lenoir-Rhyne University, Petersen is primed to graduate in only three years with her bachelor's degree having already been accepted to veterinary school.
"I went into general biology because I didn't know I wanted to be a vet yet," Petersen said. "I knew science was my thing, but LR let me tailor my education to my interests."
A native of Ohio, Petersen earned an associate's degree out of high school due to dual enrollment. Now she's prepared to choose from among Kansas State University, Mississippi State University, the University of Missouri and Louisiana State University to continue her graduate level work with the goal of leading her own practice focusing on large animals.
"I think large animals are the most fun," said Petersen, who works for the Henry River Mobile Veterinary Service out of Hickory with Dr. Nikki Gooch. "We work on everything: horses, cows, goats, dogs, cats, chickens. I also ride horses and am on the equestrian team at LR. I love horses and am already used to working with them, so I think that played a part."
As an employee, Petersen has gained a wealth of experience traveling to local farms to treat a variety of animals, including helping perform amputation surgery on a pair of goats.
With the equestrian team, she works with horses and participates in competitions throughout North Carolina and Virginia for the LR club, which competes as a part of the Intercollegiate Horse Shows Association.
"That's where I spend a lot of my time," she said. "Being on the team and having other students who have that same passion is great because they understand the experience of what it takes to be a rider and have that responsibility, but also the time commitment of being a college student. We're a small team, but we're all close."
One perk of being part of the team is access to horses provided by the student club. During competition, students are assigned a horse at the event site. The equestrian club uses a variety of different horses stabled at Walnut Creek Farm in Newton, North Carolina, to gain t experience working with different horses and their personalities in the practice arena.
"It really tests your ability as a rider," Petersen said.
Petersen has aced her tests in the classroom, earning a spot in honors biology where she conducted a study for her official practicum and also studied the effects of freshwater on zebrafish.
"This is one of the big, looming things biologists are thinking about," said Carly York, Ph.D., assistant professor of biology, who has seen Petersen in action in the field after having Henry River Mobile Vet see animals at York's farm. "That could have a huge effect on how animals can avoid predators and find food."
Petersen and York acquired zebrafish and staged them in an aquarium in the biology department fully equipped with infrared cameras and lighting that the department gained last year through a faculty research grant gifted to the university by longtime supporter Bob Esch.
"Jillian was great," York said. "She's such a self-starter and a hard worker. She's incredibly organized, and there was a lot of work and troubleshooting involved with this project. We'd never used the cameras before, so there was a lot of time in a dark room, making mistakes and making adjustments. She was so patient, and I think the reward was great. There was really cool data collected at the end."
In addition to her honors project, Petersen also presented to the North Carolina Academy of Science, where she earned a Thoreau Award for her findings, which showed that freshwater could slow the ability of a zebrafish to escape a predator.
Now, as Petersen heads off to graduate school, she can use that experience developed in the classroom and lab, as well as in the field, to take on graduate school.
"I'm excited to graduate," she said. "I've worked hard; being a biology major is not easy. I'm also excited to have an actual graduation ceremony and be able to celebrate in person."
Lenoir-Rhyne plans to hold in-person graduation ceremonies between May 6-8 on the campuses in Hickory, North Carolina, Asheville, North Carolina, and Columbia, South Carolina.