---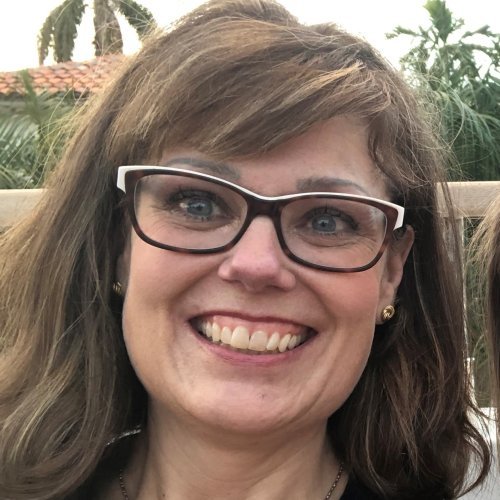 While some seminary students begin their journey directly after college, many realize their calling after spending years in unrelated fields. No career path or calling is the same, and seminary student Lynette Jamison McSpadden is a prime example.
A lifelong Lutheran, McSpadden believes her unique experiences have prepared her for ministry as she pursues a master's degree in Christian ministry.
"I'm an avid learner, and I love learning from the professors, especially telling us that there's more than one way of serving in a ministry role," she said. "The seminary is so welcoming."
With 30 years in air traffic control for the Federal Aviation Administration, McSpadden currently serves as an auditor, ensuring the operation of the national airspace system. She said her career has been rewarding. As an air traffic controller, McSpadden isn't in a tower or an en-route center. Instead, she serves in a job series known as a flight service option. Her role is to provide pilots with their pilot briefings and flight plan activity. As needed, she offers inflight advisory services and search and rescue initiation for aircraft in emergencies.
"My mom, dad, and brothers were in the airline business, so that is where I landed literally," McSpadden said.
A graduate of Kent State University in Ohio with a bachelor's degree and Embry-Riddle Aeronautical University with her master's degree, McSpadden says that multiple moments coalesced into her decision to go into ministry when she retires from the FAA in 2028. A member at her church, who served as a deacon, and a personal story piqued her interest in ministry.
"This deacon opened my eyes to another way to serve in ministry," she said. "Plus, my mom and dad were both sick at the same time. I witnessed firsthand the support from hospice and church members that rallied together."
In those defining moments, McSpadden found her purpose and calling to work in elder care, hospice or hospital chaplaincy. This fall, she will work toward 400 hours in a hospital to complete her clinical pastoral education requirement while working full-time. There's a shared knowledge that McSpadden's graduate degree will benefit her and those she serves.
"As a government employee, I am a public servant, and I do so in love," McSpadden said. "When I complete my Christian ministry studies, I will have a deeper theological understanding to further live out the ELCA mission of 'God's work. Our hands,' in whatever capacity I am called. As Paul writes in Ephesians, '… we are God's handiwork, created in Christ Jesus to do good works, which God prepared in advance for us to do."
A scholarship recipient, McSpadden said she appreciates the financial support and hopes others see God's love through her ministry.
"It is gratifying to know that people support my education," she said. "The scholarships have allowed me to take two classes at a time to finish my degree sooner. It's a relief to devote my time and energy to my education rather than stress about how to afford the courses. I hope others see love and understanding wherever I serve."