---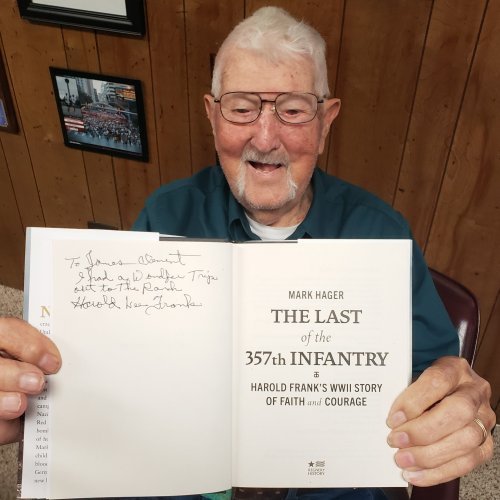 U.S. Army Veteran and 1999 Lenoir-Rhyne alumnus Mark Hager has always been fascinated by history. Having grown up in Goldsboro, North Carolina, near a military base, he was captivated by the stories of men who served in the armed forces. A chance meeting with one veteran inspired him to write his book: "The Last of the 357th Infantry: Harold Frank's WWII Story of Faith and Courage."
Hager attended a farmer's luncheon and struck up a conversation with Frank, whom he noticed was wearing a prisoner of war (POW) hat.
"He mentioned he was a member of the 357th Infantry Regiment of the 90th infantry division," Hager said. "My military knowledge told me that was World War II, and that unit was wiped out two or three times during the Normandy campaign. How is he still here?"
Hager was struck by the man's story of survival and hastily scribbled notes on napkins and scraps of paper.
"I talked to him, veteran to a veteran, and got a little emotional," he said. "We lost a lot of good men (in the war)."
Knowing he needed to learn more, Hager continued to interview the veteran over time. Frank shared his remarkable experiences as a Browning Automatic Rifleman. He entered WWII at Utah Beach and subsequent battles in the Cotentin Peninsula, Merderet River, Gourbesville, Hill 122 and ultimately Beau Coudray, where he was shot in the shoulder. Although wounded, Private First Class (PFC) Frank led a patrol to locate two lost U.S. Infantry Companies behind German lines. He fought for nine hours before running out of ammunition and was captured by elements of the German 16th Parachute Regiment (July 1944).