Serving those who have served
---
While veterans faithfully serve their country, North Carolina Superior Court Judge Marvin P. Pope Jr. '70 has spent the last eight years in service of veterans in and around Asheville, North Carolina, presiding over the Veterans Treatment Court of Buncombe County.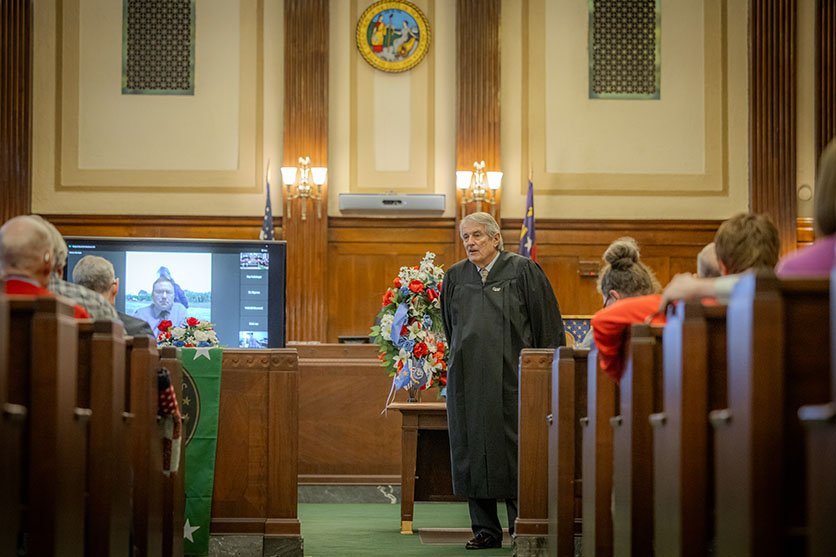 "The best part of being a judge is helping people and being able to change people's lives for the better," said Pope. "It is a privilege to help those who have given so much to their country."
The transition from active duty to civilian life presents challenges for veterans, and some of those challenges are more difficult to overcome than others. The National Institutes of Health estimates between 37 and 50 percent of veterans who have served in Iraq and Afghanistan have been diagnosed with a mental health issue, such as depression or post-traumatic stress disorder. 
Even in the absence of a diagnosed disorder, reintegration and the loss of routines and structure that define military life create stress unique to returning personnel. As a result, research has shown veterans face a slightly higher incidence of substance abuse than the general population — and sometimes that leads to legal problems.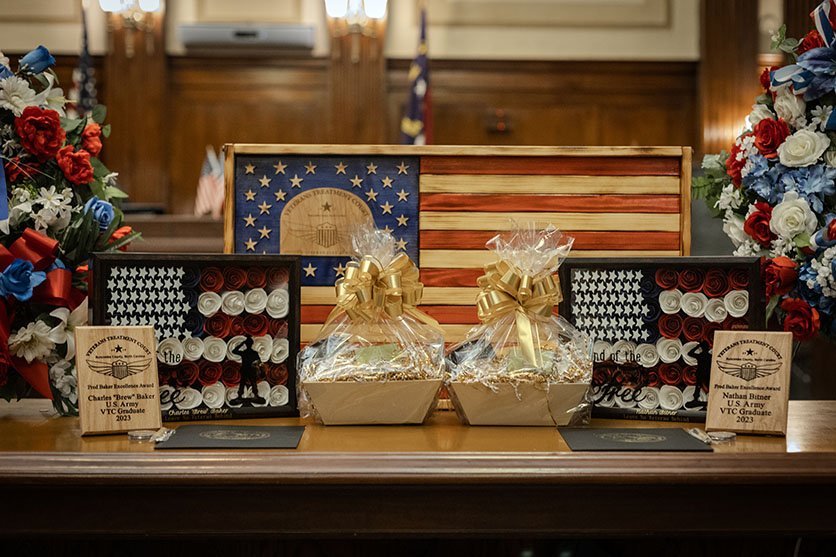 Based on these statistics and his experience on the bench, Judge Robert T. Russell of Buffalo City Court and Erie County Court established the first Veterans Treatment Court in Buffalo, New York in 2008. As of 2020, the U.S. Department of Veterans Affairs (VA) recorded 601 Veterans Treatment Courts and similar veteran-focused court programs operating nationwide.
"In a nutshell, Judge Russell realized the court could use veterans' military training to help them in rehabilitation," Pope explained. "Criminal court is an adversarial system, but treatment court is not. Everyone is on the same side, working to help the clients get their lives back."
A legacy in law
Pope has always felt a strong connection to the military and to public service through his father, Marvin P. Pope Sr. '38, who was a veteran and an officer in the North Carolina State Highway Patrol, providing his son a role model he continues to honor in his work.
"My whole family was involved in the military. My dad served in the Navy in World War II, and my aunt and uncles were involved in various branches of service," Pope shared. "I was always interested in those subjects, but my dad didn't talk much about his experiences, which isn't unusual."
The Pope family moved from Asheville to Hickory when the senior Pope was transferred for work, and Pope chose to attend Lenoir-Rhyne to save on housing costs and took a job with United Parcel Service to pay for his tuition. Law was always part of Pope's long-term plan.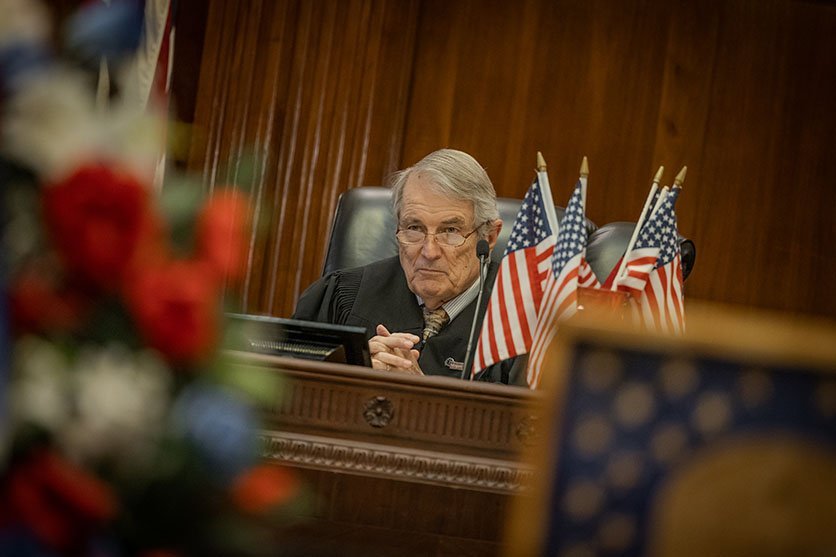 "I think from the fifth grade on, I knew I wanted to be a lawyer. With Dad being in law enforcement, he had several friends who were good lawyers. I majored in history and government at LR and went straight to law school after I graduated," said Pope.
After law school at Wake Forest University, Pope returned to Asheville where he set up a practice with his law school classmate Ron Brown. In 1978, Brown was elected District Attorney for Buncombe County, and Pope practiced on his own until 2001, when North Carolina Governor James Hunt appointed him to fill a newly added judgeship. He maintained that seat on the District Court bench through re-election until 2010, when Governor Beverly Perdue appointed him as a Superior Court Judge.
"My last election was in 2018, but I had to retire in 2021 because North Carolina has a rule that judges have to retire at age 72," Pope said. "But almost immediately I was appointed as an Emergency Recall Judge. I have the same duties and authority as any Superior Court judge, but I hear cases as needed all around the state. I accepted the appointment and asked to continue with the Veterans Treatment Court because I was the one who brought it to Buncombe County and was trained to do it."
Building a better way
In 2015 the North Carolina General Assembly authorized the Veterans Treatment of Buncombe County — the second in the state — under Pope's guidance. 
"I had to convince local officials that it was a high priority and obtained a grant from the Governor's Crime Commission to start it. I brought in the probation officers, the District Attorney's office, and the public defenders," he said. "I worked with the state agencies that provide veterans services and got the backing of the Charles George VA Medical Center here in Buncombe County. We have a memorandum of understanding, and they have been so helpful."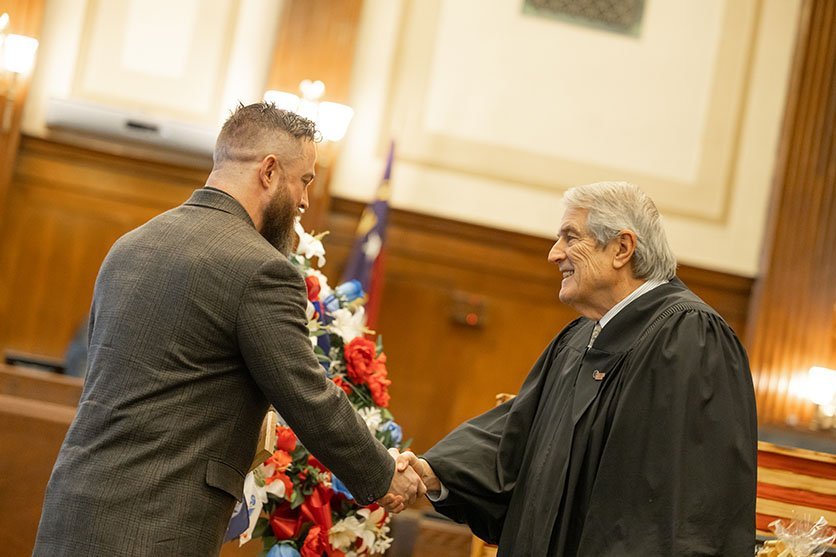 In the eight years since the court's inception, lawyers throughout Asheville and Buncombe County with military backgrounds have become involved in the effort, along with a wide network of veterans who serve as mentors to the court's clients — once they enter Treatment Court, they're no longer called defendants.
"It's much more difficult and demanding than just going through the regular system," Pope explained. "We convene every two weeks, so I get to know everything about the clients. I know their spouses, their children — sometimes their dogs. But all I ever ask of them is that they be honest with me and try."
The five-phase program includes sobriety maintenance and testing, frequent check-ins with mentors and court officials, counseling, community service work and classes. The process lasts between 18 months to two years and demands clients fully commit to recovery.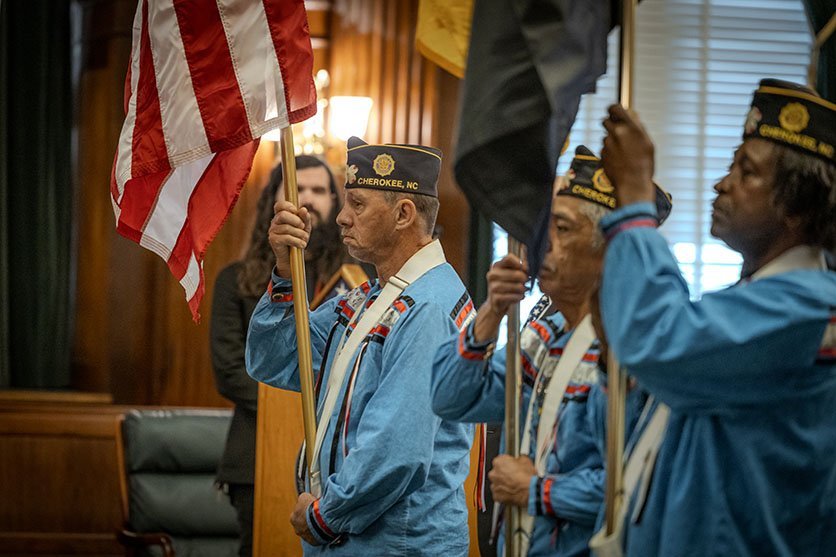 "When a veteran comes out of this program, he has housing and a job. Usually, he's reunited with his family, and if he doesn't re-offend, his criminal record is expunged," Pope shared.
Furthermore, when a veteran completes the program, the court holds a graduation ceremony in the historic main courtroom in Buncombe County. Veterans, mentors, court officials, friends, family and community members invested in the graduates pack the large space to commemorate the occasion and present the graduates with gifts. 
A color guard from the Veterans of Foreign Wars (VFW) chapter in Cherokee, North Carolina presents the colors, and fellow veterans — some of whom have graduated from the Treatment Court themselves — give speeches expressing encouragement, empathy, and pride. The graduates then share the stories of their own journeys and their hopes for the future. 
At the most recent ceremony, on October 20, 2023, two graduates completed the program. One of them spoke of reconnecting with his family and his children. The other plans to give back by becoming a counselor for his fellow veterans who are starting their own paths to recovery.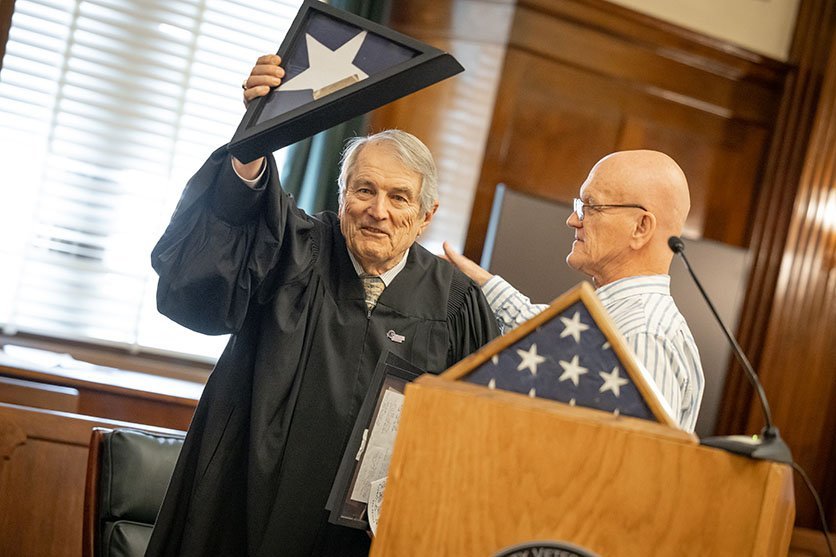 Also in attendance at the ceremony were Asheville's delegation to the North Carolina General Assembly — Julie Mayfield, senator for North Carolina's 49th District, and Eric Ager, representative for the 114th District. They were there to congratulate the graduates and to deliver a commendation from the General Assembly for Judge Pope.
"That was completely unexpected," Pope said afterward. "It's an honor, of course, but this is and always has been a team effort. This is the system working as it really should."