---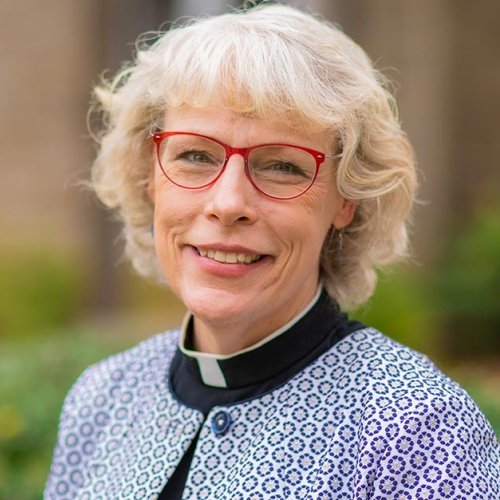 The Rev. Dr. Mary Hinkle Shore, rector and dean of Lutheran Theological Southern Seminary (LTSS) on Lenoir-Rhyne (LR) University's Columbia campus, has announced she will retire at the end of the fall semester following four years of outstanding leadership.
Shore joined LTSS in 2019. She came to LTSS from the Lutheran Church of the Good Shepherd in Brevard, North Carolina, where she was pastor. Prior to that she spent 16 years on the faculty and in administration at Luther Seminary in St. Paul, Minnesota.
"This is bittersweet for me. I am so happy that Mary and her husband, Hank, have reached this significant milestone in their lives, but sad for us. Her leadership at LTSS has positively impacted the stability and future of our seminary," said Dr. Fred Whitt, Lenoir-Rhyne university president. "Lutheran Theological Southern Seminary of Lenoir-Rhyne is in a much better place today because of her leadership."
In her time at LTSS, Shore led the seminary through a successful 10-year reaccreditation from the Association of Theological Schools Commission on Accrediting; built up the faculty with the addition of Dr. Justin Nickel, Frances and Baxter Weant Assistant Professor of Lutheran Studies, and the Rev. Kermit Moss, instructor of practical theology, Black church studies and culture; and produced the first seminary-specific strategic plan since the seminary's merger with LR in 2012.
In addition, Shore has focused on making seminary education more accessible and relevant. All LTSS programs are now available in residential and low-residency formats to appeal to students in different life phases, and the seminary curriculum has been revised to allow students more flexibility to enroll in electives throughout the university. LTSS also launched in 2021 the LTSS Center for Lifelong Learning to create resources for the work of ministry and provide just-in-time learning to address ministerial and social concerns.
Under Shore's leadership, private giving to the seminary has ticked up significantly. Since she arrived, alumni participation has increased 21 percent, underscoring the seminary community's confidence in the direction of LTSS.
"I have been honored to serve the church, the seminary, and Lenoir-Rhyne University over these last four years," Shore said. "I'm especially grateful to an extraordinarily gifted seminary faculty and to the students whose vision for ministry and service is a daily inspiration to us. The deeply collaborative spirit of leadership on all three campuses of Lenoir-Rhyne University gives me confidence that LTSS and LR together are becoming the institution that the church and the world need us to be. I am eager to see what the future brings."
North Carolina Synod Bishop Tim Smith, a member of the LTSS Advisory Council and the LR Board of Trustees, said, "We thank Dr. Shore for her service to LTTS and wish her well in retirement. We have made great progress over the past four years under the leadership of Dr. Shore and President Whitt. Since the merger of LTSS into Lenoir-Rhyne approximately 10 years ago, our partnership, operations and support under Lenoir-Rhyne have never been better."
Lenoir-Rhyne will launch a national search for the rector and dean with the goal to have the new leader in place as early as January, and no later than July. During the interim, Dr. Brent Driggers, LTSS professor and associate dean, will serve as the acting academic dean but will not be a candidate for the position. In addition, Dr. Mindy Makant, dean of the College of Humanities and Social Sciences and ELCA rostered clergy, will provide leadership and support during the interim for the seminary with the ELCA.