LR star beats 3 torn ACLs, stars in 2 sports
---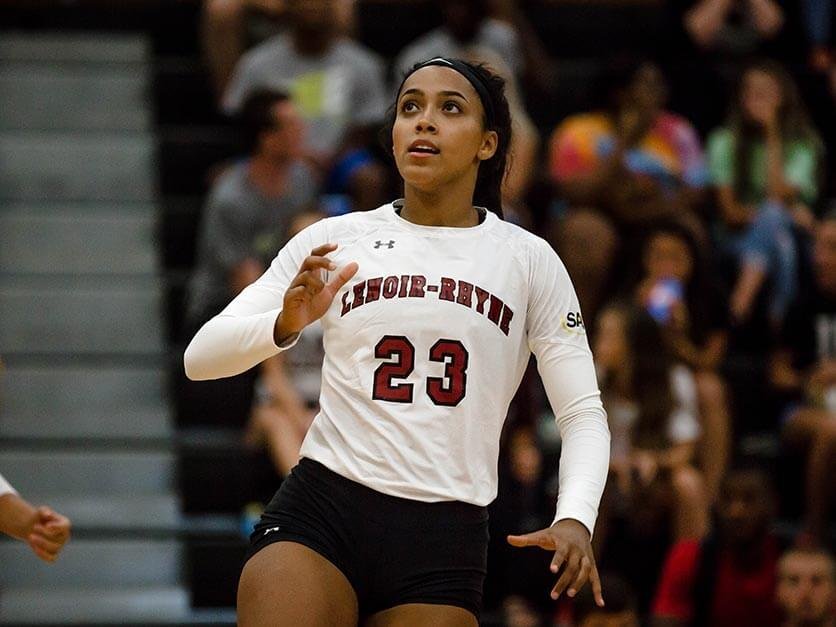 Lenoir-Rhyne athletics star Jackie Denny
---
Jackie Denny tore an ACL three times, but that didn't stop her from starring for the Lenoir-Rhyne volleyball and women's basketball teams.
Three torn ACLs. Two-sport athlete. But there's only one Jackie Denny, senior marketing major.
To say Denny is a rare breed is an understatement, but her story may be unlike any other once she steps back onto the basketball court.
"I've never had an athlete who has had three ACL injuries and continued playing," said Michael Flicker, senior associate athletic director/head athletic trainer, who has served on LR's athletic training staff since 2002. "I admire Jackie for her ability to persevere and overcome a lot of psychological hurdles to be able to continue her athletic career. It takes a significant commitment on a daily basis to try to get back to the level of athlete she was before her injury and she has done it several times."
When she competes in volleyball and basketball this season, she can become one of the first – if not the first – two-sport female athlete to return after tearing her ACL three times.
The North Wilkesboro, North Carolina, native plays sports whose seasons overlap and is a standout on both squads. To put that into perspective, Denny is an in-season athlete from August-March.
She first injured her right knee in 2013 as a sophomore in high school. Shortly after scoring her 1,000th career point – yes, 1,000 career points by her sophomore year – she started a five-and-a-half month rehabilitation process that took Denny into her junior year.
Fast forward to February 2015, when Denny was in the midst of a standout senior season and just signed her letter of intent to play basketball and volleyball at Lenoir-Rhyne. She jumped for an offensive rebound and landed on one leg, which then got hit on the side as it was planted, tearing the ACL in her left knee.
After three months of rehab, Denny still didn't feel right. She had to pause her rehab due to patellofemoral pain which can be caused when the patella tracks incorrectly as the knee bends and straightens. The knee took 10 months to get back to full strength and it took a mental toll.
"I could deal with the physical pain," said Denny. "The toughest hurdle for me was the mental pain and having done it twice in two years. The rehab was tougher and longer the second time because of the setback and I had a hard time staying patient, especially since I knew my college career was about to begin and that transition was already going to be tough."
Unfortunately, Denny hadn't healed enough to participate in either volleyball or basketball during her freshman year. After sitting out that season, Denny returned in a major way, completing her second comeback by playing in all 30 matches in fall 2016.
Denny was also healthy as a sophomore in 2017, playing in 25 volleyball matches and 23 basketball games. Denny's 1.21 blocks/set ranked second in the South Atlantic Conference as did her 22 solo blocks. She got over her mental hurdles on the basketball court, shooting a team-high 56.3 percent from the field.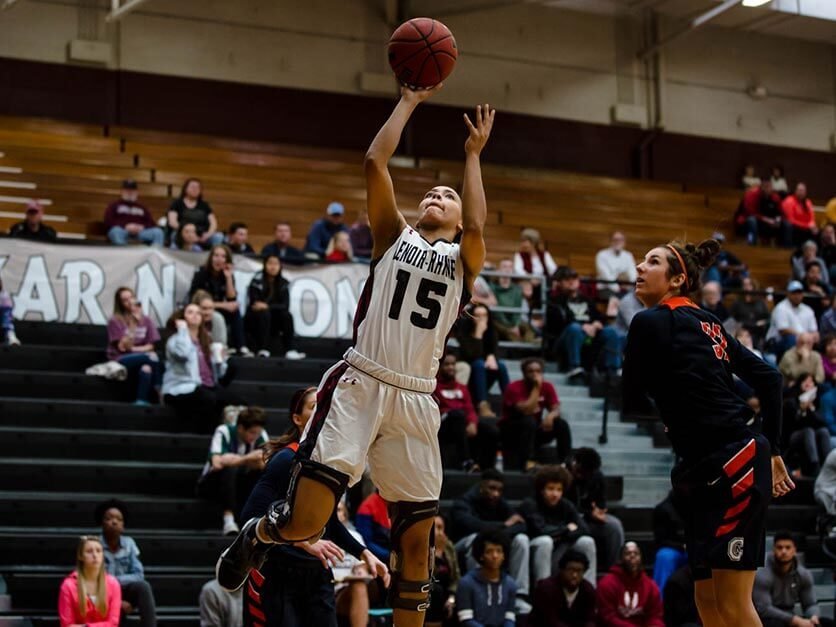 Jackie Denny starred for LR athletics
---
Denny overcame multiple surgeries to repair torn ACLs in order to average 1.21 blocks a set, which ranked second in the SAC, for LR's volleyball team, while shooting a team-high 56.3 percent in women's basketball
Injury Strikes Again
2018 was more of the same; Denny's 82 blocks gave her a career total of 286, moving her into the top 10 in program history.
"I often felt a little pop during volleyball season, but it would always go back to normal so I thought it was just scar tissue," commented Denny. Then one rainy day, on the way to the dining hall, her foot slipped on the ground.
An MRI showed a torn meniscus and the torn ACL was discovered in surgery. Upon investigation, it was revealed that the ACL could have been torn for up to two years. Her diligent work with rehab provided the knee with increased stability, possibly masking the injury. Denny faced a tough decision, but she knew what she would do.
"I honestly never thought about not coming back," said Denny after the third ACL tear. "I love my sports; I can't imagine not playing them and "Jackie is an uncommon case but her passion for the sports she plays and her mental toughness are off the charts," said Luis Velez, assistant athletic trainer, who has worked hand-and-hand with Denny in her rehab. "She has worked hard to get back on the court."
The early rehab consisted of simply bending and straightening her leg. She took her brace off two days after surgery and was walking without crutches eight days later. She progressed to step-ups and walking stairs then to lunges and wall sits. Eventually, she did high-level knee exercises and jumping, then on to jogging and running again.
Despite three grueling rehabs, which have totaled 22 months and counting, Denny is on track to finish her senior season on the volleyball court in 2019 and has two more years of eligibility in basketball.
"They say the third times the charm," she said. "I'm just excited and ready to get back out on the court and play the sports I love."