LR promotes Kim Pate to VP of athletics
---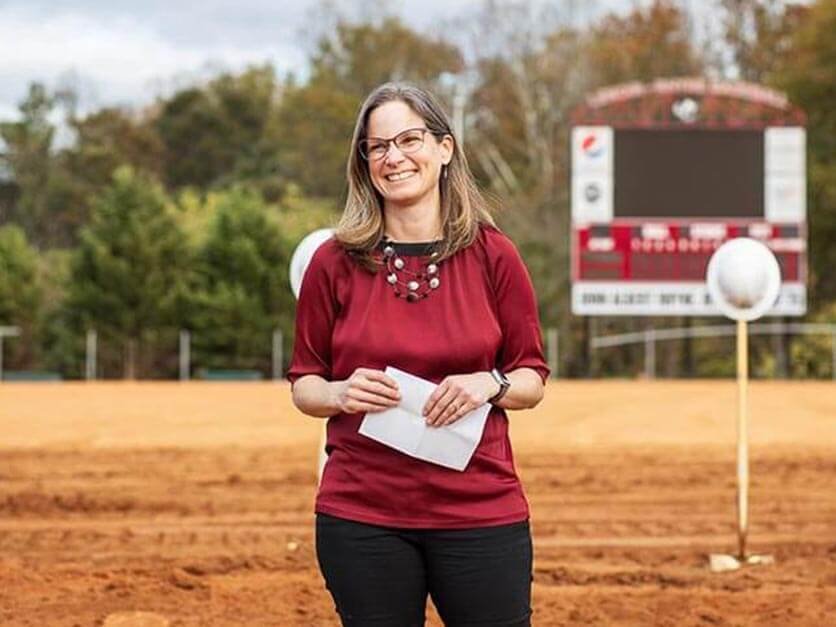 Pate was named A.D. in 2016
---
Prior to LR, she served as director of athletics at the University of Illinois Springfield for five years.
Lenoir-Rhyne University has announced the promotion of Kim Pate to the position of vice president for athletics. Pate, who has served as the director of athletics since March 1, 2016, will continue to provide leadership to the athletic department as well as serve on the president's leadership team to support the broader campus mission and strategic direction.
Under Pate's leadership, LR has had unparalleled success on the field, including
The 2018-19 season marked LR's best finish in the Echols Athletic Excellence Award standings, finishing just 10 points out of first place. The Bears' 1,521 points were a program record, and the Bears were in first place after both the fall and winter seasons for the first time.
The football team advanced to the NCAA Playoff Elite 8 and finished the season ranked No. 8 nationally under first year head coach Drew Cronic. Cronic, whom Pate hired in December 2017, was named AFCA National Coach of the Year and the Bears were the most improved team in the nation, improving their win total by nine wins from 2017 to 2018.
Entering 2018-19, LR had two National Coaches of the Year in school history, but Cronic along with head men's lacrosse coach Greg Paradine doubled that total in one season as both picked up national COTY honors.
Women's outdoor track and field and men's soccer each won their first South Atlantic Conference championships in program history and six teams/individuals advanced to NCAA competition last year.
In addition, Pate has led improvements to facilities, including the Neill McGeachy Sports Performance Center. Other athletic facilities experienced marked improvement with the renovation of Shuford Memorial Gym Lobby, and the addition of air-conditioning in Shuford Gym, Moretz Gym, and numerous locker rooms. Another notable upgrade was the addition of grandstands at the Moretz Sports Complex soccer and track facility and the installation of a new state-of-the-art Mondo track surface. Additionally, a new video board was installed at the baseball field.
Pate has helped the Bears excel off the field as well. Over her first three years, Lenoir-Rhyne has led the SAC with a combined 579 student-athletes on the SAC Commissioner's Honor Roll.
The Bears also posted a record-high number of Athletic Directors Association Academic Achievement Awards (123) which tied for the most representatives in the SAC and was the eighth-most recipients in Division II. During the 2018-19 season, LR boasted four Academic All-Americans and four Elite 20 award winners. Pate also added an emphasis on community service since starting in Hickory and the Bears ranked in the top 20 of NCAA Division II athletic departments last year with 6,029 community service hours. Also, the SAAC raised more than $6,000 for the Make-A-Wish Foundation, which ranked No. 17 in Division II.
Prior to LR, Pate served as director of athletics at the University of Illinois Springfield for five years, where she was responsible for the administration and oversight of a 16-sport NCAA Division II intercollegiate athletics program in the Great Lakes Valley Conference. Before that, she worked at Brevard College in Brevard, North Carolina, as the director of athletics for more than three years (2007-11). She oversaw 18 NCAA Division II intercollegiate athletic programs in the SAC.
During her tenures at the two previous institutions, Pate led several initiatives including transitioning Brevard College from NAIA to NCAA Division II status, implementing multiple new sports programs including football, establishing a new 500-member booster club while more than doubling fundraising contributions, and leading multiple capital facility improvements including the development of a new baseball facility, golf driving range, and numerous other facility renovations.
While at Brevard, Pate also gained collegiate coaching experience serving as the assistant softball coach for three years. She helped lead the team to a program-record winning season of 28-22, during her first year of coaching.
Pate's experience also includes more than six years of active involvement on numerous national athletic committees and organizations. In 2019, she was selected to be an officer on the Division II ADA board of directors as the third vice president. Also, Pate was selected to serve on the National Association of Collegiate Director of Athletics executive committee in spring 2019. She has served as a representative on the NCAA Division II legislative committee, chair of the NCAA Division II interpretation subcommittee, vice chair of the NCAA Division II membership committee, as well as a member of both the NCAA diversity and inclusion fellows design team and the SAC strategic planning committee. In 2015, Pate was recognized by the Springfield Business Journal as a Woman of Influence honoree.
Pate received her Master of Business Administration from Western Carolina University in Cullowhee, North Carolina. Her undergraduate studies were completed at Brevard, where she received her bachelor's degree in business and organizational leadership, graduating summa cum laude.