Longtime Bears earn honorary doctorates
---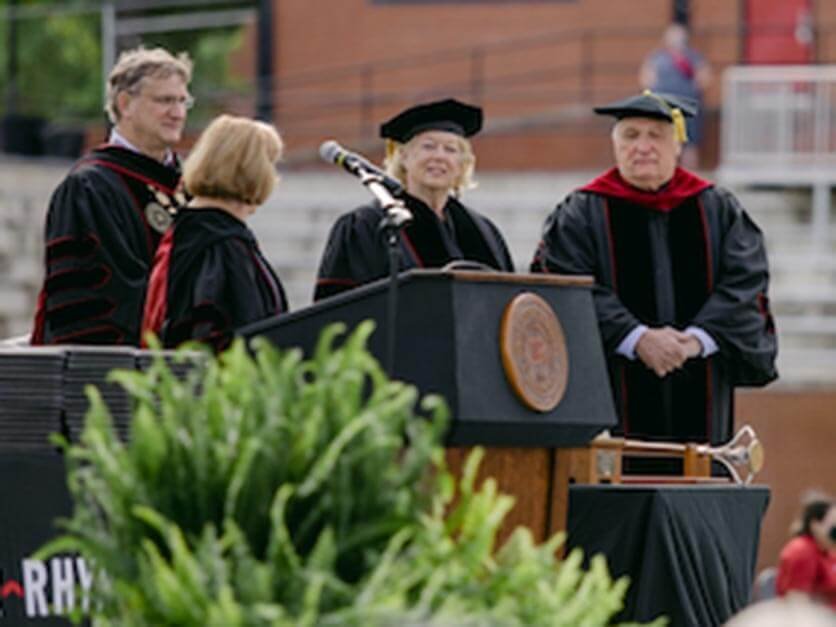 Longtime Bears earn honorary doctorates
---
Hank and Bernice McCrorie have been longtime friends of Lenoir-Rhyne, in addition to serving on the board of visitors and members and as supporters of many campus initiatives.
Once a Bear, always a Bear.
Everyone who comes to Lenoir-Rhyne University is a member of the Bear family for life, but some Bears care about the university as much as it cares for them. Hank and Bernice McCrorie are like that.
Over the years, Hank and his wife, Bernice, have stayed engaged with LR, supporting the
University in many ways. And this Friday, May 8, at 9 a.m. the couple were recognized with honorary Doctor of Humane Letters degrees from LR.
"Hank and Bernice have been wonderful friends and supporters of Lenoir-Rhyne throughout the years," said LR President Dr. Fred Whitt. "They've gone above and beyond to help make sure the needs of our students are met, and they've been a fundamental part of seeing our university grow to provide life-changing experiences for our students. It is our honor to confer Hank and Bernice with this recognition that they have earned through their constant support."
A four-year letter winner, McCrorie captained the 1959 football team as a two-way lineman on the offensive and defensive sides of the ball before earning a bachelor's degree in 1960. After leaving LR, Hank spent 40 years at Pfizer, eventually rising to become executive vice president of sales. In 1994, he was inducted into Pfizer's Hall of Fame and Lenoir-Rhyne Sports Hall of Fame.
They have served as members on the board of visitors and members and trustees of the Piedmont Educational Foundation Bears Club. They are members of the President's Society and distinguished members of the Founders Society. Hank McCrorie is currently a member of the board of trustees, and in 2018, Bernice McCrorie was recognized by LR's softball team for her support of the university and the Hickory community. Together, they made a gift that went toward the McCrorie Center that bears their name and educates and prepares students each day on campus.
They also own a vineyard, Burly Wine, named after his LR football nickname, "Burly Bear," in Napa Valley, California.