---
The Dream of Space Exploration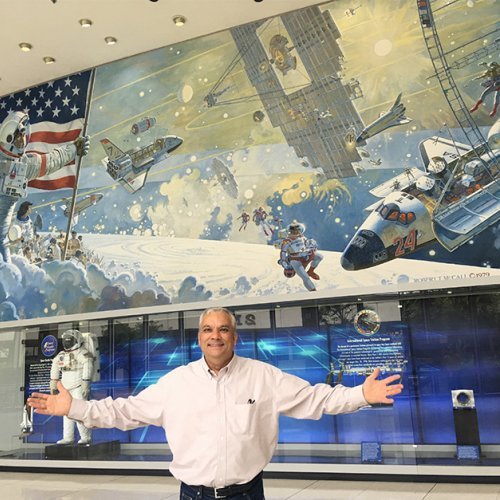 Fred Zayas '86 was probably always destined for a life in the aerospace industry. Growing up in Titusville, Florida, in the 1970s gave him a front-row seat to the Space Race.
"Titusville is across the river from Cape Canaveral and the Kennedy Space Center. I graduated from Astronaut High School. My family had an Italian restaurant, and we all worked there. I started working when I was around nine years old. I'd serve the people from the space center, who were excited to be part of something special and having a ball. I thought it would be great to be part of something like that,'" Zayas chuckled.
With more than three decades working for primary contractors with NASA and the U.S. Department of Defense, Zayas has moved from that front-row seat to a starring role with the teams that have supported cruise missile programs, space shuttle missions, the International Space Station and the foundation for exploratory projects such as the Artemis 1 mission. He is even more excited about the projects in his future.
"I'm very blessed to have a profession that doesn't really feel like work. I just enjoy it," Zayas shared.
The work, the joy, the long-term friendships and the knowledge to supervise spacecraft all started at Lenoir-Rhyne, and Zayas freely praises his alma mater for helping him reach his life goals. "You know, LR helped me fulfill dreams," he said.
Preparing to launch
Church-sponsored ski trips during high school introduced Zayas to western North Carolina, and he fell in love with the area. He also loved playing football and running track, so he hoped to continue as an athlete in college.