---
Focus, determination and commitment: three attributes that describe Spencer Cochran.
A native of Charlotte, North Carolina, Cochran arrived on campus at Lenoir-Rhyne in 2018. Four years later, she's preparing to cross the stage to accept her degree in exercise science.
Earlier this year, Cochran, a tennis student-athlete, swept both of her sets at the match against University of Virginia, Wise, securing the team's third win of the week and sixth straight win overall. In her first year, she finished the season 2-0 in singles and 2-0 in double matches. After several injuries during her four seasons at LR and looking at an upcoming surgery to repair her right shoulder, Cochran has maintained her focus on championing her teammates.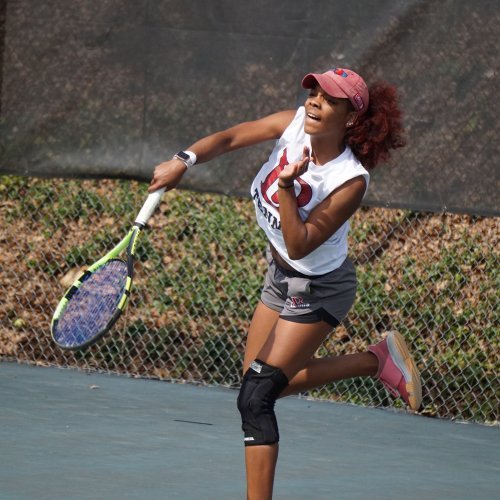 "My role is to provide energy and enthusiasm, ensuring my teammates are supported," she said. "Even though I'm injured, it's still been a great experience and I've loved every moment."
Cochran, who has been playing tennis since the age of 4, says the social component of the sport is gratifying.
"I love the sport itself," she said. "But the friends and connections I've made through tournaments, different training academies or playing at LR have become like my family. So many different people have impacted my life in different ways. Each connection is positive and rewarding."
Along with tennis, she also serves on the Student-Athlete Advisory Committee and is the vice president of the Black Student Alliance.
Building bridges and making connections
Cochran's connections with her teammates have also allowed her to learn the Portuguese and Russian languages and practice her Spanish-speaking skills.
"Learning about different cultures has been fascinating," Cochran said. "My international teammates have invited me to visit to learn more about their country. Many have been to my house; my mom is their American mom."
Committed to pursuing a graduate degree, Cochran has accepted a full-time job as a tennis instructor after graduation so she can save funds to pay for her education. She will be employed at Altitude Tennis Academy in Huntersville, North Carolina.
In the meantime, she is completing the second part of her internship, applying classroom knowledge and gaining application in athletic training for various sports to start learning skills she will refine in graduate school.
"I have gained the most wonderful experiences in this internship," Cochran said. "I love going to the training room. I've learned the different types of ankle taping and scraping and different rehab exercises for different parts of body injuries."
Under the guidance of Stephanie Dudzik, LR athletic trainer, Cochran said she has especially learned behavioral skills.
"Stephanie knows her athletes and cares for them," Cochran said. "I've learned how she uses the same techniques for different injuries. She's also very innovative in finding ways to do things differently for each athlete based on what they prefer. In the same way, I want to know my athletes to create their rehab program and connect with them on different levels."