'Flick' is Employee of the Year
---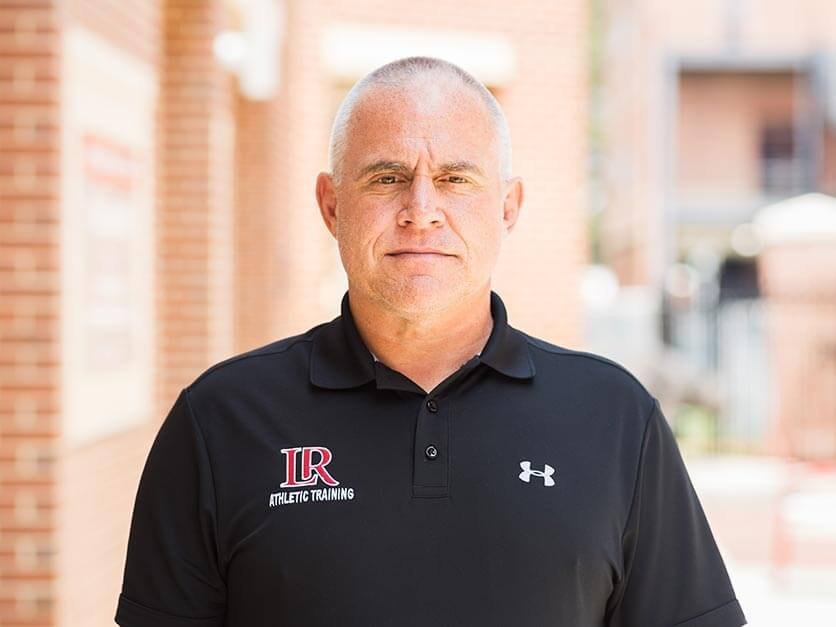 'Flick' is Employee of the Year
---
Flicker joined LR in 2002 and was promoted to head athletic trainer in 2011. In 2019, he was promoted to senior associate athletic director having covered nearly every team in his tenure.
He doesn't like to be called sir, and he'd rather his professional services not be needed.
However, his skills often are needed. And they were on display more in the last academic year than perhaps any other, which is why senior associate athletic director and head athletic trainer Michael Flicker was recognized as the 2021 Lenoir-Rhyne University Jeff Norris Staff Employee of the Year.
University President Dr. Fred Whitt made the announcement during a celebration recognizing the beginning of the fall semester.
"It is definitely an honor to be recognized in this manner," Flicker said. "I receive a lot of credit for the work that our entire LR athletic training staff and students do. I appreciate all they do for the overall health and wellness of student-athletes, as well as faculty, staff, students and community members."
Flicker, or "Flick" as he's affectionately known across campus, managed the lab that oversaw COVID-19 testing for the roughly 700 student-athletes on campus, in addition to students, faculty and staff who were randomly tested. Throughout the year, Flick and his team performed nearly 20,000 COVID-19 tests.
He served on the President's COVID-19 Task Force and chaired the South Atlantic Conference athletic trainer's council, in addition to helping set up conference-wide protocols.
Flick was quick to note that he wishes he only saw students who stopped by his office to chat or on the playing field rather than in the training room for sprained ankles, banged up knees or COVID-19 tests; however, he's eager to help anyone in any way he can.
"I can't think of a more deserving person than Michael Flicker for the Jeff Norris Staff Employee of the Year Award," said Vice President for Athletics Kim Pate. "Michael provided tremendous leadership to ensure a safe return to campus and sports and was instrumental in helping establish necessary COVID safety protocols. He and his dedicated athletic training staff went above and beyond the call of duty this past year. His unparalleled commitment to the university in support of our student-athletes' well-being and success was inspiring to our entire department."
Flick — who was also named staff member of the year in 2013 — is beginning his 20th year at LR. He joined the university in 2002 as an assistant athletic trainer and became head athletic trainer in 2011. In 2019, he was promoted to senior associate athletic director, covering nearly every athletic team and club during his tenure.
"Care is a key component of our profession and the staff embraced our role to help with COVID testing and management," he said. "We partnered with several other groups on campus and in the community to help care for the LR community."
A graduate of Temple University in 1991, Flick earned his master's degree from the University of North Carolina, Chapel Hill in 1993.
2021 Opening Celebration Awards
Special Presidential Recognition
Emma Sellers left a mark on Lenoir-Rhyne that will be felt for generations. She helped establish the Office of Multicultural Affairs in 2012 and served as its director for nine years before stepping down in May 2021 to pursue an opportunity in city government.
Under Sellers' leadership, the university created programs to increase faculty, staff and student awareness of social justice issues, increase diversity and inclusion offerings in curriculum and increase diversity among the student body, faculty and staff. In addition, she was the first African-American in LR's history to serve on the presidential cabinet.
Community Service Award
Jennifer McCracken serves as the health director for Catawba County; however, she has become an honorary Bear after helping guide the university through the last year and a half of the pandemic as a member of the Presidential COVID-19 Task Force.
McCracken helped provide the university with best practices in terms of safety measures, helped with testing, recruited LR nursing students to help administer the vaccine to community members and organized vaccination clinics on campus.
Parachute Awards for service to the university that sometimes goes unnoticed
When issues arise on campus, Judy Lineberger, executive assistant to the provost, steps in to solve problems. Whether it's an issue with classes or access to a building, she is always on hand to help. Since the onset of the pandemic, she has taken that to a new level helping organize how the university transitioned to an A-B schedule and implemented safety measures in the classroom while also working on contact tracing throughout campus.
Janet McKee, director of student accounts, has worked in enrollment management, advancement and the business office in her 12 years at LR, and she has always managed to put the minds of students and parents at ease. Her genuine concern for them is evident in every interaction, which is of enormous importance to students, parents and the LR community.
William Daughtry has spent more than 15 years at LR as a member of Aramark, and one can scarcely take a step without being impacted by him in one way or another. Often he's riding a Gator or lawn mower or carrying a weed eater or leaf blower in an effort to make the campus look great for everyone.
Mary Fran Sears is the physician assistant at Cornerstone Student Support and Wellness Center, and she joined the university in January of 2019. She has been vital to LR throughout the pandemic serving on committees, coordinating or assisting with COVID-19 testing on campus, performing telehealth visits, checking in with students in quarantine, sharing information and so much more. She has made the health of everyone on campus her No. 1 priority since coming on board.