---
For first-generation student Moises Vazquez, his college education means being a leader, the product of his parents' sacrifice and an example for the next generation.
A transfer student, Vazquez said LR is providing the opportunity for him to complete his bachelor's degree.
"I chose Lenoir-Rhyne because Hickory is home to me, and Lenoir-Rhyne is part of Hickory," Vazquez said.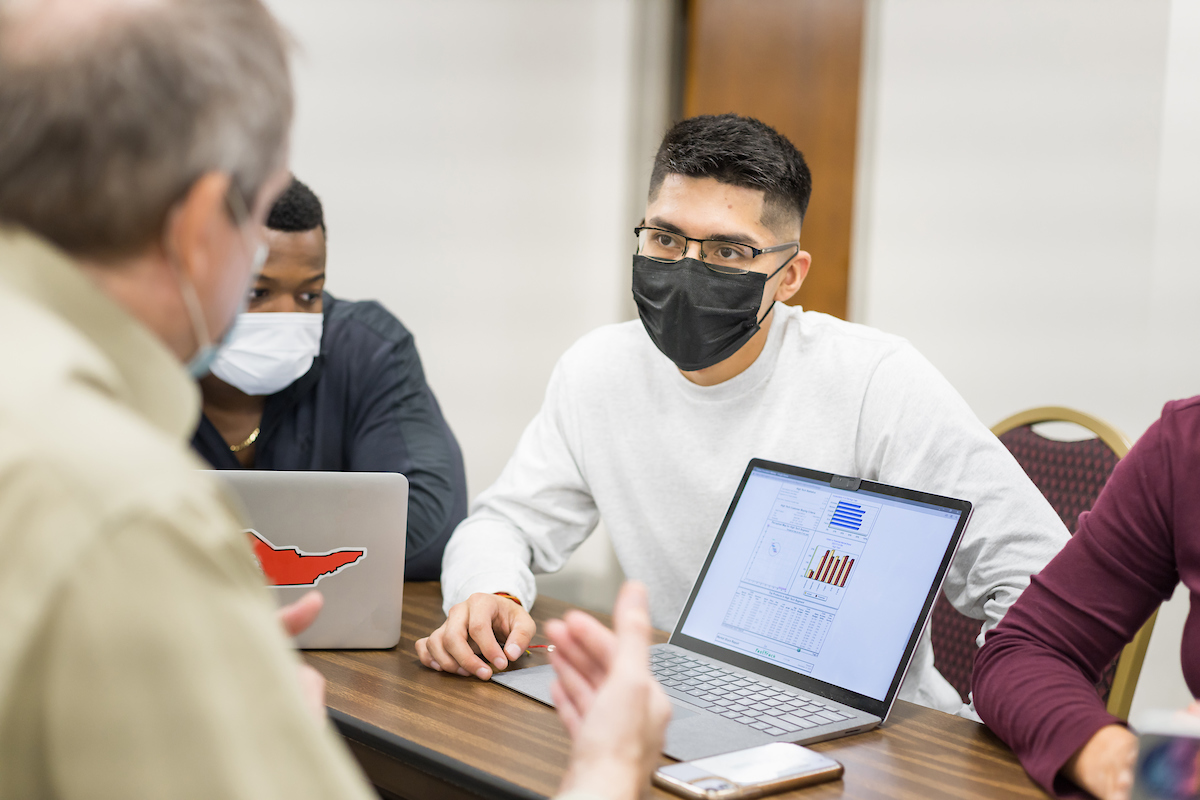 Vazquez, whose parents are originally from Mexico, is family-oriented and has learned the value of work from his father and stepmom. As the eldest son and middle child in his family, Vazquez represents a world of opportunities to his younger sister.
"There is a sense of pride and accomplishment that I am in college," he said. "Family is everything to me. I want to get my master's degree and be a role model for my younger sister."
Vazquez's motivation to go to college stems from his passion for being the best version of himself, including monetary support through scholarships and financial assistance.
"I am grateful to the donors for permitting me to grow as a student," he said. "Their financial support has a big impact on me. They chose to invest in me, and for that, I am grateful."
Currently employed full-time, Vazquez is an IT service desk operator at Alex Lee, Inc., parent company of Merchants Distributors, Inc. and Lowes Foods. Majoring in business management, Vazquez likes the benefits and compensation part of that career, and Lenoir-Rhyne is helping him prepare for his profession after graduation.
"I also like the people," Vazquez said. "I'm a communicator, mediator and problem solver."
In addition to juggling the roles of classes and a job, Vazquez finds time to focus on friendships and service to the community so that he can pay it forward in a meaningful and life-changing manner. He has joined Best Buddies, a volunteer organization dedicated to creating opportunities for one-to-one friendships, integrated employment, leadership development and inclusive living for people with intellectual and developmental disabilities.
Vazquez said Best Buddies opened him to a new perspective.
"The reason that it is important to me is that it helps promote a lifelong bond for individuals to get to know each other as well as learn from each other as time goes on," he said.
Working in tandem, Vazquez's education and extracurricular activities on campus provide a solid foundation for his future.
"Lenoir-Rhyne is helping me grow as a person," Vazquez said. "I'm gaining so many life experiences that push me forward to meet my goals."