---
Few college students can say they've seen their university president and one of their deans face off for a spirited round of Mario Kart. The Esports club went big hosting its first Mario Kart Monday in Cromer Center on February 20, starting the games with a matchup between Fred Whitt, Ed.D., president of Lenoir-Rhyne, and Katie Fisher, Ed.D., dean of student life.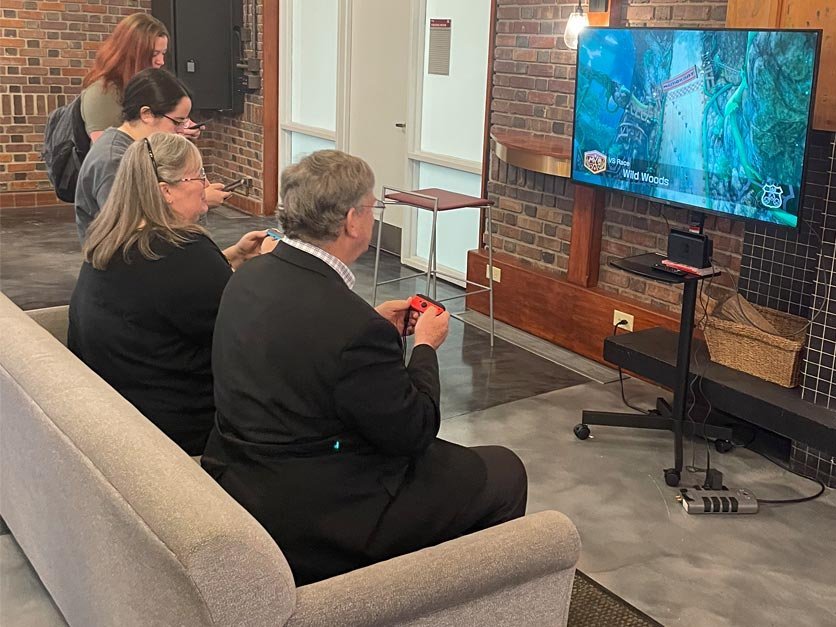 "I loved having the opportunity to participate in the first Mario Kart Monday. If this friendly competition helps bring campus awareness of our Esports team, I'll gladly compete anytime," said Fisher.
Although the race was intense, Fisher won the match before student players took over the consoles. Whitt showed grace in defeat and total support for Esports.
"I enjoyed being invited to play and engage with our students. Esports has grown immensely in popularity, and I am excited to see our students expanding these opportunities on campus. I also need to challenge Dean Katie to a rematch!"
With support from Whitt and Fisher, Esports brought the fun of gaming to more students while creating a memorable bonding moment with well-known campus figures.
Ian Campbell '23, the coordinator of the Esports club said, "I am extremely proud to see this idea come to fruition. I hope we can host more events like this going forward."
Esports plans to host the next Mario Kart Monday on March 13, at 11 a.m. with a goal to make Mario Kart Monday a monthly event in the main room of the Cromer Center, open to anyone who wants to join the fun.
 "I want to increase awareness in the LR community about Esports and show that there is more to the club than just competitive gaming. There is a casual side of Esports that everyone can enjoy," said Campbell.
For gamers who want to get more serious, the club is open to new members and hopes to expand its player roster and competitive teams. Currently, the Rocket League team plays its season games on Mondays at 7 p.m. Expanded membership would allow the club to enter more competitions playing a wider range of games.
"As we grow, we can really take the club in any direction we want," said Campbell.
With the success of the first Mario Kart Monday, the club is gaining momentum and looks forward to future Mondays and hosting larger events, including a Madden NFL tournament, which will take place near the end of the semester and will be open to all LR students. Most of the tournament will be held in the Cromer Center, but the club hopes to use the video board at Moretz Stadium for the championship game of the tournament.
"My goal is to have Esports be a club where everyone is welcome and has fun with others. I want Esports to be a club where all students come together and create lifelong friendships," expressed Campbell.
For more information about getting involved with Esports, contact Campbell at ian.campbell@my.lr.edu or Cameron Robinson, director of student involvement, at cameron.robinson@lr.edu.