---
Lenoir-Rhyne is in the process of revising its engineering physics program and will expand its faculty with the addition of two new members. Courtney McGahee, Ph.D., and Ben Madison will help the program expand offerings aligned with regional industry needs, giving graduates an edge in the job market. They both will begin on campus full time in July.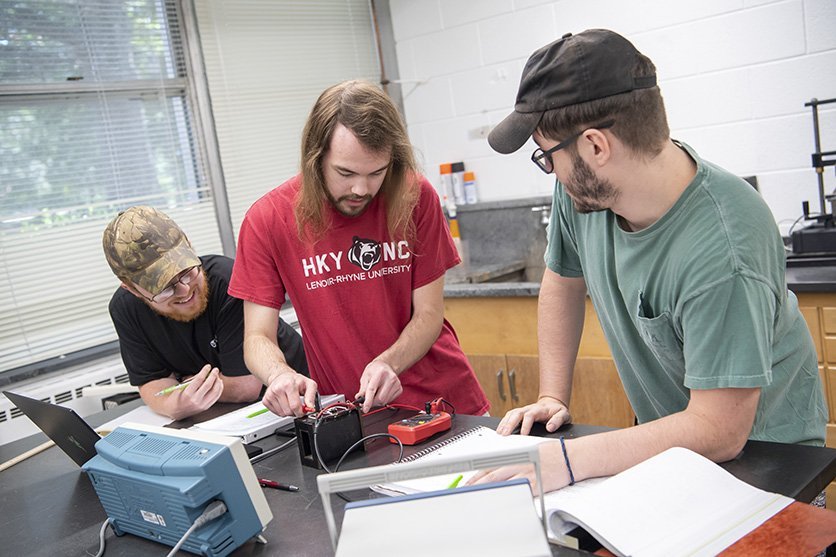 "Courtney and Ben will be amazing additions to our program. Their years of experience and expertise will help move the Lenoir-Rhyne engineering physics program to the forefront of the field in our area and provide our students with the skills necessary to achieve their dreams," said Shaun Williams, Ph.D., dean of the College of Sciences and Mathematics.
Likewise, McGahee and Madison expressed excitement to work together and to join their new colleagues at LR.
"We've talked at length about the value of the current program and how excited we are to join such a successful group, collaborate with them, and contribute to making the program even stronger," said Madison, who has a master's degree in engineering physics with a concentration in instrumentation and laboratory automation from Appalachian State University and nearly a decade of experience in teaching and research.
Automation technology is an area the department plans to expand, which will enable graduates to meet growing demand in industries throughout western North Carolina while entering a career path with substantial opportunities for advancement. 96% of LR undergraduates are fully employed or attending graduate school within six months of graduation, and that number spikes to 100% for engineering physics majors.
"There's so much opportunity in this field. People think about automation in manufacturing first, but the industries in this area — fiber optics, furniture, textiles — are just one part of the demand for automation. We've worked with companies that are automating processes for utilities and internet services, setting up systems and redundancies because the loss of time is so expensive if the servers go down or the water stops running," said Madison.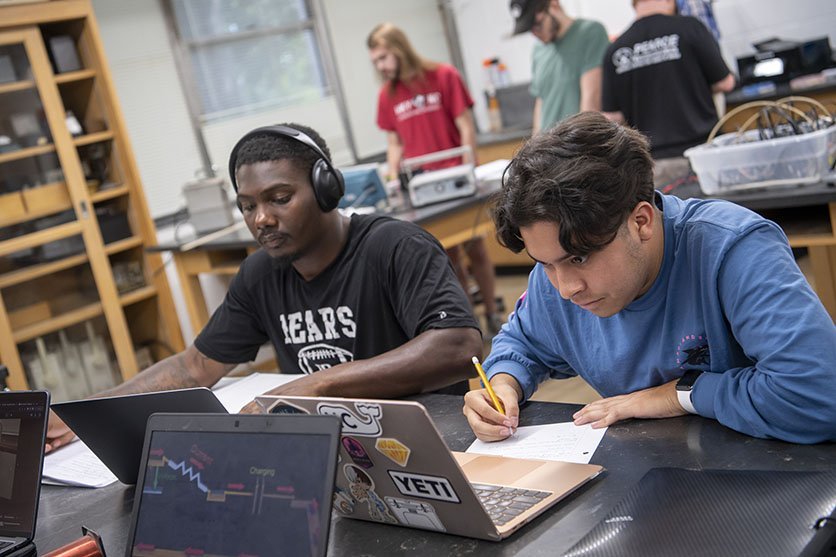 For example, Catawba and its surrounding counties alone are home to half a dozen data centers — including centers for Apple, Facebook, and Google — housing the servers that have become essential for business and everyday life. These companies contract with automation experts for HVAC systems, lighting, energy efficiency and other supports that keep the servers online 24/7.
"Both of us were trained in a very specific way that is oriented toward a focus on industry. The strength of the current program is that it's very hands-on. With LR's smaller class sizes, undergraduates can take on the unique problem-solving approaches that you can't in a larger setting," said McGahee who completed her MS and BS degrees in engineering physics at Appalachian State University before earning her Ph.D. in physics at Clemson University. Prior to coming to LR, she served as the graduate program director for engineering physics at Appalachian State.
The volume of experiential learning and hands-on experience that LR students take part in gives them an advantage in the job market by saving potential employers time and resources in the onboarding process.
"By identifying industry needs, bringing them into course content, and giving students the training and experience, they can show up on day one on the job with full comfort and confidence," McGahee said.
Their orientation toward industry has also allowed both Madison and McGahee to cultivate a strong network of contacts through graduate school classmates, past colleagues and industry outreach that they plan to continue in the Hickory area to the benefit of their students.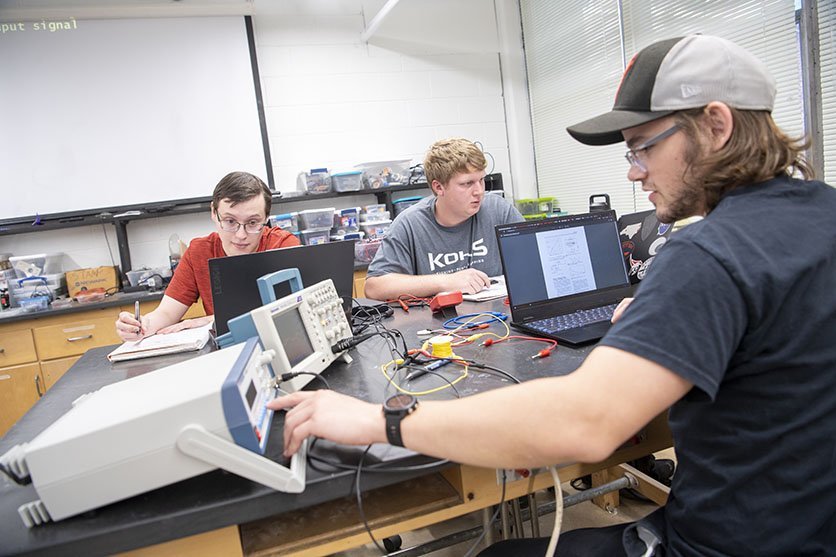 One of those contacts is Ty Rinholm, who graduated from Lenoir-Rhyne in 2012 and completed his master's with Madison. Rinholm is now a regional director with RoviSys, a North Carolina-based automation integrator that works with pharmaceutical, manufacturing and technology companies around the world. "If you use the internet, you are probably connected to a RoviSys automated data center," said Rinholm.
Since its founding in 1989, RoviSys has grown into one of the largest companies of its kind by primarily hiring new graduates and promoting from within. Partnerships with university programs have facilitated this growth.
"We hire well-rounded engineers who can solve difficult problems for our customers. I'm excited to continue our collaboration at Lenoir-Rhyne, and with the faculty's track record, I'm sure we will be hiring interns and graduates from this program," Rinholm said.