---
University confers more than 600 doctoral, graduate and undergraduate degrees.
Four leaders with careers of extraordinary accomplishment were awarded highest honors at Lenoir-Rhyne University's 2022 commencement. The institution also celebrated graduates' accomplishments and conferred more than 600 degrees for doctoral, master's and bachelor's degrees. The university held its undergraduate and graduate ceremonies at P.E. Monroe Auditorium, at 4 p.m. and 7 p.m., Friday, May 6. In addition, the university's graduate-level programs hosted two commencement and hooding ceremonies: 10 a.m., Thursday, May 5, at Columbia, South Carolina, and 10 a.m., Saturday, May 7, at Asheville, North Carolina.
Honorary degree recipients include the Rev. Tracie Bartholomew, Bishop of New Jersey Synod of the Evangelical Lutheran Church in America; the Rev. Jack Russell, pastor at Living Waters Lutheran Church and the only full-blooded Cherokee pastor in the ELCA; and Volodymyr Zelenskyy, Ukraine president and global leader. Retired LR professor Daniel W. Kiser was presented the Trustee Award.
"Our recipients are individuals whose success is measured by the service they've provided and the difference they've made in their respective fields," said University President Dr. Fred Whitt. "As we celebrate our 2022 graduates, we also embrace and recognize our honorees for their contributions and outstanding service to humanity. They have dedicated their talents and lives to improving their communities and for that we honor them."
Bishop honored for service to ELCA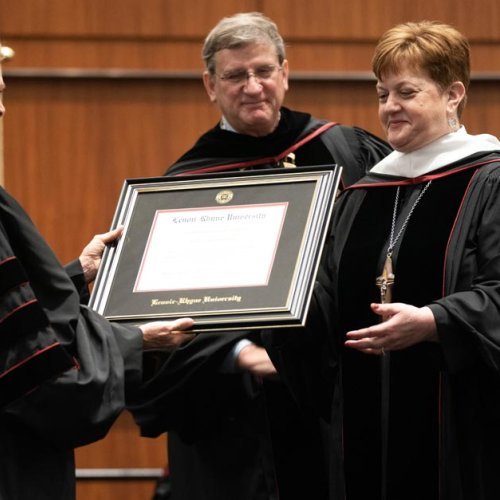 The Rev. Tracie L. Bartholomew earned a bachelor's degree in political science from James Madison University in Harrisonburg, Virginia, in 1985 and a Master of Divinity degree from Lutheran Theological Southern Seminary, Columbia, South Carolina, in 1989. In 2019, the New Jersey Synod of the Evangelical Lutheran Church in America elected her to serve a second six-year term as bishop.
Before becoming bishop, Bartholomew served as assistant to the synod bishop from 1998 to 2013. She served as pastor of Abiding Presence Lutheran Church in Ewing, New Jersey, from 1993 to 1998, as pastor of Good Shepherd Lutheran Church in Lexington, Virginia, from 1991 to 1993, and as associate pastor of St. Mark Lutheran Church in Roanoke, Virginia, from 1989 to 1991. 
Bartholomew is married to the Reverend Boyce "Dan" Whitener Jr., a 1989 LTSS graduate. He serves as the pastor of Lutheran Church of God's Love in Newton, Pennsylvania.
Pastor's work impacts and transforms community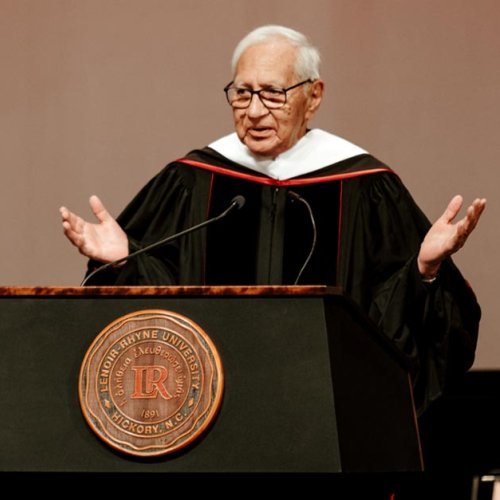 Serving a small but dynamic mission congregation, the Rev. Jack Russell is the only full-blooded Cherokee pastor in the Evangelical Lutheran Church in America. He is the pastor at Living Waters Lutheran Church, a mission church of the ELCA and a ministry to people from the Qualla Boundary, home of the Eastern Band of Cherokee Indians. Of the 16 churches that serve the town and surrounding area of Cherokee, Living Waters is the only Lutheran church.
The church's vital work includes multicultural worship and other services that blend native and Lutheran (liturgy) language and culture. In addition, Russell leads various outreach programs for both natives and non-natives, including a crucial food and clothing pantry that supplies a four-county area and varied counseling programs. 
Russell served in the U.S. Navy and lived in Virginia until he began his journey in ministry. In 2004, he was asked to go to Milwaukee, Wisconsin, to assist an elderly pastor in ministry and was accepted into the Lutheran School of Theology at Chicago. Ordained by the Bishop Peter Rogness of the Greater Milwaukee Synod, Russell has served as pastor for Lutheran congregations in Wisconsin, Kansas and Oklahoma.
Russell resides in Franklin, North Carolina, with his wife and their children, Iann and Le.
Ukranian president recognized by multiple universities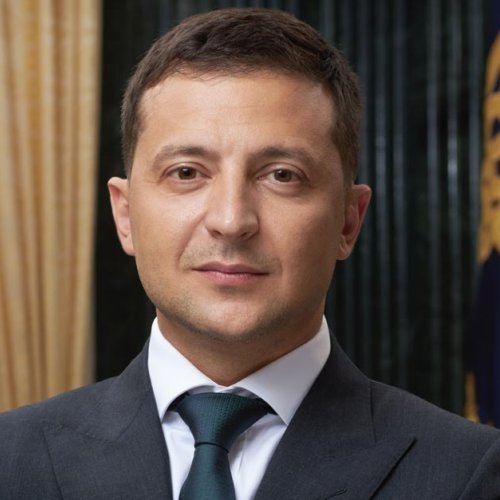 Ukraine President Volodymyr Zelenskyy is a recipient of an honorary degree. The presentation is part of a national initiative begun by Alfred University in Alfred, New York, to honor Zelenskyy's leadership and show support for the people of Ukraine since Russia invaded the country in February. 
The honorary degree recognizes what Zelenskyy has done to motivate the collective courage of Ukraine's citizens and the broader world in defense of freedom and democracy. In addition, it acknowledges the significance of the threats to civil liberties and the well-being of individuals due to the Russian aggression on the citizens of the Ukraine, Russia and the broader world and the critical responsibility that colleges and universities bear in promoting tenets of a liberal society.
Lenoir-Rhyne is among the approximately 20 private, independent colleges and universities, part of the Council for Independent Colleges, honoring Zelenskyy at their 2022 commencement ceremonies.
Retired professor honored for decades of service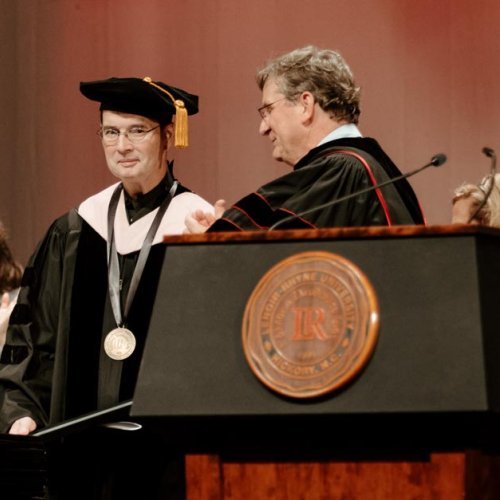 Daniel W. Kiser served Lenoir-Rhyne University for nearly three decades and served as the director of bands from 1992 to 2021.  
Upon his arrival to LR, Kiser restructured the wind ensemble to replace the recently disbanded marching band. Within a few years, Kiser began the process of switching the ensemble from a wind ensemble, which rehearsed several days per work and was occasionally strengthened by community players, to a concert band made up of both LR students and community members. 
In 1996, Kiser restored a musical presence at the football games by forming the football pep band and led that group until 2000. During Kiser's tenure, the LR concert band celebrated tremendous growth and performed some of the most important literature in the wind repertoire. The band recorded and released three separate albums: "Tribute" in 2001, "Pursuit" in 2003 and "Ascending" in 2009. In addition, the concert band was broadcast multiple times on 89.9 WDAV's Carolina Live show. 
Kiser, appointed chair of the School of Fine Arts in 2000, became dean of the College of Arts and Sciences in 2008. 
Prior to his appointment at Lenoir-Rhyne, Kiser served on the faculty of North Dakota State University at Fargo from 1985 to 1992. In that role, he taught applied trumpet and music theory, conducted the varsity band and brass ensemble and served as assistant conductor of the Gold Star concert band and the university marching band. 
He received his Bachelor of Music in music education and master's degree in trumpet performance from Southern Illinois University at Carbondale. In 1987, he earned his Doctor of Musical Arts in trumpet performance and literature from the University of Illinois.