---
On August 18, a contingent of eight faculty and staff members from Lenoir-Rhyne attended the first Hickory Higher Education Summit, a gathering of education and community leaders from the Hickory metro area invested in raising the economic profile of the region through expanded educational opportunities.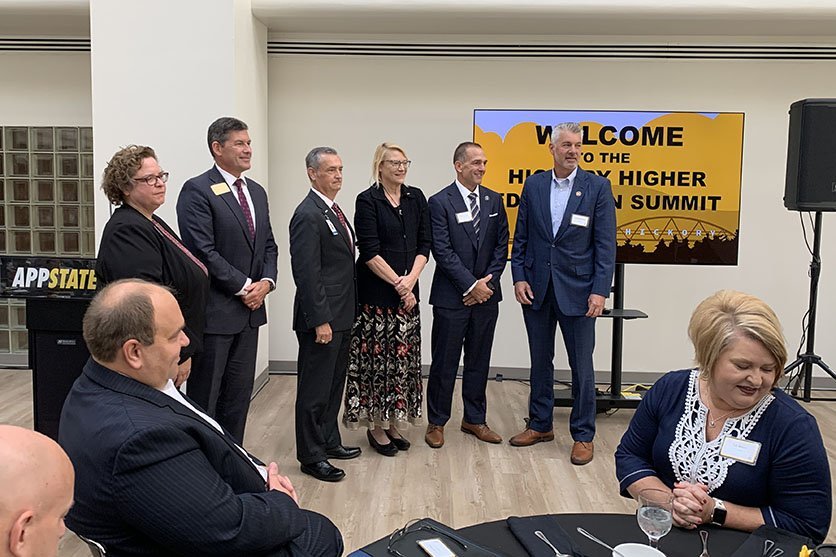 "Education is a pivotal element of economic growth," said Leah Beth Hubbard, assistant vice president for mission, engagement and innovation. "Higher education institutions must be willing to not just talk about collaboration but truly find ways to create accessible pathways for students without duplication. LR has built strong partnerships with local community colleges, and this summit was a good opportunity to continue brainstorming with familiar and new colleagues who serve the same community we serve."
Hosted at the new Hickory campus of Appalachian State University, Sheri Everts, Ed.D., chancellor of Appalachian State, greeted delegations from Catawba Valley Community College, Caldwell Community College and Technical Institute, Mitchell Community College, McDowell Technical and Community College, and Western Piedmont Community College. Each of these institutions is also a member of the Bear Bound partnership designed to ease access and lower the cost of a four-year degree for their students.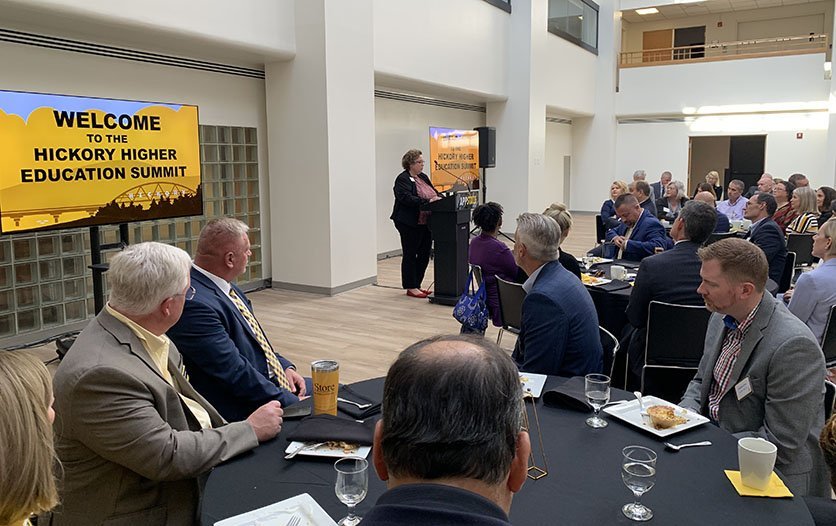 When introducing LR to the summit, Jennifer Burris, Ph.D., university provost and vice president for academic affairs cited Bear Bound among the many innovations and accomplishments that have defined the past year at Lenoir-Rhyne, including the creation of the Fritz Honors College and the men's lacrosse team earning both a national championship and the highest team GPA in NCAA Division II.
To emphasize LR's economic contributions, Burris added, "All our students go on to do amazing things after graduation. Six months after graduation, 96 percent of 2021 Lenoir-Rhyne graduates were employed or enrolled in higher education programs. You can't do much better than that. Although we did! 97 percent of our 2022 graduates boasted the same statistic. The national average is 82.4 percent."
After introductions from each participating institution and an opening session focused on the demographics of the Hickory area and how best to attract and prepare future students for the workforce, summit participants collaborated in a series of breakout sessions. These sessions allowed collaboration on current concerns in higher education everywhere — pathways for student transfers, collaboration with local industry and workforce development, student well-being and belonging, and faculty recruitment, retention and support.
"The breakout sessions were a great time for more intentional collaboration. I loved being in the same room with other Hickory partners on both the community college and university levels," shared Teena Brooks, coordinator of first-year advising. "We were able to communicate ideas based on our different experiences, which allowed us a chance to do what we as educators do best — teach and learn."