Chick-fil-A, Sandwich Shack among upgrades at LR
---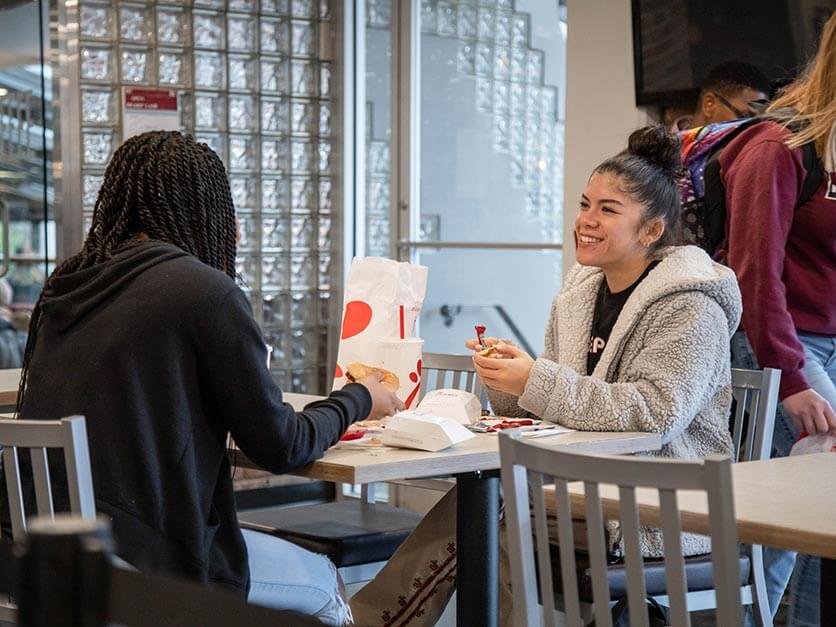 Cromer Center to house Chick-fil-A
---
Chick-fil-A is taking the place of Subway and Grille Works, and Sandwich Shack will be located in Fritz-Conrad Residence Hall.
The Lenoir-Rhyne University administration worked recently with Aramark, the University's food service vendor for the last 27 years, to explore expanding dining options on campus. Students have repeatedly asked for more fast-casual options, options that are open later, and food choices located outside of the Cromer Center.
As a result, Aramark will open in November a new sandwich concept restaurant called the Sandwich Shack in Fritz-Conrad Residence Hall. The Sandwich Shack will be located in the area that currently is home to a lounge and formerly housed a snack bar. The fast-casual concept restaurant will serve made-to-order hot and cold sandwiches, soups, and salads. Other colleges with Sandwich Shacks include the University of Scranton, West Chester University, and the University of Delaware.
The newly upgraded space will feature a sports theme, seven new TVs, a new speaker system, and upgraded games. The aim is to provide an additional location for commuter and residential students to gather and relax and to host special events like movie nights and Super Bowl parties in the space.
Subway and Grille Works, which are both located in the Bears Lair in the Cromer Center, will close and will be replaced with a full-service Chick-fil-A restaurant in early 2020. Chick-fil-A has been routinely mentioned by students as a restaurant they would like to have on campus.
"We are excited to bring these two new options to our students and campus community," said Lenoir-Rhyne President Dr. Fred Whitt. "Sandwich Shack and Chick-fil-A will bring variety that our students have asked for and will further our goal to create spaces on campus that attract and engage our students."
Both Sandwich Shack and Chick-fil-A will stay open after the dining hall closes and accept declining balance meal plans, making them a convenient option for students. While the primary audience is the campus community, both restaurants are open to the public. Sandwich Shack will have an entrance off of 8th Street, and there will eventually be two parking spaces near the Chick-fil-A reserved for customers from the community.
"I am excited for the new addition of Chick-fil-A on campus," said Melvin Howard, president of Lenoir-Rhyne's Student Government Association. "It is a popular food choice among LR students already, and I believe that this is a great decision that people have been waiting for. Also with the new sandwich shop, there is much anticipation for a different dining option. I am very optimistic about these two new additions."