---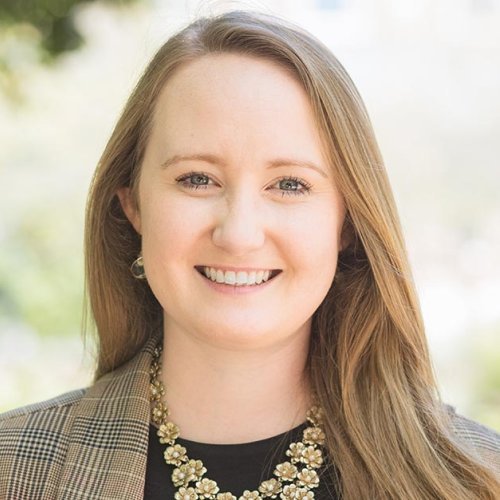 Casey Enright joined Student Life at Lenoir-Rhyne on September 5 as the new director of student involvement and leadership. She began her higher-education journey as an undergraduate resident assistant at Belmont University almost 10 years ago.
"Casey has a track record of being creative and driving innovation through student programming and leadership development opportunities," shared Harry Titus, Ed.D., dean of students. "We are excited to have Casey join our team in Student Life because we know her care for students' well-being and her desire to ensure that students are a part of the engagement experience will be a critical asset for our team."
Enright worked for a few non-profit organizations after graduating from Belmont University with a Bachelor of Arts in Faith and Social Justice with a minor in entrepreneurship. She founded The Word Wagon, a literacy nonprofit, from 2015 to 2019 with a mission to change children's lives one book at a time in the Nashville metropolitan area. She also supported other Nashville entrepreneurs as an administrative business partner at the Nashville Entrepreneur Center.
Although she found success and fulfillment working in the non-profit sector, Enright felt a pull to return to higher education, so she pursued a Master of Arts in Higher Education at Elon University, where she remained after graduation as an instructor for Elon's first-year experience and then as a community director for residence life.
"In higher-ed, you can have such an impact on students' lives. I worked with first-year students who were full of enthusiasm, and I worked with students who were thinking about life after college," Enright shared. "I am passionate about setting students up for success and guiding them to develop into the leaders they want to be on campus and beyond."
The role of director of student involvement and leadership brings together the full spectrum of Enright's education and experience, providing opportunities to work directly with students to support them through different phases of the university experience and utilizing her experience with entrepreneurship, volunteer organization and event management to assist students who want to establish new campus organizations and help existing ones grow.
"Student engagement is a challenge on campuses everywhere, particularly after the disruption of the COVID pandemic, which pushed us to be more intentional about student engagement," she explained. "Now we have an opportunity to look at creative ways to engage students in campus life, meet the students where they are, learn about their goals and support those goals."
Enright plans to begin her time at LR by gathering input from students, faculty and staff to develop and tailor strategies to engage students in campus and community life by serving their needs and interests and by effectively communicating opportunities to get involved.
"My husband, Andrew Stafford, and I relocated to Hickory when he was hired in the athletic department at LR as the assistant athletic director for compliance," Enright shared. "Through him, I could see the incredible support here, and I feel lucky to have a chance to join this community. I'm excited to connect with students and to join a team that is passionate about what they're doing. That passion is what makes the student experience the best it can be."