---
Graduating MBA student's passion for helping students takes her back to her alma mater
When Jaycie Beam was completing her associate degree at Catawba Valley Community College (CVCC), she wanted to select a school to continue her undergraduate education that had the same atmosphere.
"I am originally from a small town, so I love the community atmosphere CVCC had and found it again at Lenoir-Rhyne when I transferred," the Lincolnton, North Carolina native shared. "It was the best fit."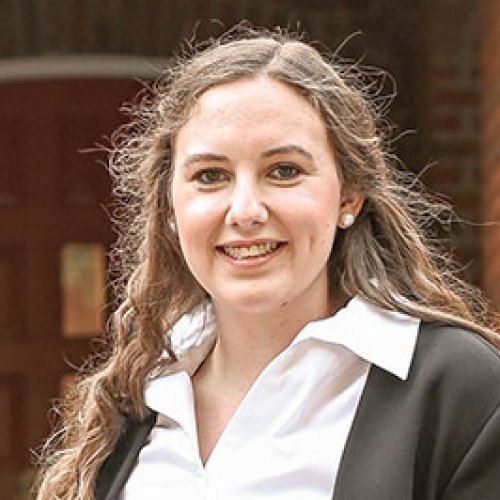 As part of the Bridges to Dreams dual enrollment program at LR, Beam graduated with her Bachelor of Arts in marketing and finance in 2021 and will graduate with her MBA this May. The program is designed for students to complete the requirements for both bachelor's and master's degrees at an accelerated pace, saving time and money.
While at LR, Beam has found a new sense of confidence that she has applied to her school work and life.
"The opportunities that LR has provided me to gain confidence and focus have been instrumental to my college career and in helping me reach my professional goals," she said. "Through the real-world focus approach taken by my instructors in the business school, I have gained skills in public speaking, communication, assessing problems and identifying solutions." 
With CVCC and LR's close proximity, Beam has continued to keep in contact with her advisors and instructors at CVCC, volunteering as a speaker and participating in the annual business symposium. And as of March, she became a part-time instructor at the community college, teaching an introduction to business course this semester and has been asked to teach two more courses in fall 2022.
"I found myself and thrived in the community college environment – so when the opportunity presented itself to teach a course and share the skills I have learned at LR with future business leaders, I felt compelled to do so," Beam shared. "It has been challenging to navigate teaching, but it is a fun learning curve I have enjoyed."
With graduation right around the corner, Beam is excited about the future and continuing to work with community college students.
"As a former transfer student, I know what these students will go through and I want to be an advocate for them in their journey. Whether teaching or advising, I want to help them figure out their calling and help them achieve their professional goals," she said.