---
The Alumni Association recently honored five alumni for outstanding service, contributions and achievements. The awards were presented during a celebration held April 14.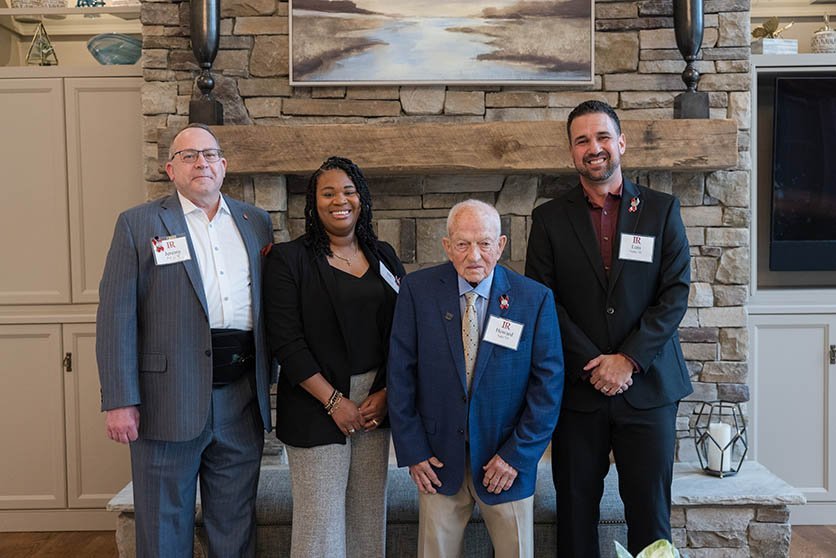 Howard Lutz '53, Clarence L. Pugh Distinguished Alumnus/a Award
In his 63 years as a licensed pharmacist, Howard Lutz '53 has filled essential needs and prescriptions in the communities where he has lived and worked. Since 1969, he has taken that community role to the next level as the owner of Kings Mountain Drug in Kings Mountain, North Carolina, where he has become woven into the fabric of his hometown.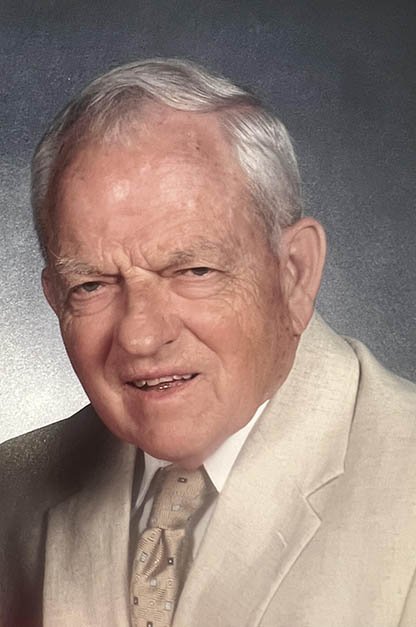 Born in Vale, North Carolina, he graduated from Banoke High School in 1948 before enrolling at Lenoir-Rhyne at age 16. After graduating in 1953 with a bachelor's degree in pre-med studies, Lutz returned to Banoke High School where he taught classes and coached basketball before enlisting in the United States Army. Lutz took his pre-med degree and funding from the GI Bill to the School of Pharmacy at the University of North Carolina, where he completed his pharmacy degree in 1960. He then returned to Hickory, where he met and married Juanita Lackey. Shortly after their marriage, Lutz and his wife relocated to Kings Mountain, where he began working as a pharmacist at Kings Mountain Drug, where he assumed ownership in 1969. The couple joined St. Matthew Lutheran Church, where they served on the church council over the years and remain members today. In 2018, the flag flown over the U.S. Capitol honored Lutz's birthday, and in 2019 he learned the U.S. Army National Museum would display his military history to honor his work as a cryptologist.
However, the most important accolades and accomplishments for Lutz have been family oriented. The Lutzes have two sons, each of whom graduated from Lenoir-Rhyne, became practicing attorneys in North Carolina, married and had children of their own.
Alexis Abernathy '13, Rising Star Young Alumnus/a Award
Alexis Abernathy '13 graduated from Lenoir-Rhyne with a bachelor's degree in business management. As the banking center manager II, assistant vice president at First Horizon Bank in Lenoir, North Carolina, she manages and works with personal and small business clients while managing day-to-day operations at the bank. She was recently named as a champion for the bank's partnership with Operation Hope's 1 Million Black Businesses initiative, in which the bank will offer financial guidance to drive entrepreneurship in Black communities nationwide.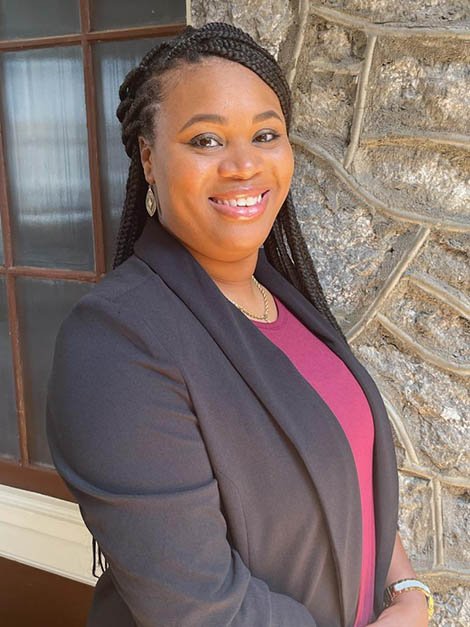 In addition to her job duties, Abernathy works with First Horizon's Women's Initiative Associate Resource Group, a foundation of the company's diversity, equity and inclusion strategy, designed to help women in the organization develop leadership skills and build mentoring and networking relationships. Abernathy joins the group as it gives back to the community by volunteering at Safe Harbor in Hickory, a Christian non-profit working with women in recovery from addiction, and participating with the Red Sand Project, an organization dedicated to raising awareness of and preventing human trafficking, in addition to numerous smaller-scale community service projects.
Outside of work, she serves as a youth advisor for Morning Star First Baptist Church's Youth Mission program, which teaches and inspires children from kindergarten through grade 12 with opportunities to give back to their communities. She also volunteers with the Catawba County Chamber of Commerce and sits on the advisory board for the chamber's Leadership Catawba program.
Janet Sanders Mitchell '72, Opal L. Moretz Service Award: Service to the Alumni Association
During her time at LR, Janet Sanders Mitchell '72 joined Sigma Kappa sorority and met her husband, Nathan. After she completed her degree in intermediate education with a concentration in language arts and social studies, she began a 23-year career with the public schools in Wilkes County, North Carolina, where she and Nathan lived and raised their two daughters. She returned to Lenoir-Rhyne to add certification in academically gifted education to her teaching license in 1980 and spent most of her career teaching gifted students in grades K-8. In 1989 she was selected as the Academically Gifted Teacher of the Year for the northwest region of North Carolina.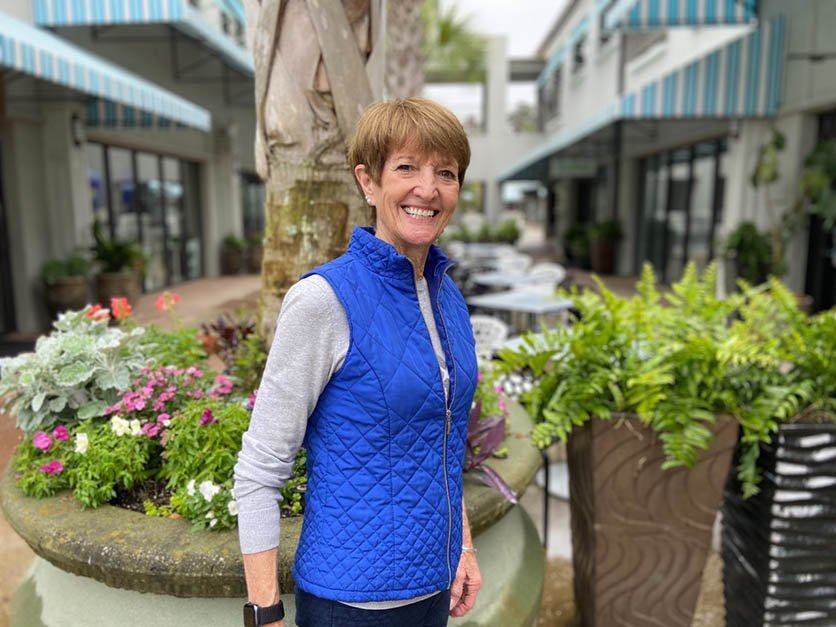 While living in Wilkes County, Mitchell immersed herself in the community, serving on the board of directors for Hospice of Wilkes and the Wilkes YMCA and being an active member of the Lutheran Church of the Atonement in Wilkesboro. Since returning to Hickory, she has carried her church involvement to Holy Trinity Lutheran Church, where she volunteers with youth activities, including ELCA gatherings, work camps and mission trips. She has also traveled to Costa Rica with adult mission teams from the church.
After Mitchell retired from teaching, she has served on the Lenoir-Rhyne Alumni Association board of directors as secretary for several terms. In addition to her ongoing role as an active and enthusiastic advocate for Lenoir-Rhyne, Mitchell is an avid runner who has participated in multiple 5K, 10K and half-marathon races. As a devoted supporter of the PGA, she has volunteered at the RBC Heritage PGA tournament in Hilton Head, South Carolina for the last 17 years. As tournament support chair, she manages the tournament office, and in 2019 she was a finalist for PGA Volunteer of the Year.
Dr. Jeremy E. Fisher '88, Opal L. Moretz Service Award: Service to the Community
Before his own graduation with a bachelor's in theology and philosophy in 1988, Dr. Jeremy E. Fisher '88 was preceded by two generations of Fishers. His grandfather graduated from Lenoir-Rhyne in 1925, and his father was a member of the class of 1955. The family tradition has continued with his brother, who graduated in 1993, and two of his three children in 2021 and 2023. His wife, Katie Fisher, Ed.D., served as the dean of students for 21 years.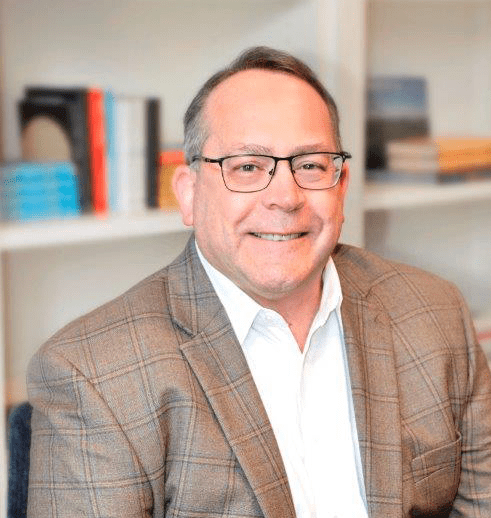 Fisher completed an M.S. at the University of Toronto, an M.A. en passant at Marquette University, where he also taught for four years, and completed his Ph.D. at Auburn University. In 2001 he moved into banking where he spent much of his career working in public finance before moving to his current position at J.P. Morgan Chase, working with government and not-for-profit organizations.
Fisher's commitment to public service found an early outlet at Lenoir-Rhyne when he helped design a travel opportunity for students, faculty and staff to travel work with Habitat for Humanity in Peru in 1986 and Guatemala in 1988. In the decades since graduation, Habitat for Humanity has joined a long list of organizations in Hickory and surrounding communities where Fisher turns his knowledge and skills toward public service. Among many others, he has been involved with the Piedmont Council of the Boy Scouts of America, Rotary International and the Salvation Army. He has served on the Lenoir-Rhyne Alumni Association board of directors and the university board of visitors.
Fisher has served on the board of directors for another alma mater, the International School of Kuala Lumpur, where he attended until fifth grade. His family has also supported the Orang Asli Ministry through the Lutheran Church of Malaysia, funding agricultural initiatives for economic development and support of Indigenous peoples in the region.
Luis Velez '01, Opal L. Moretz Service Award: Service to the University
After graduating with his bachelor of science in sports medicine and athletic training from Lenoir-Rhyne and a master's degree at Furman University in Greenville, South Carolina, Luis Velez '01 worked as the assistant athletic trainer for two years at the Florida Institute of Technology in Melbourne, Florida before returning to Lenoir-Rhyne for the next 15 years. Velez volunteered as a strength and conditioning coach with the same teams he served as an athletic trainer, started a speed and conditioning camp for local youth and taught courses with related content in the School of Health, Exercise and Sport Science. In 2016 he became Lenoir-Rhyne's first director of strength and conditioning.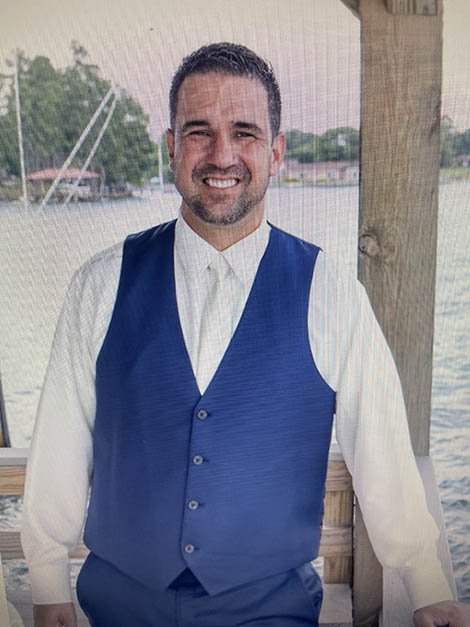 Born in Miami Beach, Florida and living his toddler years in Colombia before his family returned to the United States and settled in Cooper City, Florida, Velez was baptized and confirmed in the Lutheran Church, attending confirmation camp at Lutherock in Newland, North Carolina, which planted the seed to move to North Carolina someday. While studying at Lenoir-Rhyne he served as team manager for the men's soccer team, was a member of the Fellowship of Christian Athletes, and served on the Campus Activities Board.
In September 2019, Hurricane Dorian forced an evacuation on Florida's east coast that brought Morgan Tweedie, an old friend from the Florida Institute of Technology, to the Hickory area. The couple began a relationship, which prompted Velez to return to Florida Tech as Head Athletic Trainer when the opportunity arose in 2020. The couple married in 2022, and Velez also gained two stepsons to whom he is devoted. An active participant in life at Lenoir Rhyne, in 2015 Velez won the annual LR Chili Cook-Off and has served on the board of visitors since 2021. He has published numerous articles and made several presentations at conferences on strength conditioning and physical rehabilitation.