---
Lenoir-Rhyne has appointed longtime psychology professor Amy Hedrick, Ph.D., to serve as interim dean of the College of Humanities and Social Sciences. Hedrick has been a faculty member since 2010 and has served in several leadership roles, including coordinating the psychology program for five years and serving as chair of the former School of Humanities and Social Sciences from 2016 to 2018.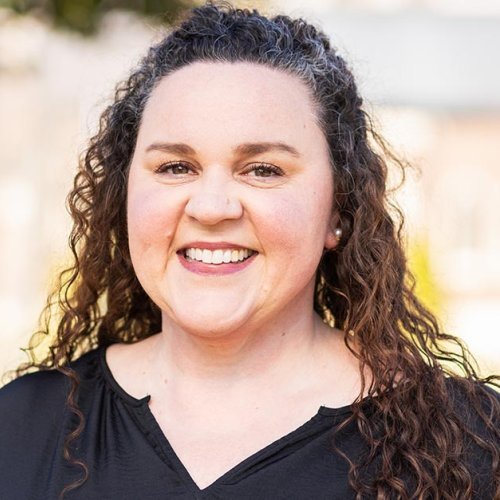 "In my two decades in higher education, it's clear to me that my vocational purpose is service in collaboration with others. It's through relationship building and working with colleagues, students, and mentors that I find the most fulfillment," shared Hedrick. "LR is special because relationships and community are at the very heart of who we are. I'm honored and excited to partner with my talented colleagues and students in the College of Humanities and Social Sciences and the leadership teams, including the provost and other deans, to serve in this new role." 
After earning her B.A. in psychology at Elon University in Elon, North Carolina, Hedrick completed her M.A. and Ph.D. in developmental psychology at Loyola University in Chicago. She received a National Research Service Award (NRSA) fellowship from the National Institutes of Health for postdoctoral research at the Center for Developmental Science at the University of North Carolina at Chapel Hill, focused on childhood cognitive skills in social contexts. In 2009 Hedrick won the Editor's Choice Award for Best Article from the Journal of Cognition and Development for her research on autobiographical memory skills in young children.
Hedrick has assumed an active role in campus leadership since coming to LR. In addition to her leadership of the psychology program and the School of Humanities and Social Sciences, she has served on the Institutional Review Board, Core Curriculum Committee and the former Student Success Care Team. In 2016 she won the Raymond Morris Bost Distinguished Professor Award, an annual recognition of outstanding teaching and mentorship. Beyond LR, Hedrick was recently elected to serve on the test committee for the College Board's College-Level Examination Program (CLEP) in Human Growth and Development.
"Dr. Hedrick's dedication and vast experience make her exceptionally well equipped to navigate this transitional period for the college," said Jennifer Burris, Ph.D., provost and vice president for academic affairs. "Her exemplary leadership will undoubtedly be pivotal in further elevating the College of Humanities and Social Sciences and our university at large. I am excited to welcome her as part of my leadership team."